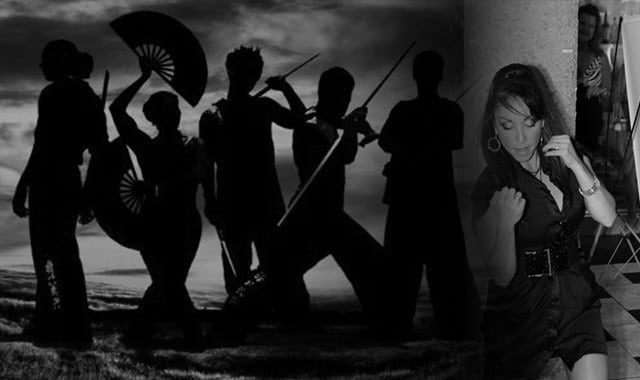 Janell Vela Smith's love for martial arts and fitness goes much deeper than a basic desire to 'get fit' or 'self defense'. Janell is a true example of a martial artist who really 'gives' back to martial arts and local community. Personal Trainer, Stunt Coordinator, Producer, Role Model – Janell took time out from her busy schedule to have a quick chat with AMP about Martial Arts and her upcoming project : The Next Dragon.
AMP : Janell if you could give us a bit of a background into your interest in martial arts, and how it all began?
Janell : My martial arts journey began with my intrigue in old kung fu cinema, every Saturday afternoon I was glued to the television watching "Kung Fu" Theater. A station that played all of the original old school kung fu films that we all love!, As a young girl I was very active and athletic, from age 4 training in gymnastics, baton twirling, cheerleading, all athletics/dance based activities BUT,, I Loved going with my Dad to watch "live action" wrestling matches! My love for martial arts developed early but I was not able to learn until I was adult age. I joined a Dojang to learn how to kick properly, 17 years later 1st Dan TKD, 3rd Dan Tukong Moosul(traditional korean/chinese art), I have trained in many arts but I chose to be trained under a monk Wonik Yi from the Dae Yeon Sa Temple in Korea(Temple of Great Achievement)
He taught me the true meaning of a life dedicated to martial arts. Also, because of his expertise, we had many actors and Directors contact us in Austin, Texas to learn traditional martial arts for film work like Robert Rodriguez for his film Sin City.
I then helped develop Fighting Stunts Associaion in Austin Texas, we trained actors/martial artist for film work. Watching this process helped me later develop "The Next Dragon"
My other projects either in Development or in Production –
Also developing 
In the Line of Duty reality show
Dominion Film with parters Jody Nolan and Jeremy Hawa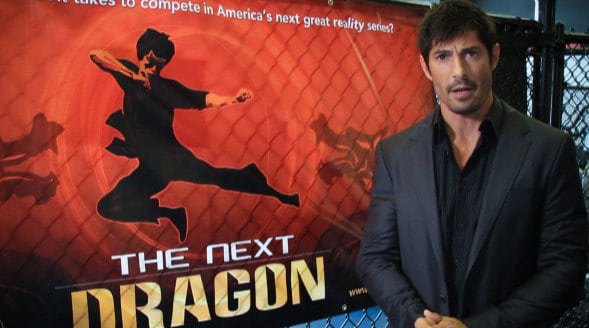 AMP  : You are currently heading a new project : The Next Dragon, Could you tell us a little bit about the project ,the structure of the forthcoming show, and of course the planned release date and availability?
Janell : Yes, I am Producing The Next Dragon, the structure was later developed by myself and Producers Arnie Reyes and Phil Abatecola(Producer of Hell's Kitchen)
We are nearing end of development stage and going into pitch phase. We will see which major network is the best place for the Exciting new reality show!
AMP : So how did the Next Dragon get started ?
Janell : I developed the idea from my Stunt Company..working with various actors/martial artist for film projects. I thought it would be interesting to share this insight with audiences. It is a hard journey to develop ones skills as a "true martial artist" and as an actor. Many people do not understand the level of dedication this takes to become an "Action Star"
It is a hard journey to develop ones skills as a "true martial artist" and as an actor
AMP:For any upcoming martial artists actors reading this, are places still available on season 1 of Next Dragon, how can they go about getting involved ?
Janell : Place are still avaiable. They can contact us via our Facebook page – simply submit your demo reels and our producers will look through this for casting purposes as the time nears for final candidate selections.
AMP :Aside from being behind 'The Next Dragon' , you also seem to be involved in a multitude of areas revolving around screen fighting, can you tell us a little bit about your fighting stunts association ?
Janell : Yes, I have been the Director for Fighting Stunts for a few years. We provide film/tv/web/video games access to martial artists for their projects. I also help manage  the careers of several martial artists from the Fighting Stunts Association.
AMP :Are the judging panel been confirmed for The Next Dragon ? we heard rumours of a few famous names being involved in the project ?
Janell : We have been in contact with many A List directors/Martial Artists and Producers . At the moment we can not confirm the judges for the first season until the final round of negotiations are complete – but so far looking very good !
Trivia : Janell has also studied Taekwondo, IpsunTaichi, TaichiChuan. Competed for several years, almost making the US Olympic taekwondo team but missed by age cut-off. Went on to obtain several state, regional and National titles.