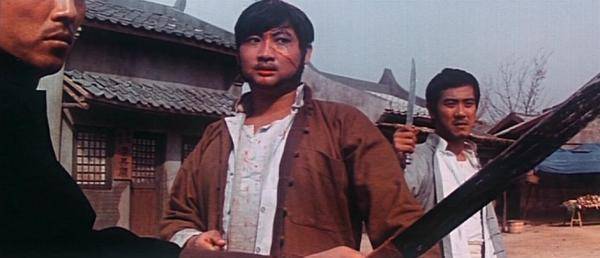 Cast:
Angela Mao
Sammo Hung
Chang Yi
Pai Ying
Chin Yuet Sang
Director: Huang Feng
Action Director: Sammo Hung
Lady Whirlwind is a 1972 kung fu movie starring the brilliant Angela Mao in fine fighting form as she battles her way through many opponents including the great Sammo hung.
Plot
A young man Ling Shih-hua (Chang Yi in a rare good guy role) is severely beaten by Japanese mobsters and left for dead on the beach. He is nursed back to health by a pretty young girl, and he vows to take revenge on the criminals. Meanwhile, Miss Tien Li-Chun (Angela Mao) comes to town with a score to settle with Ling. Apparently, her sister was jilted by Ling and she killed herself, so Tien must avenge her by taking his life. Ling begs her to spare him until after he gets his revenge, to which she reluctantly agrees, only to save his life after he gets mercilessly beaten by his enemies.
As Tien waits for Ling Shih-hua to recover so she can beat him, he runs into an old man who teaches him the art of t'ai chi. This gives him the edge he needs, and he finally destroys the leader of the gang. Angela finally jumps in to take her revenge, but Ling's girlfriend throws herself between them and begs for mercy. Tien surprisingly spares their lives and storms off into the distance, presumably to find someone else to take out her aggression.
Overall
As the movie is made in the early 70′s, the Kung Fu isn't as fast or appealing as the late 70′s, 80′s, but make no mistake this is still a good watch. It is always a pleasure to watch the great Angela mao kicking butt on screen because she put's everything into it, delivering kicks and punches with power something Sammo got out of her very well when shooting.
The movie must have been shot with a very low budget, as the scenery and other shots don't look as well done as movies around the same time, but that still doesn't put you off watching the movie one bit. The direction was well done with some great close up shots of the actors before and during fight scenes, something like you would have seen in Westerns around the same time.
Sammo is not in the movie that long, we get to see him popping up in a few scenes with a huge scar across his face and some crazy sideburns, but as a villain he is always great to watch. He does get to fight Angela Mao in the movie, earlier in the film and half way through, but doesn't last long enough and before you know it, Sammo is a goner.
If you manage to get hold of this rare movie, i will say you can kick back and enjoy some old school butt kicking, for it's time it does deliver on some fronts, Angela Mao is fine form, some good fight scenes and a young Sammo, but don't compare it to movies set later that year or in the 80′s for action.
Source:Wikipedia