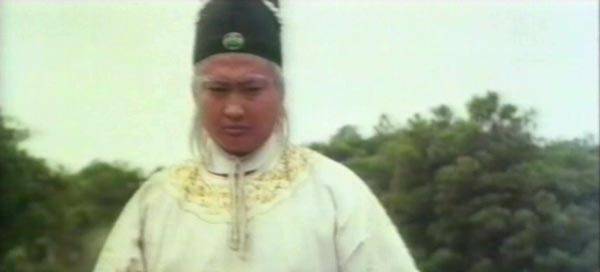 Cast:
Carter Wong
Sammo Hung
Chang Yi
Director: Sung Ting Mei
Action Director: Chan Chuen
PLOT
As a child, Yang witnesses the murder of his parents by three kung fu masters. His father, a Ming loyalist was kicked out of his political post and now a Ming traitor named Tin Erh-keng (Ching Yi) and his two lieutenants magnificently ride in on horseback to finish them off. Sammo Hung and Hau Pak-wai do most of the dirty work in a gruesome fight to the finish. Yang's mother dies wearing a bracelet with bells on it and this becomes an important plot device throughout the film as years later, he carries the bracelet and its sound reminds the killers of their deed. The child finds his way to Shaolin and patiently waits outside until admitted and is later accepted as a student by one of the elder monks. The training is painlessly short compared with other Shaolin tales and consists of carrying buckets up stairs, leaping out of pits, and actual combat training. One important skill is his ability to puncture objects with his fingers, as his main foe shares the same ability. Although the 'Bronzemen' make an appearance as statues, Yang has no trouble leaving the temple ready to find the killers and make mincemeat of them.
With his back story told, Yang now becomes the nameless hero who wanders into town and aids the afflicted while searching for the killers. An unexpected foe comes in the form of a woman named Hisao Yun-erh (Polly Kuan), Tin's adopted daughter. She challenges Yang in one of the better teahouse confrontations. The match is unresolved, although Yang has the upper hand in more ways than one. Ultimately, Yang has to deal with Hsiao, figure out a way to get past a wild kung fu multi-man formation known as the Tien Lo Set, and defeat the lieutenants in order to challenge Tin himself.
OVERALL
This is actually quiet a good movie, the script is good, the characters are well portrayed, the locations are nice to look at and any movie with Sammo sporting a white wig deserves anyone's money. The director seems to like to build suspense and build the music up until the first punch is thrown. Chang Yi is great as the leading villain, using the claw technique very well.
Sammo also plays his role as a movie villain very well, carter Wong as always, looks very powerful on screen, with each punch and kick hitting the target with menacing force. Polly Shang-Kwan (Hand Of Death, Return Of The 18 Bronzemen) also put's in a fine performance, although she doesn't get much screen time, when she does her kung fu is spot on. We also have Bronze fighting men, monks, crazy fight scenes in this rare Sammo hung movie. If you liked movies such as The hand Of Death, Skyhawk or any Sammo movie from around the same date, then this should be right up your street.
http://www.youtube.com/watch?v=Vm2LFiSgXrk
Source:Wikipedia