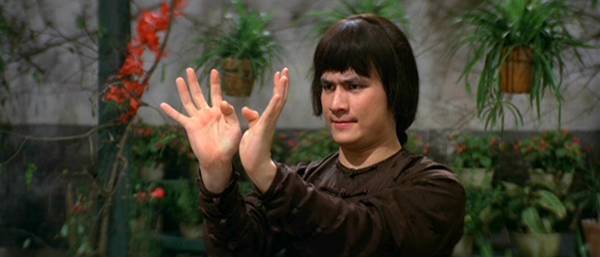 Fu Sheng is a legend in the Kung Fu world, if you like all the old Shaw Brothers movies then you will certainly know who Fu Sheng is and why he is loved all over the world. He as made some excellent Kung Fu movies and was the Shaw Brothers equivalent to Jackie Chan.
Selected Filmography
1974:Shaolin Martial Arts
1974:Heroes Two
1975:Marco Polo
1975:Disciples Of Shaolin
1977:Chinatown Kid
1977:The Brave Archer
1978:Avenging Eagle
Biography
Alexander was born as Cheung Fu-Sheng in 20 October 1954 in Hong Kong, the son of a wealthy New Territories indigenous inhabitant businessman. His youth was characterized by his quick temper, disinterest in school, and fighting in the streets. As a child, his family lived in Hawaii for a few years and there he began training in judo and karate.
In 1971, he enrolled at Shaw Brothers Southern Drama School and instantly drew the attention of director Cheung Cheh. Cheh had Fu Sheng train with Lau Kar-leung for 6 months. Fu Sheng made his film debut as an extra in the 1972 film The Fourteen Amazons. His first lead role was in Cheh's Police Force. With his good looks and mischievous charm, he quickly became a major star for the Shaw Brothers studio. Some of his other major hit films include Heroes Two, Five Shaolin Masters, Shaolin Temple and the Brave Archer series. He eventually made a total of 23 films with Cheh.
A series of injuries in 1978 & 1979 (known as "Black September" in the media) forced Fu Sheng's career to slow down considerably. His first serious injury came on the set of The Deadly Breaking Sword when a wire suspending him snapped and he fell eight feet landing on his head. While working on Heroes Shed No Tears, he shattered bones in his right leg.
Fu Sheng was supposed to star in Snake in the Eagle's Shadow but was refused by Run Run Shaw; head of the Shaw Brothers Studio. Jackie Chan was eventually cast in the role and the movie was a big hit. Fu Sheng worked hard to recover and although he never fully regained his previous abilities, he recovered enough to resume his martial arts film career.
Fu Sheng bought and lived in the late Bruce Lee's house in Kowloon. On 7 July 1983, he was returning home from a dinner engagement at the Clear Water Bay Golf Club. His Porsche 911 Targa, driven by his brother, took the curves of Clear Water Bay Road too fast and crashed into a cement wall. Fu Sheng was rushed to the hospital with serious injuries and died three hours later widowing Cantopop superstar Jenny Tseng. He was 28. He died almost 10 years after Lee had died on 20 July 1973. At the time, he was filming Invincible Pole Fighter in which he was to be the hero. In the finished film, Fu Sheng's character abruptly disappears and the focus was put on co-star Gordon Liu's character. His funeral was organised by the Shaw Brothers committee which was heavily attended and was compared to that of Bruce Lee.
Fu Sheng's films are still revered in Hong Kong. He is not as well known in the U.S. as other Hong Kong martial arts film stars due to his short life and limited availability of his films. But he has a strong cult following among genre fans. Fu Sheng's old makeup cubicle at the Shaw Brothers studio features a shrine constructed to appease his ghost, which is said to haunt the backlot.
Fu was married to Macau-born singer, Jenny Tseng, from 1983 until his death. They did not have any children during his lifetime. However, in October 2012, Tseng revealed that Fu was the father of her daughter, Melody Tseng, and that she had been conceived via artificial insemination four years after Fu's death using his banked sperm.
It is a massive shame that Fu Sheng was taken so soon, this guy was a hit with audiences all over the world and was sure to have a very bright future a head of him.
Source:Wikipedia