Jimmy Wang Yu, born Wang Zhengquan on (March 28, 1943), is an Actor, film director, producer and screenwriter. Many will know Wang Yu from movies such as The One-Armed Swordsman, Master of the Flying Guillotine, The Chinese Boxer, Island of Fire and many, many more.
There have been serious problems in Wang's life, In 1981, he faced a murder charge in Taiwan, but the charge was dropped due to lack of evidence. Wang's involvement in public brawls also made headlines from time to time
Selected Filmography
1965:Temple of Red Lotus
1967:The One-Armed Swordsman
1968:Golden Swallow
1970:The Chinese Boxer
1971:One Armed Boxer
1973:A Man Called Tiger
1973:Beach of the War Gods
1973:King of Boxers
1976:Master of the Flying Guillotine
1985:Shanghai 13
1990:Island of Fire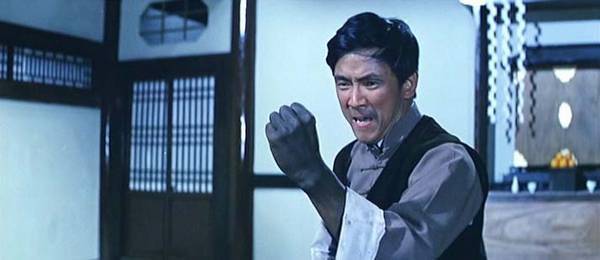 Acting background
Before joining the Hong Kong-based Shaw Brothers Studio in 1963, Wang served in the National Revolutionary Army and was also a swimming champion in Hong Kong and a car racing enthusiast. In 1968, he acted with Cheng Pei-pei in the wuxia film Golden Swallow, directed by Chang Cheh. Following that, Wang starred in many other wuxia films, including Temple of the Red Lotus (1965), One Armed Boxer (1971), Return of The Chinese Boxer (1975) and Master of the Flying Guillotine (1976).
If One Armed Swordsman was the movie that launched Wang's acting career, The Chinese Boxer was the film that sealed his fame in Hong Kong cinema. The latter has been credited[citation needed] as being the first Hong Kong martial arts film that kick started the unarmed combat genre, mainly kung fu. It also triggered a phenomenon that filled the ranks of many Chinese martial arts associations across Southeast Asia. Chinese youths, in their bid to emulate Wang, took to punching sandbags, and reading up on the history of Shaolin Kung Fu.
Controversy dogged Wang after the fame that exploded with The Chinese Boxer. He broke his contract with the Shaw Brothers Studio, and was promptly slapped with a lawsuit. The legal tussle that ended in the studio's favour led to Wang being banned from making films in Hong Kong. Wang then looked to Taiwan for better career prospects, linking up with Golden Harvest and other independent film outfits. His subsequent works were mostly filmed in Taiwan.
With the success of The Chinese Boxer, Wang stood unchallenged in Southeast Asia for the rest of the 1960s as the Chinese actor with the most formidable fists and legs. But beginning in the 1970s, Wang's star began to be eclipsed with the entry of new actors, many with superior martial arts training such as Ti Lung, David Chiang, and especially Bruce Lee, whose role in The Big Boss (1971) revolutionized the martial arts film genre.
In 1976, Wang appeared alongside Jackie Chan in Lo Wei's Killer Meteors. In the late 1970s, Wang helped Chan when then the latter sought his help in settling a dispute with Lo Wei. Chan eventually repaid the favour with his roles in Wang's films, Fantasy Mission Force (1982) and Island of Fire (1990).
In 1986, Sammo Hung cast Wang as Wong Kei-ying (the father of Chinese folk hero Wong Fei Hung) in Millionaire's Express. He also made Island Of Fire in 1990, starring Jackie Chan, Sammo Hung, Tony Leung and Andy lau, playing a crime boss who controlled the prison. In the years that followed, Wang kept a low profile, making a rare public appearance in 2002 at the funeral of Chang Cheh. In the past few years, Wang Yu as re-entered the movie business starring in a few movies such as, Wu Xia, Lets Go and the 2 upcoming movies Tai Chi 0 and Soul.
Wang acted in more than 70 films in a career that spanned more than two decades. Even though he left an indelible mark on the history of martial arts film, he was never the accomplished martial artist which his films made him to be. It was actually camera techniques and film editing that gave Wang the aura of invincibility in the fighting arena. Additionally, he was in fact a Shotokan karate exponent. He was once the highest paid martial arts film actor in Hong Kong before Bruce Lee broke the record.
Life
Back in the late sixties Wang Yu wooed famous movie actress Jeanette Lin Tsui who was married, with children, and was 12 years his senior. There was no divorce as the husband Qin Jan, a famed director of melodrama, happily obliged by hanging himself. The actress was already pregnant when Wang brought her to the altar. It's hard to imagine a star career surviving such a scandal, but Wang Yu did, although there is a one and a half-year gap in between The Return of the One Armed Swordsman and Chinese Boxer. The couple split-up in the mid-seventies after Lin accused him of beating her up, but Wang later explain that he hit her because she was involved with a lesbian. Their daughter is singer Linda Wang.
Wang remarried with an air hostess named Kai-cheng and she's the one who raised the children born in the previous marriage. The couple separated around 1997 with Kai Cheng asking for divorce and Wang Yu refusing. She eventually started an affair with an up and coming young entrepreneur. Last December Wang Yu invaded the lovers love-nest accompanied by reporters and police. Then having utterly humiliated his wife in the most public of fashion, he was done with her.
Source:Wikipedia – hkcinemagic