This is my top 10 favorite kickers in Kung Fu cinema. It is just my personal opinion as there are many great performers out there with amazing ability also. I hope everyone likes my top 10 and please feel free to leave comments at the bottom of the page.
10.Jean Claude Van Damme
Jean Claude is one of the best kickers i have seen out of the Asian movie market. His jumping spin kicks are brilliant, hitting with speed and power, which would take anyone's head off. Van Damme was also a former member of the Belgium Team that won the European Championships in 1979 in Brussels.
Some of Van Dammes best kicking skills can be watched in movies such as No Retreat, No Surrender, Bloodsport, Kickboxer, Lionheart, Double Impact, The Quest and so on. He recently starred as the main villain in The Expendables 2, which he did a great job, one of his biggest acting roles in a long while. So, with the speed and power of his kicks and flexibility, Van Damme deserves to be in the top 10.
[divider]
9.(李小龍)Bruce Lee
Bruce Lee had to be in my top 10 kickers of all time. If Bruce Lee was to connect with one of his kicks, it was game over. One of my favorite moments was in Enter The Dragon, the final fight scene where Bruce kicks Shih Kien full force in the side of the head and he goes flying, the power is fantastic (Of course they used a dummy for that scene).
The only reason Bruce is number 9, i just go for a little more flexibility and variety in the top 10, but Bruce is also brilliant and had to make it. Bruce Lee classics, Fist Of Fury, Enter The Dragon and Way Of The Dragon. His fight with Chuck Norris in Way Of The Dragon is regarded by some, as the best fight ever filmed.
[divider]
8.(权永文)Kwan Yung Moon
Kwan Yung Moon you can normally see in movies sporting a brilliant tash with crazy eyebrows, but what you also get to see are some awesome kicking skills. One of his early movies was Action Tae Kwon Do in 1972, he also did the fight choreography on the move. Some of his other good roles included The Hell's Wind Staff, taking on the might Hwang Jang Lee, Rebellious Reign, The Loot, Kung Fu Zombie and Ninja In The Dragon's Den. He also pop ups as a pirate in Jackie Chan's Project A.
[divider]
7.(甄子丹)Donnie Yen
Donnie Yen is one of the leading players in the Asian movie market today, making a great number of movies in recent years, his ability to produce stunning kicks have been there since the early days. After seeing him in the Yuen Woo Ping movie Drunken Tai Chi and then watching him perform in Tiger Cage, i knew how good his kicking ability was and he impresses me with each movie.
One of Donnie's trademark kicks is the jumping triple kick to the opponents chest, something not a lot of other fighters can do or look as good performing, apart from my number 1 in this list. Some of his best early work would include Tiger Cage, Iron Monkey and Once Upon a Time in China II. In the past 8 years, Donnie as really made a name for himself and id say that came after making the brilliant modern day action movie Sha Po lang. Since then he as starred in Seven Swords, Flash Point, Ip Man 1-2, Wu Xia to name but a few. Donnie's next few movies include Special Identity, iceman Cometh 3D Ip Man 3.
[divider]
6.(黃仁植)Wang In-Sik
Wang In-Sik will probably be known for three major movies Way Of The Dragon, The Young Master and Dragon Lord. He gained his black-belt in Hapkido at just the age of 18, he is a 10th dan black belt in Hapkido. In the two Jackie Chan movies he really does get to shine on screen, pulling off a string of fantastic kicks with great timing and power. He also starred in the Angela Mao movie Hapkido back in 1972 and again with her on movies such as When Taekwondo Strikes and The Tournament. He only starred in around 16 movies, so get out there and get yourself a great collection.
http://www.youtube.com/watch?v=EBbeI6S6O_s
[divider]
5.(元彪)Yuen Biao
Yuen Biao is known as one of the greatest acrobatic fighters of all time and if you have ever seen movies such as Knockabout, Righting Wrongs and Dragons Forever then you know why. Known in the early/mid seventies as a stunt man and stunt double, Biao quickly made a name for himself starring in hit movies such as Dreadnaught, Magnificent Butcher, Knockabout and The prodigal Son. His kicking ability was there for all to see, not only as a lead but also doubling for big named stars at the time and also doubled Frankie Chan in the final scene of The prodigal Son even though he was in that scene fighting against him.
One of Biaos most famous kicks was in Twinkle, Twinkle Lucky Stars, when he flips off a container, does a double spin kick in the air, landing on one foot then twisting back round to land a kick in the opponents face, breath-taking. Yuen was doubling actors until the 90's and still making movies to date.
[divider]
4.John Liu
John Liu was always going to get a great start in the world of Kung Fu cinema when he had Mr.Flash legs himself (Tan Tao Liang) as his teacher. John has a great range of kicks, in movies such as The Secret Rivals, he really does get to shine. In 1977 he made two great movies Invincible Armour and Snuff Bottle Connection, again showing why he deserves in my top 10.
Other movies to catch him in are, Instant Kung Fu Man, Secret Rivals 2 and 3, The Mar's Villa, Two Great Cavaliers and Incredible Kung Fu Mission.
[divider]
3.(卡薩伐)Casanova Wong
Casanova Wong is a Korean martial arts actor, who is a true taekwondo expert and known around the world to Kung Fu fans as one of the best leg fighters ever. Some of his early work include Black Dragon River, The Shaolin Plot and also had a brief appearance in The Iron Fisted Monk. Some of his best kicking skills can be seen in the Sammo Hung movie Warriors Two, performing like eight kicks in a row before placing his feet on the ground and even then you can tell he could have carried on. He performs a superb jumping spinning back kick over a table in the final fight against Fung Hak-On, which looks like it lands full force, ouch.
Some of his other work includes The Master Strikes, The Story of Drunken Master, Master killers, Game Of Death and Duel To The Death.
http://www.youtube.com/watch?v=MPgkb9OsVOg
[divider]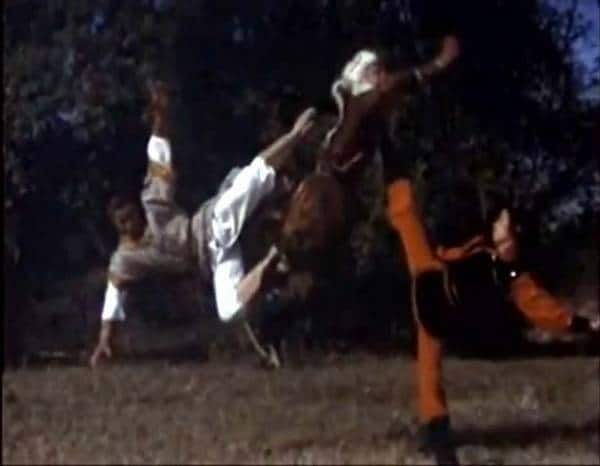 2.(李小龍)Dorian Tan Tao-Liang
Tao-liang Tan is nicknamed "Flash legs" and for very good reason, just watching him perform on screen is breath-taking and this is why he is number 2 on my list. In his early life he studied a few different style which included taekwondo, Judo, Hapkido and Chinese Kung Fu, but it was taekwondo in which he would focus on in the future and also went on to win championships, which included a world championship. His first big break through came in the John Woo movie "Hand Of Death", playing the lead role he would show some excellent kicking techniques and stole the show.
Other movies which shown his amazing ability include Hot, The Cool And The Vicious, Shaolin Deadly Kicks, Showdown at the Cotton Mill and Revenge Of The Shaolin Master.
http://www.youtube.com/watch?v=qEGhYC8wf10
[divider]
1.(황정리)Hwang Jang Lee
To me and hopefully many others, there is no surprise why Hwang Jang Lee is number one on my list, the guy is just to good. Known to everyone as "King of the Leg fighters", Hwang started taekwondo lessons at the age of 14, after achieving his 7th dan black belt, he then became a martial arts instructor for the Korean and South Vietnamese armies. In 1976 he starred in the hit movie Secret Rivals, here he would show everyone just how good his kicks really were, taking on another excellent kicker John Liu.
In 1977, he played the villain in the Kung Fu classic The Invincible Armour before going to to star in two of Jackie Chan's best Kung Fu movies, Snake In The Eagle's Shadow and Drunken Master. In Snake In The Eagle's Shadow, Hwang actually kicked out one of Jackie's front teeth, showing how much power he really had and also how tough Jackie was to stand it. One of Hwang's trademark kicks is the jumping triple kick, something we get to see in today's movies performed by Donnie yen. Other movies which show is great ability include Dance Of The Drunk Mantis, Hitman In The Hand Of Buddha, Hell's Wind Staff, Ninja In The Dragon's Den plus many more. You can also watch a video he made which was titled The Art Of High Impact Kicking, showing various ranges of kicks.