Selected Filmography:
1991:Gambling Ghost
1992:Police Story 3 – Super-cop
1995:The Red-Wolf
1995:Don't Give a Damn
2001:Blazin
2003:Secret War
Website: http://bobbysamuels.com
Robert Samuels is an African American actor who went on to live his dream starring in some great Hong Kong movies with some excellent stars such as Sammo Hung, Yuen Biao, Jackie Chan to name but a few. I remember watching his scenes in Don't Give A Damn and Gambling Ghost and i was really impressed with his skills, he thrown down with Sammo very well and did a great job with the timing of the choreography and must have taken a by hard blows from the man himself. Robert is also a stunt coordinator/director/2nd unit director, who also worked with Chow Yun Fat on the movie The Corrupter as a action director and interpreter.
Robert was actually discovered by Sammo Hung back in the late 80's after Sammo seen some of his clips and said to him if you are ever in Hong Kong, he would love to use him in a few movies. But it wasn't until Robert could prove he could pull of a stunt that Sammo agreed to sign him to a stunt organization, as well as Yuen Biao. In the movie "My Mistress, The Wife", which was directed by Alfred Cheung, it was the first time in a Hong Kong movie that a African American took the lead role, which is a massive achievement. He also went on to form the first ever western stuntman team in the history of Hong Kong cinema which lead to him and his team working with Yuen Woo Ping (who choreographed the action for the worldwide hit The Matrix) on the HK film RED WOLF.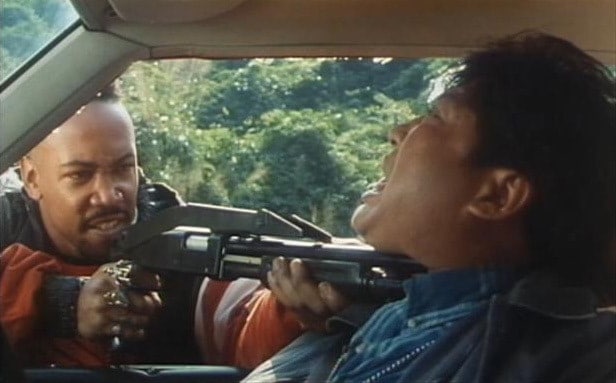 1.Can you tell us a little bit about yourself, background and how you first became involved in acting?
I grew up in Philadelphia pa . My mother and father were married only for two years. They got divorced when I was two years old . My father moved to New York to pursue a career in banking , and my mother stayed in Philadelphia.
So I was shuffled between Philly and New York . My Dad was the first African American banker on Wall Street in New York and my mom became a nurse . Although I had to go back and fourth between. Philly and new york both my parents had expectation for my career path. It was always difficult to measure up to my dad's wishes for my future . I knew early on what I wanted to do . Most people say I saw a movie with Bruce Lee and that did it . Although for me , my first experience was going to the Tower Theater in Philly my mothers sister took me to see Lo Lieh in Five Fingers of Death. When I exited the theater I knew my life had changed forever!! I said to myself I will one day work with the star Lo Lieh. Although acting in Asia is different than in the United States it was the heroic feeling that always inspired me in all the Shaw Brothers movies .that's why I became an actor in Hong Kong Action movies.
Now , I should mention my obsession with the incomparable Bruce Lee . His films were just as powerful an influence on me as the Shaw Veterans .
So during the late 70s and 80s , everyday after school I would spend the day in the theater watching Kung fu films. Back then Kung films were so popular
I would go from one theater to the next . My mother thought I was crazy and obsessed . When I would go to stay with my dad , I would hang out on 42nd st in New York . Every theater on 42nd st had three movies showing so this is where I started to study the films from Hong Kong .
2.How old were you when you started Martial Arts and which is your favorite style to perform?
I began training at the age of 10 . my discipline at that time was Hung Gar Kung fu . My First Sifu was MauriceTunstall in Philadelphia . he had many students at that time . However, he choose me to be his main disciple. He put me through training that no other student received at the time. He understood that in order for me to be the best he had to take my training to another level. My training was just as painful as Sammo and Yuen Biao received in the opera
I stayed with Sifu Tunstall until my early twenties becoming his number one disciple. I always told him that I'm going to Hong Kong to make movies . He said if you want to be successful in Hong Kong you must have something different to offer that anyone else. So I started to branch out with my training.
One day he took me to Chinatown we walked down an alley and into a building .
An old Chinese man was sitting around with a bunch of men playing mahjong . Sifu Tunstall knew this man . He was Grandmaster Lo that from the Hip Sing Kung fu School. Sifu Tunstall told him to take me as a student . He looked at me with a very serious expression and told me to perform . I did a hung form for him and his friends . After that the old man got up and walked over to me . He suddenly did some monkey techniques and told me to imitate him . After that he told Sifu Tunstall that he would except me as a student and that I would learn monkey from him. So I started to learn Monkey Style from him. So because I was very lucky to have been taught by them I would later in my career study under other Sifu's Some of my teachers include Sammo Hung , Cho Wing , Yuen woo Ping , Ridley Tsui Boa , Leung chia Yan, Lau Chia Wing . One Sifu I always idolize was Lau Chia Liang . However, I never had the chance to study under him ,but one individual that took me under his guidance in Hong Kong was Sifu Mark Houghton . Sammo told him to look after me and he did. He was a good friend and brother to me and I will always respect him as big brother . Not many people understand that Sifu Mark was a Pioneer forWestern Actors working in HongKong . he paved the way.
3.Have you sustained any real injuries on set and what was your toughest experience on a movie?
Oh yes many injuries I remember on the set of Dont Give a Damn We were filming in a lumber yard I jumped off one of the racks in the yard and cracked my ankle . Twenty minutes later my ankle was like a balloon . however the scene called for some action so I had to act like nothing was wrong that was difficult . I knew that if I showed any weakness my credibility would be shot . So I just did what I had to do. Another time was in the Film "Red Wolf "for Yuen woo Ping . I had to fight Kenny Ho in shower room with soap all over the floor . That scene was difficult I kept falling cracked my head many times injured my back wow so painful. But I refused to be viewed as a western actor who could not do his own stunts. In Hong Kong in order to become a stuntman at the time you had to be sponsored by three Action Directors . There was a scene in Dont give a Damn where I escape the police station . I had to do a 100 yard dash jump over a fence and into a moving car . Sammo told me if I completed this stunt he wold sign for me . It took me two takes only . That day Yuen Baio Lau chia Wing and Cho Wing were there watching the scene they said Bobby you earned your stuntman s membership. That day I took 4 signatures to the Association . becoming the first African American inducted to the Hong Kong Stuntman s Assc. I then was inducted into the A.S.S A Asia Sports Stars Association and then inducted into the Hong Kong Performing Artist Guild Crazy for a Kid from Philly .
4.You have made movies with some brilliant stars such as Sammo Hung, Yuen Biao, lam Ching Ying and Jackie Chan, what was it like working with them?
Working with Sammo was a dream come true . When I first met him it was at the Niko hotel in Hong Kong in the late 80s . I had just switched managers . My first manager was Chu Chi Ling from " Kung fu Hustle " he guided me when I first got to Hong Kong. because of his schedule I was not getting the jobs that I needed to survive in Hong Kong . We Agreed that I need someone full time . So I met Paul Cheung Hung yip everyone will remember him from countless Shaw Brothers Films Duel of the Iron Fists ,Executioners from Hong Kong Etc. He changed my life forever!!! So at the Niko Hotel Paul and Chen Kuan Tai showed up for dinner . Then Sammo Hung walked in I told him I needed a opportunity he said I Like you tell you what …I'm doing a film now I will help you . Later that night Paul and I were hangin out then he got the call. Sammo said he was creating a role for me . Unbelievable!!, that movie was Gambling Ghost we finished shooting my scenes 4 days ahead of schedule . I was owed 5,000 dollars balance of my payment . I told Sammo I would forfeit the 5,000 if he would one day allow me to work for him again. He was shocked and honored at the same time . He said of course! that is where our relationship came to a new level. I Was staying at a Hotel in Hong Kong he told me to pack my bags and he moved me into his home. I shared a bedroom with his son.At that time he only had one Student Collin Cho from the Matrix Trilogy . We had the same birthday. So Sammo had a ceremony and I became his second student at that time. Collin Cho and I became brothers we were together all the time . Yuen Biao became my uncle and Leung Chia yan became my uncle as well. Everyday I was taught about the film bussiness in Hong Kong
I could not believe how my life had changed . Wherever I went in Hong Kong everyone knew me . The Newspapers said that I was a bodyguard hired by the Triads to protect Sammo . after a couple of years I didn't have to look for any work. All the top Directors and Producers were calling Sammo to use me . I was loyal to Sammo so I only did the projects that he blessed me to do. Then I got the Call from Sammo to pack my bags we were going to Mainland China. They were opening a training camp in Xu hai . Movie stars from Hong Kong were guests of honor . I could not believe it ! I was invited to represent Hong Kong along with Ti Lung ,Sammo Hung, Yuen Biao , Danny Lee no other foreign actors were invited . Each Director that I have worked for has a unique style of Filmmaking . Sammo would always show me how he would bring his vision to life on celluloid .The Camera to him is like a third arm in a fight. Yuen Woo Ping had a different approach as well. This year I hope to get my opportunity to direct my first feature film. Fortunately, I have had almost twenty years experience in this business. So I know that my Directorial debut will be well earned . I think by staying humble and focused has allowed me to continue where most have come and gone . Lam Ching Ying worked with me in Gambling Ghost . He was really one of the most respected Sifu's in Hong Kong
Jackie Chan has always been helpful to me in my Career. I was scheduled to be in Rumble in the Bronx However, I was filming two films at that time and I had to pull out . But Jackie and I have known each other for years.
5.If you could star with any 3 Actors alive or who have passed away, who would you choose and why?
Number one would be Bruce Lee . personally I don't think any one will ever be as iconic as the worlds number one hero of all time . Many nights Sammo and I would talk about his relationship with Bruce. maybe one day I'll write a book and share with the world . But for now I will keep it close to my heart.
Second would be Ti Lung . He truly is one of Hong Kong's most respected actors and a humanitarian to the world . Although we have share many conversations about the aesthetics of filmmaking , I wish we could have done a film together. He was one of my idols growing up.
The third one is Lau chia Liang . when I was growing up in Philly my friends use to call me Liang '" because I was a true Hung Gar practitioner. I think his films are some of the most powerfully acted productions of all time.
6.Out of the movies you have made, what are your top 5?
Well lets see. I will include Hong Kong and the U.S
1). GAMBLING GHOST … Because I got to work with so many stars at one time including the late LO LIEH he use to drive me home every night from set . and I would pick his Brain about different films he did . plus he was a good friend .
2) DON'T GIVE A DAMN… Sammo built that film around me . There was some issues about the Screenplay and one scene had racial overtones . Sammo had nothing to do with that , it was the screenwriter and me who constantly battled over the script. Aside from that scene I had a blast working with my brother Collin Chou and Sammo's Sons .
3) MY MISTRESS , MY WIFE …Alfred Cheung had been following my career and decide to try something different . He cast me as one of the Lead Actors in a Dramatic Comedy . I was honored to have been given an opportunity to do a film with no action. A film where I could flex my acting skills . It was the first time an African American was given a romantic role in Hong Kong Film History . I Returned the Favor by Helping to promote one of his independent films titled MANHATTAN MIDNIGHT . The film was nominated for. Best picture at the Philadelphia International Film festival and ended up winning !
4) THE CUT RUNS DEEP …. I was really proud of this film . The Director John Lee in his first feature film knocked it out of the park. Him and I had to rely on each other to make this extremely gritty Korean Gangster film
. I discovered the lead actor at a hotel I thought he resembled Brandon Lee . I introduced him to the director and the rest was history . The film went on to win Best Picture at the Fu Shan Film Festival . I was the Action Director and Line Producer of the film.
5) THE RED WOLF…. This film I did for YUEN WOO PING . All I can say is he truly is one of the greatest Director /Action Directors of ALL time . This is also the film where G-7 ( Gwei Lo ) 7 I organized the first Western Stunt team in the history of Hong Kong Cinema . The group was signed by Art House Productions and we were hired first by The Master Yuen Woo Ping
We were all featured in the Red Wolf . Although its not my favorite action film that I have done . Director Yuen believed in us and gave us an opportunity .
7.If you could star in any remake, which one would it be and why?
I never choose a film based on the budget . I enjoy working with first time Directors . So for me I would love to see a film loosely based on THREE THE HARD WAY for the American audiences Featuring Bobby Samuels ,Michael Jai White and the RZA. If the script was right I would love to do it ! This. Film was one of my favorite blaxploitation films of the 70s. . I want to see more action films featuring African Americans .
8.Do you have a dream project and what would it involve, weather it would be movies or in real life?
Sure, I am always thinking of ways to reinvent and breath new life into the Martial Art films and movies in general . I would love to see a channel(cable) dedicated to martial art films pass and present . Invite stars of Martial Arts films to guest host weekly . Maybe take the show to certain film sets and interview cast and crew all built around certain movies being telecast sort of like an updated version of Black Belt Theater . Mike Leeder and I shared an Flat years ago and I know he can handle hosting from Asia I can host from the
9.Who are your kung fu idols?
have a lot of them . I will give you the top ten
1)Sammo Hung
2) Bruce lee
3) Ti Lung
4) David Chaing
5) Lau Chia Liang
6) Fu Sheng
7) Leung Chia yan
8)Yuen Woo Ping
9) Tsui Siu Ming
10) Kwan tak Hing
These individual had an indelible impression upon me when growing up in Philadelphia and New York
10.Do you have any future projects coming up?

Yes , I have a few projects that I am currently working on .I am working with Michael Wehrhahn and Robert Harris of Globalstar Productions on the Highly Anticipated Donny Yen Film " Monkey King " I have also inked a deal to star in the second film from the Trilogy franchise . This film is truly a visual masterpiece and I promise you Donny Yen has taken his career to a new level with this film. I have seen the film and it is incredible . All of the Actors involved with the film Chow Yun Fat , Arron Kwok turn in stellar performances. I am very excited about this project
I just finished a short titled Last Days the Saga(Torment) I Was approached to play a character in the film by Independent Director Kaloni Davis . I respect Filmmakers that take risks. I love playing the bad guy because there is so much you can do aesthetically to bring a venal character to life ,I think it's fun . Should be out early 2013
Then I'm finally going to get my opportunity to Direct my first feature tentatively Titled " Men of Iron" scripted by Robert Jefferson. I am Looking forward to this project because of the International Cast I will cast superstars from Hong Kong and the United States . Tony Lueng " IP MAN " will serve as the Action Director . I am fortunate to have work on Both sides Hong Kong and the US so this film will appeal to all. The movie is being produced by Michael Wehrhahn of Globalstar Productions .
11.Do you have a message for your fans around the world and here on Asian Movie Pulse?
Yes, thank you all for the support that comes to me from around the world and to my fans at Asia Pulse thanks as well. I think Asia Pulse is one of the premiere entertainment magazines for any one wanting to know what's going on in the world of Hong Kong cinema . Keep up the good work.
I would like to thank Robert for taking time to answer a few questions and wish him all the best in future projects, here is two videos highlighting some great scenes from his movies, enjoy.
My Facebook page:http://www.facebook.com/pages/Kingofkungfu-Articles-and-reviews-asianmoviepulsecom/245770475468371
My YouTube page: http://www.youtube.com/user/KINGOFKUNGFUAMP/videos?view=0&flow=grid