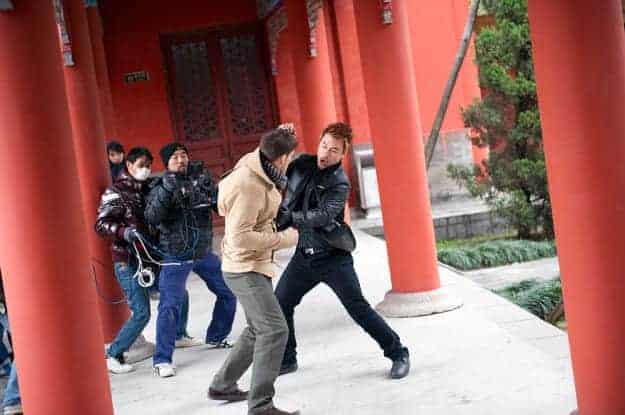 Fist Of The Legend is the latest martial arts movie from upcoming star Maria Tran (Hit Girls), which also features Josh Thomson, Juju Chan, Ellary Porterfield, Daniel Whyte, Xin Sarith Wuku and many more.
Fist Of The Legend is directed by Antony Szeto, who also directed WuShu which starred the legend Sammo Hung, so this movie has great potential with such a great director and cast. This film is a full on action film with a combination of fight choreography which includes Hapkido, MMA, and Vietnamese martial arts. The fight choreography was done by Trung Ly and his Dong Tam Martial Arts School from Sydney, Australia. Trung Ly certainly knows what to do to make a fight scene look great and i hope we get to see him a lot more in the future with his team. Its fresh and nice to seeing these guys really trying hard and dedicating themselves to the art of martial arts and stunt work.
Plot:
Damon, an MMA fighter retires and goes to China to meet his new love, Meili. But things take an immediate turn when he inadvertently takes a package sought by an underground arms dealer. Now he must fight to save himself and his loved one.
This film is a remake of "Moving Target" which starred Don "The Dragon" Wilson and is set to be Roger Cormans best martial arts movie. Roger has been a director and Producer for many, many years working on movies such as Death Race 2000, Grand Theft Auto, A Bucket of Blood and many others.
JuJu Chan who stars in the movie, had this to say,
"There are lots of real contact in the film and many injuries because the director wanted real fighting. It will be a NR rated film, so very violent. Director Antony Szeto is also an established martial artist so he was very demanding".
The fight scene here is high tempo, hard hitting and shows great potential, looking forward to seeing the whole movie when it's released.
Release Date: Early 2014
Filming Locations:
Ace Studios, Nanhai, China