Takeshi Kitano is back!! Watch the Red Band Trailer of Outrage Beyond the long waited sequel of Outrage (2010).

The great Japanese director Takeshi Kitano returns to the big screen with the genre that gave him international recognition and made him one of the best Asian filmmakers.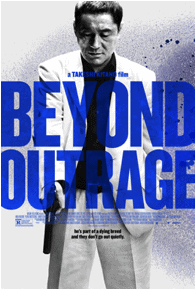 Outrage Beyond
Director: Takeshi Kitano
Screenwriter: Takeshi Kitano
Cast: Beat Takeshi (Takeshi Kitano), Toshiyuki Nishida, Tomokazu Miura, Ryo Kase, Hideo Nakano, Yutaka Matsushige, Fumiyo Kohinata
Music: Keiichi Suzuki
Photography: Katsumi Yanagijma
Production: Japan | 2012
Original Title: Autoreiji Biyondo
Duration: 110 minutes
Rated: R
Ôtomo (Beat Takeshi) now a free man seek to live his life away from the yakuza world but during his imprisonment, things have changed. The Sanno family – who destroyed Ôtomo´s family – has become too powerful and the old-guard members felt that the young leaders are risking the whole business because of their extreme greed. Knowing this situation, Kataoka -an anti-gang detective decides to take advantage and prepare to launch a full-scale crackdown on organized crime.
But before he can do this he must persuade Ôtomo to start a scuffle between the Sanno family from the East and the Hanabishi family from the West. Soon blood starts to run in the streets and Ôtomo finds himself in an open war between the two factions. The level of violence is so high that the National security is in danger.
We would like to remind you  that Magnolia Pictures will release the film on iTunes/On Demand on November 28, 2013 and in theaters on January 3, 2014.
[embedvideo id="5pgWglgGWhI" website="youtube"]
For more information please visit..
Official site
Facebook page