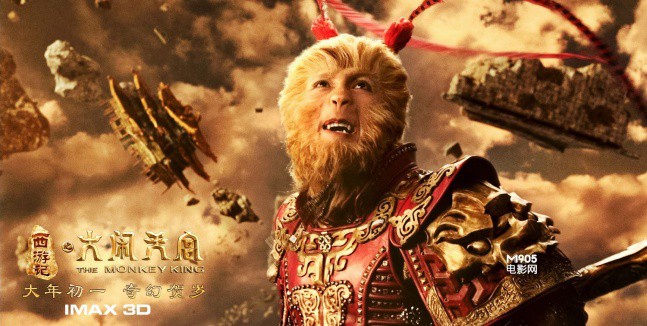 http://www.michaelwehrhahn.com/
www.globalstarproductions.com
http://themonkeykingmovie.com/
The Monkey King was recently released in Asia and lived up to expectations by breaking box office records within a few days of release. The movie made more than $46-million in China and was the HIGHEST GROSSING MOVIE IN THE WORLD with a total of $54-million in just 7 territories alone, beating the previous number 1 movie Iron Man 3. Since then, the numbers have been going higher and higher, which Michael will mention in the interview.
The Monkey King also broke records in China as well as setting a new opening day, world record for IMAX screens. The Monkey King has an all star cast, which includes Donnie Yen, Chow Yun Fat, Aaron Kwok, Louis Fan and many more.
Kung Fu legend Donnie Yen was also very excited by the news and had this to sat in a recent interview, "The film's good performance is the result of hard work from the cast and the crew. I will continue to work hard to make good movies, I will be even stronger!"
Global Star Productions holds all US Copyrights and distribution rights in North America and many major territories outside of China. Global Star Production's unique arrangement with the Chinese producers offers the unusual opportunity to specifically tailor a special edition of this classic tale for an international audience.
Global star have a few big feature movies coming up, "Beast" is the title of Actor/Producer/Martial Artist and now Director, Robert Samuels. The same executive Producers that worked on The Monkey King, so it's sure to be a hit with such a great team working on it. Secondly will be The Monkey King 2, with all the major hype for the recently released Monkey King, the second is surely already spoke about around the world.
Last year, i had the pleasure of interviewing the producer of the movie Michael Wehrhahn and now it's great to have him back on our website to talk about the movies superb run since it's release.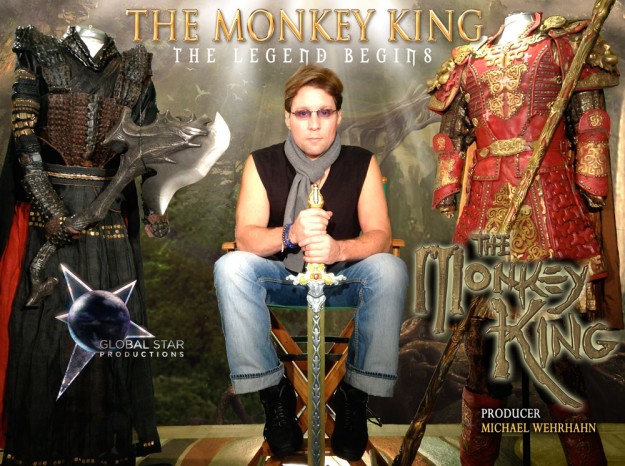 Background Information (Michael Wehrhahn)
Born in Northern New Jersey, Michael was introduced to the spotlight by his parents, highly regarded film archivists for networks such ABC ,NBC News and Republic Pictures. After several years of exposure to the bright lights of Hollywood, Michael began to act through his youth as a teen.
By his late Teens Michael has appeared in over a dozen motion pictures a half dozen television shows and directed his own exercise series. His first major appearance in a feature film was alongside World Renown Rapper Fat Joe playing "Alex Hunter" in Blazin', one of the more popular Hong Kong orientated action Martial Art American made films' of all time hitting the Billboard charts for six consecutive weeks in a row.
In CBS's Now & Again, as "Busker" his portrayal of a strung out homeless street entertainer on the streets of New York marked a dramatic evolution in his career. Then, in 1998, he appeared in the Kasuri Production Pocket Full Of Dreams, which established him on the big screen in selected countries in foreign countries.
After numerous extensive appearances on NBC's Late Night with Conan O' Brien Show with Water World's William Preston as an actor Michael proved he could perform his own stunts as well as act to entertain live audience around the world on national television for three seasons.
In late 1999 he has undertaken his most ambitious project ever: playing Billy Stevens in The Image Factory's What's Eating You?, a comedy horror film filled with Science fiction and virtual reality sets of mass proportion.
Other film projects include Treasure of the Seven Mummies, alongside Matt Schultz (Fast and the Furious), Billy Drago (The untouchables), Cerina Vincent (Cabin Fever) and Danny trejo (Once Upon a time In Mexico) The Secret War alongside KC Armstrong and Jim Florentine (Howard Stern Show).
THE MICHAEL WEHRHAHN INTERVIEW
1.Hi Michael, first of all i want to congratulate you and the team for the incredible success of The Monkey King, grossing a massive $46 million to top the weekend's global box-office chart, you must be very happy?
Yes The Monkey King had a huge success. We are very happy with the success of this. IMAX recorded its biggest single-day grosses at the Chinese box office on January 31 with the opening day of The Monkey King $1.8 million across 140 screens On Imax Alone. We had $46 million in sales across seven territories during its first weekend in theaters or in three days. The last i Looked our sales were at 64.3 million to date of Feb 7th in all seven territories and that's not even half the world not to mention we still have the English US version to release.
2.When you seen the final version of the movie, did you think it would break records like it has in the opening weekend of release?
I wasn't really sure. I knew we would have a decent turnout but nothing like what we had or where we are heading. Its getting a great response and the monkey business market is definitely building a bigger market place to play in.
3.The movie has blown up around the world, with movies like Crouching Tiger, Hero and others doing well in America and other countries, do you think The Monkey King is the latest to follow that trend of great movies?
Absolutely I think the US Market especially is long over due for new material like this. But its difficult for the studios to risk unknown markets and stories, but The Monkey King is already a market place in itself , The risk is alot less, I think we will be shocked to see how well this is going to do being its origin.
4.Do they have plans to release memorabilia from the movie?
Other than some really cool Games for very highly respected game companies. Global Star Production is currently in talks with Merchandising companies and we will see some products out on the market but more will be distributed on part 2.
5.What is the on going marketing plan for the film?
This is changing a bit. As the Mandarin version of the Monkey King continues to play around the world, we will release a Monkey King Game then a couple of months later the US English cut will be released around the world again. The US cut has new Scenes shot in Hollywood and new CG development . During this time Filmko and Global Star Production will get together to shoot part II. We are also in talks with doing a live show.
6.When will we see The Monkey King released in countries like America and the UK?
The Mandarin Version just released in China could be as early as early Summer this year. The English Version or English US Version called The Monkey King The Legend Begins we are discussing with the Studios currently for the right time. We could see it as early as Sep 2014 or later.
7.There has been rumors that Louis Koo and Huang Xiaoming might be starring in the sequel if it happens, is there any truth to that?
Haha I cant give all our secrets away. But what I can tell you is Louis Koo was supposed to be in part 1 but there were schedule issues and he could not participate.
8.Global Star Productions is going from strength to strength and with the success of The Monkey King, any new projects coming up?
Global Star Productions is definitely having some great opportunities. We have several projects coming in the door that are in development. I want the company to inspire new generations positively. I was a big fan of the original starwars , Indiana Jones franchises. I want to pursue franchises like this for the world market place. The model we have built for co productions seem to work. As per those developments you can see some on Globalstarproductions.com. For now I'm having the company focus its efforts on The Monkey King because it is such an amazing project and deserves the attention and focus for a great success.
9.Finally, What's the best advice you could give someone new to film-making?
My advice to any film student, filmmaker or artist is don't wait for that contact or person you have to meet to spread your wings in the business. Go out and find your niche in the market and pursue it. You cant let someone do it for you , you have to do it yourself. Know your craft , know what you want to achieve and know what your end result is going to be and just do it. If you love doing what you believe in , the rest will eventually fall into place. Hard work comes with that, but eventually you will achieve a direction of your goal.
Finally id like to say thanks once again Michael, for taking time to answer these questions, all the best in the future and i am sure we will hear much more from you and your team.
To read the first interview i did with Michael, the website is below.
http://themonkeykingmovie.com/site/#!news?p=8