Having had the pleasure of interviewing producer/actress, and most recently also director, Kiki Sugino at the International Film Festival Rotterdam in January 2014 (you can read the interview here), I was lucky enough to be able to obtain a ticket for the world premiere of her first feature film as a director, Kyoto Elegy, original Japanese title Manga niku to boku, at the Tokyo International Film Festival 2014.
Kyoto Elegy is based on the award winning novel by Shiki Asaka. Most people might expect a comedy when seeing a title as Manga niku to boku (literarily translated "comic meat and me"),  as director Sugino mentioned herself at the premiere. But the film and its story is actually a heartfelt drama that deals with the perception of beauty and tormented souls, each struggling with their own weaknesses.
Shot in the beautiful Japanese city of Kyoto, we are introduced to Watanabe (played by Takahiro Miura),  a serious and quiet student who has difficulty making friends. He meets Kumahori (played by director Sugino herself), an overweight girl who is ridiculed by her classmates. They become friendly with one another, but it doesn't take long before Kumahori takes advantage of this and starts to torment Watanabe in his daily life. This reaches its boiling point when he meets Nako (played by Eri Tokunaga), who he falls in love with.
Amongst the beautiful Kyoto backdrop and the powerful music, the beating heart of the film is definitely found in its acting. The story centers on its troubled individuals and each character is interesting in its own right, as all actors deliver solid performances. The plot focuses mostly on Miura's character as he makes his way through life, interacting with the women he meets. He portrays the young man who goes through changes in a satisfying way and his confusion and struggle with circumstances is well felt throughout the film. Eri Tokunaga brings her character to life with a powerful performance and certainly leaves an impression in some heartbreaking scenes. Kiki Sugino herself plays the overweight Kumahori. The in real life slender Sugino was transformed into the overweight character with some impressive make-up that took 3 hours to apply. She portrays the afflicted individual in a realistic manner, frequently switching from very unpleasant and dislikable to a character we pity and feel sorry for.
The music used in the film is Japanese music of the traditional kind. With Kyoto as its beautiful scenery, it fits the location of the film fantastically but also flows very well with its plot and the emotions shown on screen. A powerful and sometimes even hypnotic atmosphere comes to live, bringing the historic city in touch with the modern circumstances of its story. Being the cultural capital of the Japanese islands brings the viewer locations that are very colourful and it certainly delivers a nice playground for the story to unfold itself in.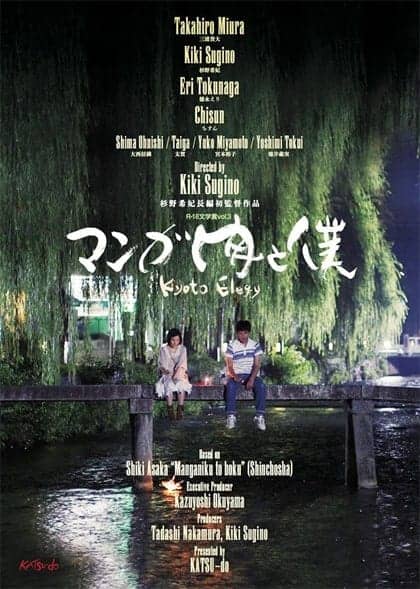 All in all, Sugino has made an impressive debut as a director with this motion picture. Earlier in October 2014, at the Busan International Film Festival, she won the "Rising Director Award" and her second film as a director, Taksu was released at the same festival. It is safe to say that next to being a successful producer and actress, we can also expect more beautiful work from her as a director in the future. Kyoto Elegy is definitely an elegant start.