---
Golden Harvest started in 1970, after Raymond Chow had left Shaw Brothers studios along with producer Leonard Ho and decided to start there own company and go up against the dominance of Shaw Brothers.
Shaw Brothers had been the leading studio for many years, showcasing legendary Directors, Actors and Marital Artists. Raymond Chow and Leonard Ho knew they had to come with something big and make a huge noise in the world of cinema and indeed they did just that. They made a few movies in 1971 such as The Angry River, Lady Whirlwind and One Armed Boxer. But one Actor stood out over the rest, showcasing his incredible talent for the first time in a big movie and his name was Bruce Lee. When the Big Boss premiered in Hong Kong, the audience cheered and mobbed Bruce after the movie had ended.
Also at this time you had people working as stuntmen and fight choreographers, who would go on to become legends in Kung Fu Cinema such as Sammo Hung, Lam Ching Ying, Jackie Chan, Yuen Biao, Yuen Wah and many more. Golden Harvest in 1972 made some great movies and once again were displaying the talents of there Actors, Fight Choreographers and Directors.
*Bandits From Shantung (Chang Yi, Hu Chin, Sammo Hung)
*Fist Of Fury (Bruce Lee)
*Hapkido (Angela Mao, Sammo Hung, Carter Wong)
*The Hurricane (Nora Miao)
*Way Of The Dragon (Bruce Lee, Chuck Norris)
Also during this time, they had another movie sensation which had been the leading actor at Shaw Brothers for a number of years, Jimmy Wang Yu. Raymond Chow and Wang Yu got on very well during this time with Wang Yu offering to make his first movie for free which became the cult classic One Armed Boxer. He went on to make several movies for Golden harvest which includes Beach Of The War Gods, Man Called Tiger, A Man From Hong Kong, A Queens Ransom and so on.
After the very sad death of Martial Arts legend Bruce Lee in 1973, his last ever movie "Enter The Dragon" hit the big screens and that's where history was made. Golden Harvest went into co-production with Warner Brothers, An asian was to play the lead role in a big movie (Which in them days was basically impossible) and the movie broke records world wide and it was the perfect send off to the incredible talent that was Bruce Lee. Bruce Lee brought cultures together, people all around the world, even if they couldn't speak the same language, all knew who Bruce Lee was and for that i congratulate him.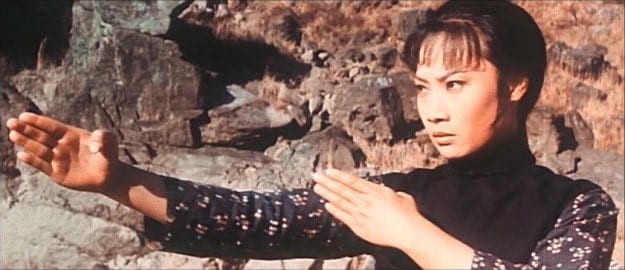 In the period from 1973-1975 Golden Harvest carried on releasing some fantastic movies with Angela Mao fast becoming the queen of Kung Fu movies. In 1970, Golden Harvest boss Raymond Chow went over to Hong Kong in search of new actors. Whilst there, Angela was introduced to him by a friend, Raymond heard about Angela from Peking Opera and that she was a good performer on the stage, at the time they needed a female leading role for a upcoming movie "The Angry River". Angela's ability had met Raymond Chow's expectations and that's how she became involved with Golden Harvest.
From 1973-1975 she starred in movies such as When Taekwondo Strikes, Thunderbolt, The Fate Off Lee Khan, The Tournament and Stoner quickly becoming the lead role and known for her hard hitting fight scenes. There are certainly other movies to mention in this period also such as: Beach Of The War Gods, A Man Called Tiger, The Skyhawk, Chinatown Capers, Dragon Tamers, The Young Dragons, Man From Hong Kong and many more.
The Sammo Hung Take Over
Since the late 1960's, Sammo Hung had grown into a good fight choreographer and earning respect along the way. In 1976 he starred and did the action choreography on the John Woo Flick "Hand Of Death", here he shown a step up delivering the audience some great choreography and capturing the moves on camera which showcased the best from the actors skills. But there was so much more to come for Sammo Hung, in 1977 he did the fight choreography for the titles Shaolin Plot and Iron Fisted Monk. Both fantastic films which really started to show the change in Sammos action sequences, the moves were a little quicker, there was contact within the fight scenes and the skill and timing of the actors were clearly improving.
In 1978, Sammo Hung brought us his first big wing chun movie titled "Warriors Two" a true classic in Kung Fu Cinema displaying some of the best choreography around and showcasing talents such as Casanova Wong, Fung Hak On, Lee Hoi San, Leung Kar Yan and more. Many of these were stars for Shaw Brothers, but only in smaller roles, but when they came and worked with Sammo, he got the best out of them and gave them great characters in his movies. Game Of Death, which starred the late Bruce Lee was originally filmed in 1973 but the movie only had the finale filmed. Director of Enter The Dragon "Robert Clouse", teamed up with Sammo to complete the movie with him taking on Bob Wall as one of the highlights.
Sammo would then return with other classic Kung Fu movies such as Knockabout (Yuen Biao's first leading role)based on the style of the Monkey, pushing Yuen Biao to the limit with some excellent training sequences and show stopping acrobatics. Magnificent Butcher was to follow this which seen Sammo team up with legendary Director and choreographer Yuen Woo Ping. This is one of the best Kung Fu flicks around with an all star cast, superb action which was choreographed by both Yuen Woo Ping and Sammo Hung. 1981 seen the release of Sammo Hungs second Wing Chun movie titled "The Prodigal Son", arguably one of the finest traditional kung fu movies ever made and even made me an over night kung fu fan when i first seen it in the early 1990's. This movie displays everything, great cast, great fights, great directing, music everything you want in a Kung Fu movie.
1978-1981 (Final years of Big Kung Fu Movies)
In 1978, there was a movie which was to be shot by Director Yuen Woo Ping titled "Snake In the Eagles Shadow" which was set to originally star Shaw Brothers icon Fu Sheng. Fu Sheng was already on board for another movie so Yuen Woo Ping opted to give a lesser known star by the name of Jackie Chan a chance to show his talents and what a fantastic decision. The movie was a huge success and Jackie Chan was instantly an over night superstar. The movie was produced by Seasonal Films and Golden Harvest. Around this time we had other releases such as The Amsterdam Kill, Last Hurrah For Chivalry (John Woo), From Riches To Rags and The Sword.
In 1980, Raymond Chow had signed Jackie Chan following his success with Snake In the Eagles Shadow, Drunken Master and Fearless Hyena. Jackie had got out his contract with Director Lo Wei has he felt Lo Wei never gave him a chance to showcase his true talents and made his first Golden Harvest movie as the Star, Director, Writer and fight choreographer in The Young Master. The Hong Kong Gross was around 11.02M, a big hit in Asia which lead to Jackie getting his first International call to star in the flick The Big Brawl. Jackie had bad experiences working on that movie, explaining he was never given the chance to choreograph during the fight scenes even though he had many years experience and the movie failed at the box office. he then starred in the movie CannonBall Run and again wasn't given any real time to show his abilities but did have some decent scenes showing the audience some of his great comedy timing. Jackie then returned back to Asia and made his second movie for Golden Harvest as the leading star titled "Dragon Lord". Dragon lord also had another title which went by "Young Master In Love" with Jackie once again using the superb villain from Young Master, Wang In Sik. The movie didn't have many fight sequences but still made HK 10.936m at the box office making Jackie Chan a leading figure not only at Golden Harvest but all over Asia.
Other titles to look out for from 1981-1983 are Tower Of Death, The Miracle Fighters, Postman Strikes Back and Duel To The Death. From this moment on Golden Harvest took a different turn and led the race with new Modern Day Martial Arts movies which basically brought the end for a good few years of the Kung Fu genre. This will be explained more in part 2 which goes into the take over of modern day martial art action and stunt movies, this feature will be released on the website in a few days time.