(1981-1989 – The Three Dragons)
After the early 1980's, Golden Harvest started to branch out into the modern-day world leaving behind the Kung Fu cinema age and progressing into something massive. From 1981 onwards, Jackie Chan, Sammo Hung and Yuen Biao (The Three Dragons) were about to embark on a sensational journey, progressing from there Kung Fu genre into modern-day Martial Arts and stunt work, something Shaw Brothers were left behind and Golden Harvest was to be the new global company.
Jackie Chan back then headed to the United states to try to break into the international market, but the movies he appeared in didn't really take off and Jackie was also disappointed with the filming of The Big Brawl. Jackie felt he never had chance to show off his action choreography and wasn't given the space to add his world of experience to the movie. Although it was Directed by Robert Clouse (Enter The Dragon) the movie flopped and Jackie headed back to Asia but did return for the movies Cannonball Run 1-2 where he got his idea to put his injuries on the end of his movies. Before the modern-day martial art movies exploded, their were a few classic Kung Fu movies to come out of Golden Harvest, they included the excellent wing chun movie The Prodigal Son, The Miracle Fighters, The Young Master, Dragon Lord, Duel To The Death among them.
In 1983, Golden Harvest put up a lot of money to shoot the movie Project A. Project A brought together the talents of Jackie Chan, Sammo Hung and Yuen Biao for the first time as leading actors (together) and the result took the movie industry to a whole new level with high impact fight scenes and out of this world stunt work. During the 1980's, Jackie, Sammo and Biao got together on a number of movies which included Winners And Sinners, Wheels On Meals, My Lucky Stars, Twinkle, Twinkle Lucky Stars and Dragons Forever. By the time Dragons Forever came out, they had proven to the world that Golden Harvest were firmly the number 1 movie company and bashed out hit after hit of high impact martial art fight choreography.
Jackie Chan tried once again at conquering the American market with his action cop movie The protector. once again, Jackie felt his skills were under used and was furious at how he was treated when making that movie. After the final edit was made, Jackie went back to Hong Kong and re worked a few fight scenes for the Asian release and was a much better edit of the overall movie (Which included added fight scenes). But something good came out of that experience, Jackie went on to make a movie that changed Action forever, Police Story. His death-defying stunt work from himself and his stunt team took action to a whole new level and one that could not be copied by those wanting to make a name of the back of Jackie Chan by copying his action comedy style.
If you want to see or know more about these three legends, then here are some of their better movies ranging from 1981-1989: The Champions, Zu: Warriors From The Magic Mountain, Police Story 1-2, Paper Marriage, Millionaires Express, Righting Wrongs, On The Run, Rosa, Armour Of God, The Iceman Cometh, Eastern Condors, Project A 2 and many more.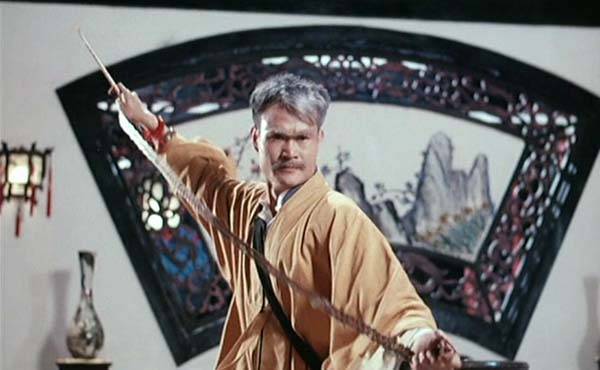 In 1985, Golden Harvest also had another huge hit on their hands, with the very popular Horror/Comedy Mr.Vampire starring the legend Lam Ching Ying. Mr.Vampire also featured Chin Siu Ho, Moon Lee, Ricky Hui, Wu Ma and Pauline Wong (Yuen Wah also playing the role as the Vampire). Vampires in the film are based on the jiangshi, the hopping corpses of Chinese folklore where crucifixes and garlic do not work like western vampire movies.
The blend of Horror, Comedy and Martial Arts made Mr.Vampire a cult classic and spawned off many sequels and spin offs with Lam Ching Ying in the lead as the Toast Priest. The movie made HK$20,092,129 at the box office in Asia and the franchise didn't stop there with Mr.Vampire 1-5 being made plus spin offs under different companies like Ultimate Vampire, Mr.Vampire 1992, Exorcist Master and many more featuring lam Ching Ying. Lam Ching Ying passed away in 1997 from Liver cancer, an illness he kept a secret from his dearest friends and only had close family present when he passed away. RIP to a brilliant screen actor, Lam Ching Ying.
Other great Movies that came out during the 1980's by Golden Harvest are as follows:
Heroes Shed No Tears, Long Arm Of The Law, Yes, Madam, Inspector Wears Skirts, Painted Faces, Portrait Of A Nymph, Rouge, Blonde Fury, The Master and many more. We also got to see amazing talents emerge on Golden Harvest screens such as Yukari Oshima, Moon Lee, Cynthia Rothrock, Leung Kar Yan switch from Shaw Brothers to Golden Harvest as well as Fung Hak On. Maggie Cheung was another huge name on the Golden Harvest list and Martial Arts supremo Michelle Yeoh.
Golden Harvest (1990-2001) The Rise Of Jet Li
During the 1990's Golden Harvest experimented with a variety of different movies and genres and also was the turning point in the movie relationship between Jackie Chan and Sammo Hung. Its understood that both were clashing on set of previous movies and found it a bit difficult to work together. That being said, both of them still went on to make great movies, trying to out do each other in every movie they released. They still had a massive amount of respect for each other and in time would work together again on other projects. During 1990-1991 some of the better movies released are as follows: Operation Condor, Island Of Fire, She Shoots Straight, Stage Door Johnny and the birth of Sex And Zen starring Amy Yip.
But in 1991, Tsui Hark made a movie that would explode Jet Li to world-wide status and that movie was Once Upon A Time In China. The movie is based on the folk legend Wong Fei Hung (originally played by Kwan Tak Hing) but this time, it shown us a more youthful Wong Fei Hung and his struggles to over come over seas powers. The movie was originally set to be based on Yuen Biao's character but before filming, Tsui Hark changed it and focused more on jet Li, which meant Yuen Biao not coming back for the following movies in the saga. Yuen Biao felt like he wasn't given enough screen time to show his full martial arts ability to the audience and went on to make a movie after this called Kickboxer, where he shown the world what he could still do on-screen. This movie did send Jet Li into the big time and in 1992 a sequel was made featuring a battle between Jet Li and Donnie Yen which had audiences wanting more. Part 3 was made with Jet Li and 2 more followed without him and had Vincent Chiu in the lead role until Jet Li came back in the later 90's to star in Once Upon A Time In China And America directed by Sammo Hung.
Throughout the 90's there were some great movies made by Golden Harvest – Operation Scorpio, Twin Dragons, Police Story 3, Center Stage, Iron Monkey, Crime Story, Bodyguard From Beijing, The Blade and Drunken Master 2. In Drunken Master 2, Jackie Chan brings back the hit that made him a superstar in 1978, showing audiences that a then 40-year-old could still perform to the highest level and deliver a great Kung Fu movie. In 1995, Jackie Chan made Rumble In the Bronx, a movie which made international audiences finally take notice of this living legend. Many people think it was Rush Hour (1998) that made audiences take notice, but believe me, it was Rumble In the Bronx. The movie showcased top-level stunt work from Jackie and his team and once again set new boundaries for high impact Modern Day Martial Att movies. Jackie followed this with other movies getting a worldwide release such as Police Story 4 (First Strike), Mr.Nice Guy, Thunderbolt and Who Am I before blowing up globally (Those who didn't know much about the Kung Fu genre)with the Rush Hour series.
2000 onwards
The 1990's were the final major part Golden Harvest would play in the world as a global movie making company, as by 2003 they had declined and withdrew from film-making to concentrate on film financing and distribution. By 2007, Raymond Chow had decided to sell off Golden Harvest to Chinese businessman Wu Kebo, who already owned the Orange Sky Entertainment Group.
Golden Harvest will be remembered as a company owned by a true passionate owner who loved movies and taking his company to world wide status. Raymond brought us screen legends and amazing movies which will stand the test of time for future generations to enjoy. I welcome everyone to get out your DVD's, VCD's, VHS and Blu Rays and sit back and watch some of the best movies ever to grace our screens and if you are new to the genre, you are in for one hell of a ride. I hope everyone enjoyed the read, this is only my understanding of Golden Harvest, Raymond Chow, the movies and the stars, i truly believe there are many more stories out there yet to be told.
Please be sure to check out Part 1 right here:
http://asianmoviepulse.com/2015/06/the-raymond-chow-and-golden-harvest-era-part-1/