The Rules of The Game (1994)
Scripted by Kang Je-Gyu, director of My Way (2011) and Shiri (1999), The Rules of The Game refers to swindlers, prostitutes and gangsters.
Yong-Dae (played by Park Joong-Hoon), is a punk who aspires to rise up through the ranks and acquire power and wealth.
"In the 1983 film Scarface, Tony Montana (portrayed by Al Pacino) influenced me during the making of the film," Park told.
---
Green Fish (1997)
Mak-Dong (played by Han Suk-Kyu), becomes embroiled in a fight with a trio of young thugs who harass Mi-Ae. He, having just been discharged from the military, is on the train home. While looking for work, Mak-Dong comes across Mi-Ae again, who is a nightclub singer and also girlfriend of a gang boss Bae Tae-Gon. Mak-Dong becomes entangled in the gang and his infatuation with Mi-Ae leads him to his downfall.
After Bae Tae-Gon elevating Mak-Dong to a full-fledged member of the gang, Mak-Dong displays loyalty by stabbing a rival mob boss to death in a bathroom — the pivotal scene cited by director Yoo Ha for informing the basis of a similar scene in his neo-noir film A Dirty Carnival (2006). As blood flows everywhere, Mak-Dong becomes frantic.
In the famous phone booth scene, He calls home and asks his brother if he remembers how they used to fish in the river in order to catch one of the green fish.
Han Suk-Kyu recently featured in Ryoo Seung-Wan's hit thriller The Berlin File (2013) as a fast-footed veteran field agent, who surveils a North Korean weapons deal in Berlin.
Song Kang-Ho made a name for himself as a supporting actor in the film.
Green Fish stands as one of the most important works of 90s Korean cinema.
---
No. 3 (1997)
Before the blockbuster thriller Shiri made box-office stars out of Han Suk-Kyu, Choi Min-Sik and Song Kang-Ho, they had previously banded together for No. 3.
Rather than focusing on plot, No. 3 is more of a character piece involving a gangster, the titular no. 3 (played by Han Suk-Kyu), who manages to work his way up to the post of no. 1 within a gang, a foul-mouthed prosecutor (played by Choi Min-Sik), and a bumbling assassin (played by Song Kang-Ho), who trains a group of young recruits.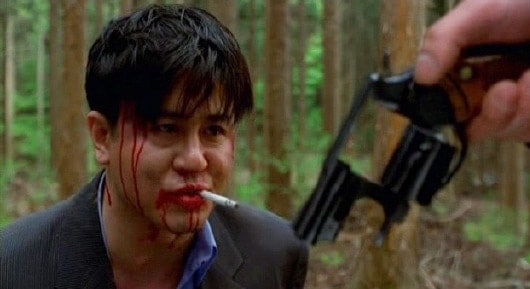 Choi Min-Sik, after No. 3 marking his return to the big screen, made high-profile appearances in films, such as I Saw the Devil, Old Boy and Shiri.
No. 3 earned Song Kang-Ho stardom for his stuttering character and show-stealing performance.