1. Swordsman in the Twilight (1967)
Director: Chung Chang-Hwa
Cast: Nam Goong-Won, Yoon Jeong-Hee, Heo Jang-Kang
Best known for helming the Shaw Brothers film King Boxer (1972) a.k.a. Five Fingers of Death, which stands as one of the best cult films among Hong Kong martial art films, Director Chung pioneered in the genre of action films in Korean cinema. The film stepped into the spotlight at the BIFF (Busan International Film Festival) in 2003.
In the reign of the king Sukjong, the new queen, Jang Hui-Bin ascends the throne. Oh Ki-Ryong, an ally of Jang, tyrannizes those who remain sympathetic to the old queen, Min. A lone swordsman, Kim Tae-Won appears and gets rid of the allies of Jang with a certain vengeance. He gradually unfolds his story in flashbacks.
---
2. The General's Son (1990)
Director: Im Kwon-Taek
Cast: Park Sang‑Min, Shin Hyun‑Joon, Lee Il‑Jae
The first installment, in The General's son trilogy by director Im who has produced over a hundred films to his credit in the span of more than five decades, was a huge hit at the domestic box office and established Im as one of Korea's most prominent directors.
It transpires that Korea's highly sought-after actor Hwang Jung-Min made his debut in a bit part in the film.
Set during the Japanese oppression, it chronicles the general's son, Kim Doo-Han's rise to power in the Jongro district of Seoul, who recruits militia to wage his own war against the Japanese invaders.
---
3. The Terrorist (1995)
Director: Kim Young-Bin
Cast: Choi Min-Soo, Lee Kyung-Young, Heo Joon-Ho
Known as the son of esteemed actor-director Choi Moo-Ryong (*The Red Scarf, 1964 and *The Marines Who Never Returned, 1963), Choi Min-Soo received rave reviews for his performance in the film, and it earned him an award for best actor.
Soo-Hyun (Choi Min-Soo) achieves his life-long dream of becoming a police officer, but before long, he is jailed for using excessive force in his attempt to subdue a mob. Upon his release from prison, he seeks a fresh start, which is shattered when his close friend is killed by the mob. He becomes bent on revenge.
* Add it to your ever-growing list of films to watch!
---
4. Charisma (1996)
Director: Kim Doo-Young
Cast: Han Gook-Il, Lee Dong-Jun, Lee Seung-Shin
Ji-Hoon (Han Gook-Il), who is a promising athlete, is discharged from prison after serving time for his friend, Dong-Jin's murder. A mob boss, Dong-Jin cajoles Ji-Hoon into working for him, but Ji-Hoon turns him down. Dong-Jin keeps devising schemes to draw Ji-Hoon into his own gang.
Han Gook-Il (*The Fearless One, 1986), who used to be noted for his career as a martial arts actor, reportedly revealed how he lost out on the chance to play Jet Li's role in Lethal Weapon 4.
Check out his kicking techniques below!
* Add it to your ever-growing list of films to watch!
---
5. Gangster Lessons (1996) a.k.a. Final Blow
Director: Kim Sang-Jin
Cast: Park Joong-Hoon (*The Rules of The Game, 1994), Park Sang-Min, Hakuryu
A mobster, Sung-Cheol (Park Joong-Hoon), after he stabs a man to death, hops on a flight and dashes off to Japan. He encounters Hae-Gu (Park Sang-Min) en route. Thanks to Sung-Cheol, Hae-Gu becomes embroiled in a yakuza gang. The idea of becoming a mobster starts to grow on him, in the meantime, a tragedy awaits him.
* Add it to your ever-growing list of films to watch!
---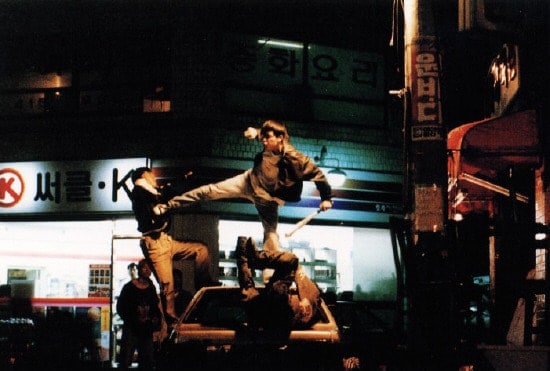 6. Beat (1997)
Director: Kim Sung-Su
Cast: Jung Woo‑Sung (Cold Eyes,2013), Yu Oh-Sung (Friend: The Great Legacy, 2013 and Friend, 2001), Im Chang-Jung, Ko So-Young
Based on a bestselling graphic novel, it opens with a fight under dim street lamps, and a clang of a Zippo lighter, which illuminates two faces: Min (Jung Woo-Sung) and Tae-Soo (Yu Oh-Sung). They spend their adolescence roaming the streets and getting into fights with local thugs. Min, after meeting his love interest, Ro-Mi, is torn between rising through the criminal ranks with Tae-Soo and a virtuous life with Ro-mi.
Jung Woo-Sung, who made a name for himself in the film, later teamed up again with Director Kim for the 2001 epic film The Warrior a.k.a. Musa.
---
7. Nowhere to Hide (1999)
Director: Lee Myung-Se
Cast: Park Joong-Hoon, Ahn Sung-Ki, Jang Dong-Gun, Choi Ji-Woo
Beautifully shot, it moves through richly atmospheric settings.
According to The New York Times, held together with only the barest of plot elements, it is a wildly exuberant, genre-crunching, police-comedy action flick.
Park Joon-Hoon, whose performance in the film led to the opportunity to be cast in a Hollywood film, The Truth About Charlie (2002), alongside Mark Wahlberg and Thandie Newton, pulled off his role and delivered his most unforgiving and visually remarkable action performance with Ahn Sung-Ki with the haunting theme song, Bee Gees' Holiday, which lingered long.