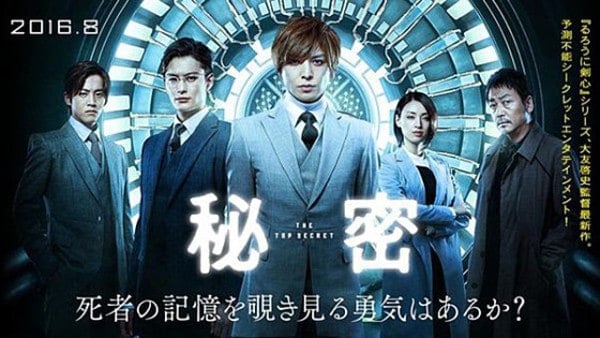 Based on the manga series "Himitsu – Toppu Shiikuretto" by Reiko Shimizu (first published March, 1999 in Japanese shoujo manga "Melody"), the title has been also adapted into an anime series named Top Secret – The Revelation, by Madhouse.
Set in the late 21st century, an MRI scanner is introduced at the National Research Institute of Police Science's 9th Forensics Laboratory. The machine is able to scan the memories from even the deceased. As ethical questions arise over the machine's use, the 9th Forensics Laboratory members, including rookie Ikko Aoki and Chief Tsuyoshi Maki, struggle to solve cases.
Keishi Otomo( Rurouni Kenshin trilogy) will direct  an ensemble cast, including Chiaki Kuriyama, Nao Omori, Tori Matsuzaka, Kippei Shiina and Lily Franky. The film will be released in August.
https://www.youtube.com/watch?v=IddUF8zpDVE