"Mrs. K" rocked the 27th Singapore International Film Festival (SGIFF) last November 27, 2016. Hitting the special presentation at Capitol Theater was Hong Kong martial arts super star and Mrs. K heroine herself Kara Wei. Fans couldn't get enough of Kara Wei (known for her thrilling turns in "My Young Auntie" (1982), "Rain Dogs" (2006), "At The End of Daybreak" (2009), and "Rigor Mortis" (2014)) specially since this is the iconic actress' farewell film. Mrs. K's Writer-director Ho Yuhang, Taiwanese rocker Wu Bai, and Malaysian newcomer Siow Li Xuan also graced the red carpet.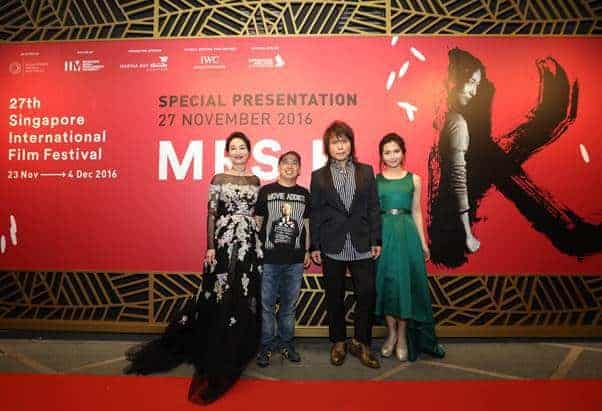 Mrs. K follows a suburban housewife whose ordinary life is shaken up when an ex-cop—who knows about her criminal past—comes in to town to blackmail her. Mrs. K must battle against her former foes to protect her husband and daughter at all costs. It is a timeless tale of vengeance and redemption that promises to bring both electrifying action sequences and heartfelt drama.
https://www.youtube.com/watch?v=Jd0eU1_CMwU
The film also stars Hong Kong veteran actor Simon Yam ("The Thieves" (2012) and "Sky on Fire" (2016)), award-winning Malaysian actor Faizal Hussein and Hong Kong martial artist Lau Wing. Malaysian film director Dain Iskandar Said as well as Hong Kong directors Fruit Chan ("The Midnight After" (2016)) and Kirk Wong also make cameos.
The 27th edition of SGIFF runs from November 23 to December 4, 2016. Hosted by the Info-communications Media Development Authority of Singapore (IMDA), the festival will screen across various venues, including Marina Bay Sands, Capitol Theatre, National Museum of Singapore Gallery Theatre, Shaw Theatres Lido, National Gallery Singapore Auditorium, The Arts House Screening Room, Filmgarde Bugis+ and Objectifs Chapel Gallery.
For a complete list of the programme, visit their official website: http://sgiff.com/