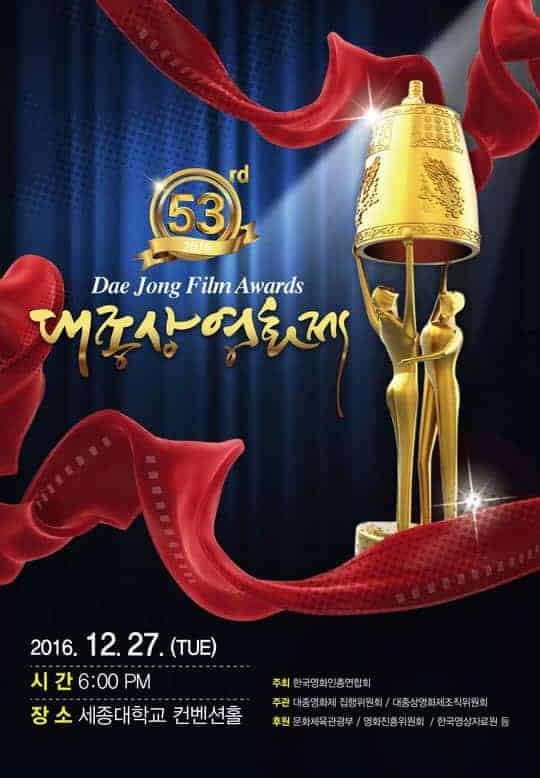 The 52nd ceremony was held on December 27, 2016 at Sejong University's Convention Center and hosted by Kim Byung-chan, Kong Seo-young, Lee Tae-im.
Lee Byung-hun, who won the "Best Male Actor", decided to speak about the still-existing controversy surrounding the awards ceremony, during his acceptance speech:
"I'm happy to receive this award, but my heavy heart takes precedence. There's been a lot of talk about and problems with the Grand Bell Awards, and I feel like these problems have still not been addressed," he said.  He called for action to be taken, and hopes that the industry will eventually come to an understanding.
The ceremony has been criticized for its fee-based voting system, poor accounting practices, and was supposedly boycotted last year for announcing -but later retracted- that only attendees could win awards. Similar to last year, many of the nominees and subsequent winners were not in attendance.
Source: Soompi.
The winners were:
Best Picture: Inside Men 
Director Award: Woo Min-ho (Inside Men)
Screenplay: Woo Min-ho (Inside Men)
Actor Award: Lee Byung-hun  (Inside Men)
Actress Award: Son Ye-jin (The Last Princess)
Supporting Actor: Eom Tae-goo (The Age of Shadows)
Supporting Actress: Ra Mi-ran (The Last Princess)
New Actor: Jung Ga-ram (4th Place)
New Actress: Kim Hwan-hee (The Wailing)
New Director: Cho Jung-rae (Spirits' Homecoming)
New Rising Award: Kim Hee-jin-III (Operation Chromite), Choi Ri (Spirits' Homecoming)
Cinematography: The Wailing (Hong Kyeong-pyo)
Lighting: The Wailing (Kim Chang-ho)
Editing: The Wailing (Kim Sun-min)
Music: The Last Princess (Choi Yong-rak and Jo Seong-woo)
Costuming: The Last Princess (Kwon Yoo-jin and Lim Seung-hee)
Art Direction: The Age of Shadows (Cho Hwa-sung)
Visual Effects: The Tiger: An Old Hunter's Tale (Jo Yong-seok-I, Yoon Hyeong-tae, Lee Dong-ho-I and Jeong Min-woo-I)
Sound Recording Award: The Wailing (Kim Sin-yong and Park Yong-gi-I)
Planning: Inside Men (Kim Won-gook)
Popularity Award: Lee Beom-soo
Korean Film Lifetime Achievement Award: Yoon Sam-yuk (director)