The ever-reliable thespian Song Kang-ho, after a big 2013, in which he featured in Snowpiercer, The Face Reader and The Attorney, had a quiet 2014 before appearing in Lee Joon-ik's smash hit period drama The Throne and Kim Jee-woon's Colonial Era action-thriller The Age of Shadows. This year, Song seems to be hitting his stride with the following films.
A Taxi Driver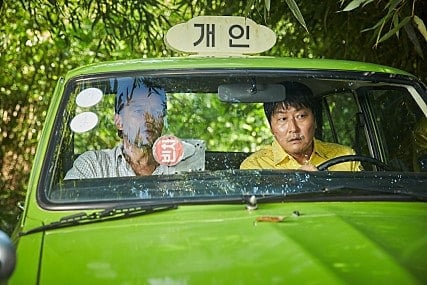 Sure to stir up many memories and much debate, it depicts the story of a taxi driver and the late Jürgen Hinzpeter (played by Thomas Kretschmann), a German journalist who reported on 1980 Gwangju Uprising, when the Korean military invoked martial law and slaughtered citizen in Gwangju. The film is to be directed by Jang Hoon of Secret Reunion (2010) and stars Song as the titular character.
In 2003, Hinzpeter was awarded with the Song Kun-ho Journalism Prize in Korea and made a thank you speech that he was grateful for a courageous taxi driver, who had took him to Gwangju and guided him around the city.
A Taxi Driver will be distributed in Korea and internationally by Showbox.
Fifth Column (literal title)
Song plays Kang Jong-deok, a military internal affairs investigator who uncovers a massive conspiracy. Ryu Seung-ryong (Miracle in Cell No. 7) plays as Hyun Joon-hee, a power player in the middle of the conspiracy while Jung Woo (The Himalayas) as Song's partner Yoon Joong-hyun.
An action-thriller from director Won Shin-yun, who previously made the hit spy action-thriller The Suspect (2013) and recently completed a thriller, A Murderer's Guide to Memorization, with Sul Kyung-gu. Fifth Column will be distributed by Showbox.
Drug King (literal title)
A new thriller from Woo Min-ho, the director of Inside Men (2015).
Song plays a drug smuggler in 1970s Busan while Jo Jung-suk (Time Renegades, 2016) as a public prosecutor hell-bent on taking him down. Meanwhile, Bae Doo-na plays the female lead opposite Song.
Drug King is being financed and distributed by Showbox.
Parasite (literal title)
Director Bong Joon-ho and Song are set to team up again for Parasite.
Little is known about the film so far, save that it will be Korean, will revolve around a family going through a disturbance and that it will be distributed by CJ Entertainment and financed by Barunson E&A Corp.
Sources: Kobiz, Naver, Cine21