SE Asian movies, at least as they are perceived in their whole by the majority of international audience, are known for a number of things: Horror, violence, Wong Kar Wai, Park Chan-wook and Takashi Miike (ok, I am just oversimplifying things here). So, for this list I decided to show another aspect of Asian movies, not so frequently mentioned or even considered for that matter, apart from the Bollywood movies that is. Without further ado, here are 12 great dancing scenes from Asian movies, with the lion's share belonging to Wong Kar Wai, who has presented a number of astonishing sequences through the years.
1. Lai Yiu-fai and Ho Po-wing are dancing in a kitchen (Wong Kar Wai, Happy Together,1997, Hong Kong)
Tony Leung and Leslie Cheung are tangoing in the middle of a kitchen, with their love and adoration for each other becoming evident by the way they look at and lean on each other. When they stop dancing, they start kissing, hugging and caressing.
2. Han Kang-shik, aka The King, is dancing (The King, Han Hae-rim, 2017, S. Korea)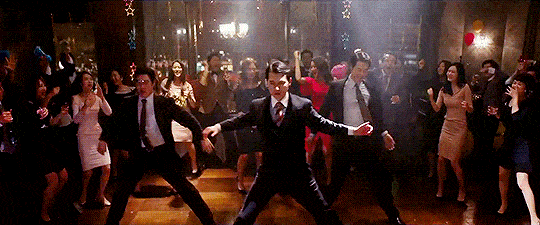 In a rather unusual scene for him, Jung Woo-sung is dancing in a night club, after a success of his group, along two colleagues in a circle formed by a number of beautiful women.
3. Xiao Suizi training (Youth, Feng Xiaogang, 2017, China)
Under the pointers of her trainer and a number of people who look at her stupefied, Zhong Chuxi is dancing along with her colleagues, although she has the central stage.
4. Yuddy lies in bed smoking and then gets up and starts dancing in front of the mirror (Days of Being Wild, 1990, Hong Kong)
One of the most memorable scenes in the film comes when, after lying in bed, Leslie Cheung gets up and starts swaying to a mambo rhythm, initially in front of the mirror and then in the other rooms.
5. Mother dancing in the film's intro (Mother, Bong Joon-ho, 2009, S. Korea)
Kim Hye-ja dances in a field in the beginning of the film, in a completely unexpected scene
6. Mai and Shohei dance in the finale of the movie (Shall We Dance?, Masayuki Suo, 1996, Japan)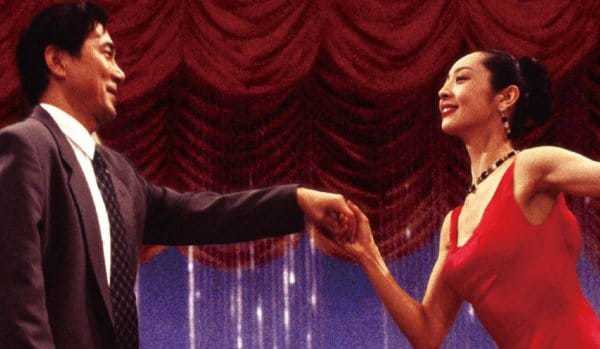 Koji Yakusho highlights his progress in dancing, as he dances with Tamiyo Kusakari in a ball room among other couples
7. The women dance in Choon-Hwa`s funeral, as per her wish (Sunny, Kang Hyeong-cheol, 2011, S. Korea)
Yoo Ho-jeong, Go Soo-hee reprise their high school choreography by dancing to "Sunny" in front of Chun-hwa's funeral picture.
8. Mei dances in front of Captain Leo (House of Flying Daggers, Zhang Yimou, 2004, China) 
In a triumph of visual maximalism, Zhang Ziyi performs in astonishing fashion in front of Andy Lau
9. Disco in an underground dance party in the 80's China (Shanghai Dreams, Gao Yuanyuan, 2005, China)
The "Chinese Travolta" gives a great performance in front of a large audience.
10. Dance Festival (Zatoichi, Takeshi Kitano, 2003, Japan)
In the film's finale, and in a totally unexpected and out of context scene, almost the whole cast performs a dance
11. Faye is dancing  as she is working in a fast-food (Chungking Express, Wong Kar Wai, 1994, Hong Kong)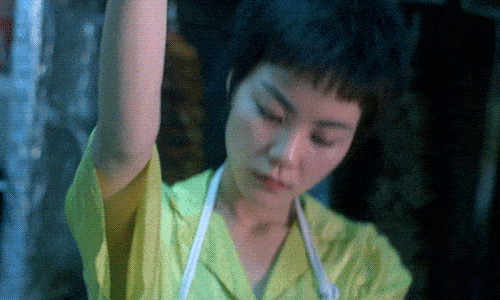 Faye Wong is dancing to "California Dreaming".
12. Mother and daughter dancing (The Taste of Rice Flower, Pengfei, 2017, China)
Yang Ze and Ye Bule perform a traditional dance in a sacred cave, in a surrealistic scene that highlights the fact they have found some common ground
13. A stripper is dancing in a club in the middle of nowhere while Shiratori is peeking from a hole (9 Souls, Toshiaki Toyoda, 2003, Japan)
Takako Matsu is strip dancing, while Mame Yamada is watching, in a highly surrealistic scene
14. Sivudu dances after carrying the altar to the waterfall (Baahuballi: The Beginning, S.S. Rajamouli, 2015, India)
After saving his mother from a tremendous torment, Prabhas performs a celebratory dance, with the rhythm capturing the whole village
15. Su Li-zhen and Chow Mo-wan dancing (In The Mood for Love, Wong Kar Wai, 2000, Hong Kong)
Maggie Cheung and Tony Leung are dancing in a deleted scene from the movie.