The film is based on the real-life 2008 murder of 16-year-old Wong Ka-mui, a mainlander who had moved to Hong Kong and soon after dropped out of school. Wong was strangled when providing sex services and her body wasn't found, as the killer flushed some parts down the toilet, dumped others at markets and threw her head into the harbor, in a case that drew sensational reporting (source: Far East Film Festival, Tim Youngs). Philip Yung however, does not present the usual crime movie, but instead aims at a character portrait through a rather unusual narrative, for the category.
Buy This Title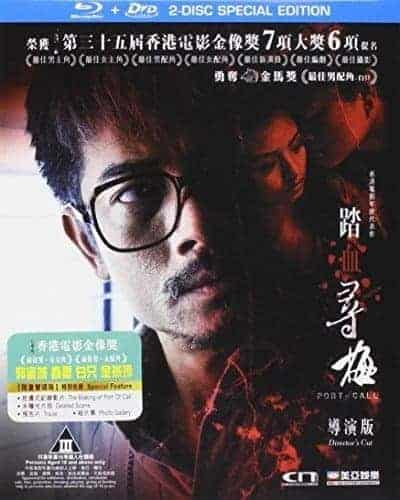 Wang Jiamei, a girl from Hunan, arrives in Hong Kong in 2009 to join her mother and sister. After experiencing a shocking suicide attempt by a girl sitting next to her in class, Jiamei decides to leave school and embarks on a number of odd jobs that eventually have her prostituting online (the "concept" is named compensated dating). As the narrative moves back and forth through a plethora of flashbacks, we meet van driver Ting Tsz-chung who turns himself in for the murder of the girl, stating that she wanted to die and actually asked him to kill her. Chong, a very intelligent but kind of smug, divorced investigating officer becomes obsessed with the case, and particular the reasons behind the murder, both regarding the victim and the perpetrator.
Philip Yung uses the murder case, which is eventually portrayed in the most grotesque detail (which is what earned the film a CAT III classification), in order to present a character study about the three protagonists of the story. Surprisingly, the main focus seems to be on Wang Jiamei, and particularly the reasons that led her to prostitution and her subsequent death wish. Gorgeous Jessie Li, in her feature debut, presents a character that seems completely detached from the "real" world, and is quite frustrated with the financial and social status of her family, and is willing to do anything to change her circumstances. The scene where she buys the earrings is a testament to the fact that she just wants pretty, expensive things, although the reasons for wishing to die are much more complex and have to do with the luck of purpose and orientation youths experience in Hong Kong, although in an extreme approach.
The second character the script focuses on is Detective Chong, who finds himself being completely drawn to the case, to the point where he becomes friends with the victim's mother and sister, in his effort to find the reasons for the girl's death wish, and to give a sense of purpose to his own life. An almost unrecognizable Aaron Kwok (he grew a moustache and beard, which, along with his hair, were dyed grey while he also had to reduce his gym exercise routines to appear more "middle-aged") gives a magnificent performance as a man lost in both his life (he suffers from nightmares that do not let him sleep) and the case. The repeating move with him looking above his glasses and occasionally fixing them in the proper place becomes a trademark of his acting, while the scenes where he is interacting with his daughter are impressive, as they highlight a completely different aspect of his character. The one where he mischievously cries to his ex-wife is also great.
The third one is Ting Tsz-chung, a loner who has no purpose in life, and finds himself not being able to deny anything a beautiful girl that has sex with him wishes. Michael Ning, a stage actor, is impressive as an unhappy, depressed individual, with his narration of the way he killed the girl being outstanding as much as shocking and grotesque.
Through all three characters, Yung seems to state that alienation, marginalization, and the subsequent hopelessness are ailments that do not care about age, social status, or appearance, as they seem to torment everyone, although the solution each one finds differs radically, with Chong managing to sustain himself psychologically, through his daughter.
Christopher Doyle's cinematography is great as always, accompanying the toned-down, but occasionally extreme atmosphere quite nicely, with the same applying to Philip Yung and Chu Ka-yat's editing. The combination of the two give the film an atmosphere that approaches the borders of the art-house film, although Ke Ding's music and a number of Cantopop tracks move into more mainstream paths, as does the presence of Aaron Kwok.
"Port of Call" is a great film that excels in most aspects, through an elaborate combination of crime, character study, social comments, art-house and CAT III aesthetics.