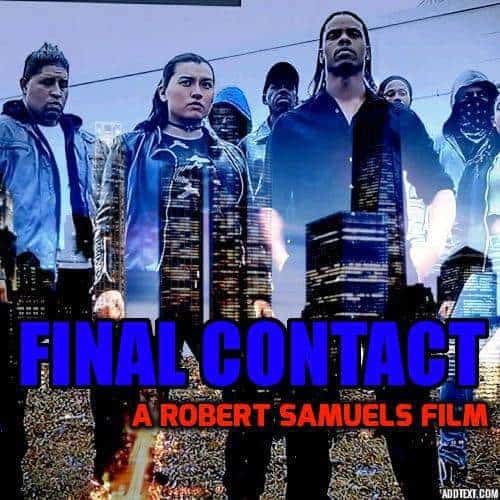 Directed By: Robert Samuels
Written and Produced By: Robert Jefferson
Cast: Terrell Southwind Bullock, Vanessa Bontea, Raymond Blong
Executive Producers: Eng Andy, Alan Goldberg, Oso Tayari Casel, Dr.Mark Wiley
Action By: TeamOneTakeActionDesign, Luis Orlando Candelario
Director/Actor Robert Samuels is back with his next big project "Final Contact", a ten part series airing on Youtube channel "R4Films" on Wednesday 14th March 2018. Final Contact is Hard Hitting, fast paced and delivers an interesting plot, which will keep people guessing until the end (Just what is inside that case?). I had the pleasure of viewing around ten minutes (courtesy of Robert Samuels) and i know Martial Arts and Action fans will be excited to see Final Contact.
PLOT
The story is centered around a case, which is being protected against a group which will do anything to get hold of it, even kill. It's a race against time to deliver the case to it's final destination, the case gets handed to a different operative with there own unique storyline each episode.
The fight Choreography by "TeamOneTakeActionDesign, Luis Orlando Candelario", the camera work and the Stunt performers really delivered some of their best work to date. The camera angels, the pulse racing music and high energy action, really draws the viewer deep into the heart of the action. The blend of seeing a block or strike in slow motion then instantly picking up the speed was something i very much enjoyed.
"Sammo Hung is my teacher, but i want to make my own style, incorporating what he shown me over the years" – Director Robert Samuels.
R4Films and TeamOneTakeActionDesign have collaborated on a number of projects now, each one delivering better results than the last and giving a fresh new take on the Action genre. I am very excited about the future for everyone involved, i look forward to the next project and wish them all the best of luck.
Some of the highlights were The Stairway fight, Raymond Blong Vs Robert Jefferson, the Corridor sequence where Raymond takes on a bunch of bad guys, before Terrell Southwind Bullock and Vanessa Bontea showcase their Martial Art abilities in a fight to the death (and this is only one episode).
I asked Director Robert Samuels what he wants to achieve with R4Films, "I want people to Know R4Films loves giving upcoming talent oppotunities that most film-makers resist, from fear of the unknown. We are planning more Co-Productions with such talented Independant Film Companies, such as Kamen Ramen Studios, Art School Dropouts and our partnership with Team One Take Action Design. Also a big thanks to Demetrius Angelo (Urban Action Showcase)".
If you haven't seen previous Robert Samuels/Robert Jefferson projects, then please go back and watch the Action/Thriller "Jun", Beast: The Chronicles Of Parker, Last Days: The Saga and the excellent short Movie "The Call".
Final Verdict
I did only get to view Ten minutes of Final Contact, but i found the project to be Imaginative, Intriguing, Clever, Hard Hitting and Enjoyable. Martial Arts and Action fans should fully support and get behind Indepandant Film companies, who are working very hard to keep real action and Martial Arts movies alive and kicking. Every project from R4Films, Director Robert Samuels and Producer Robert Jefferson, keep on getting better and better and i have no doubts Final Contact will be the biggest success to date.
Be sure to Subscribe to R4Films Youtube Channel below, to watch the premier of Final Contact on Wednesday 14th March 2018. Also below is the trailer for Final Contact and enjoy some pictures from the filming.
https://www.youtube.com/channel/UCWl6K0VPgvpY-esJrKDZH3g