Swapping gun with a huge butcher knife, Stephen Chow debuts as a director and together with Lee Lik-Chi, they bring us this Chinese version of "Get Smart" and a spoof of James Bond movies in which they mix laughs and violence to great effect.
Buy

This

Title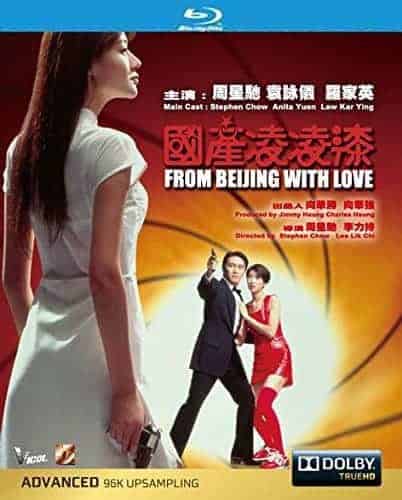 In China, a dinosaur skull is stolen, leading to a dumb, incompetent, but a charming secret agent sent to Hong Kong to investigate and retrieve it. A female spy who is supposed to help him is in fact a double-agent ordered by their government to have him killed.
As this is a send- up of James Bond films, Stephen Chow is the secret agent Ling Ling Chat, which sounds very much like 007 but it's loosely translated as 'drenching  in paint' as written in Chinese. The film starts off with some John Woo style of gun-fu action in a warehouse where a secret agent (Yu Rong-Guang) is protecting a dinosaur skull. Consequently, a villain in heavy armor, who also carries a metal piercing golden gun, kills him and takes the dinosaur skull.
In order to get back the stolen skull, the Chinese government quickly sends Ling Ling Chat, (Stephen Chow) a cigarette smoking, martini drinking pork vender to the job. The rest of the film takes us to Hong Kong where our hero checks into a very cheap, nasty and cockroach infested hotel. Later he joins forces with a female agent which leads to some wacky and funny situations, typical of a Stephen Chow film. He also comes across a female assassin who wears flame throwing metal bra, while another one armed with metal teeth, similar to 'Jaws' from yet another Bond film.
The setup of this film is quite slow but kicks into gear during the second half. This early outing shows Stephen Chow is as funny as most viewers remember him in the much later "Shaolin Soccer" or "Kung Fu Hustle". Although this is a comedy, there are some very violent action scenes, especially during a robbery in a shopping mall. This is actually a common practice in Hong Kong cinema, in which the viewers are supposed to expect the unexpected. However, some might find it disturbing or unusual.
Anita Yuen, who plays Lee Keung-Kam, is equally good as Ling Ling Chat's spy partner from Hong Kong. Initially she is assigned to kill him, but slowly she takes a shine to his charms and they team up to take down the Golden Gun. In-between, they both provide good laughs, particularly during the scene where she tries to dig out a bullet from his leg while he distracts himself by watching porn. The way she communicates with her boss through the toilet seat is equally funny.
From Beijing with Love has a stylish and colourful comic book look thanks to director Lee Lik-Chi while the Bond credits sequence is hilarious. The rest of the wacky supporting cast members are also adequate and interesting. There is a gadget man (Law Kar-Ying) who seems to invent some silly but somehow practical gadgets.
The film is uneven and rough at the edges, but it will make you laugh. Accordingly, Stephen Chow would go on to star in the much loved Shaolin Soccer and Kung Fu Hustle leading to international recognition.