Yoshihiro Nakamura has emerged as one of the most interesting Japanese directors during the last two decades, highlighting his prowess in a number of genres, usually through great stories, since his directorial credits include films like "Mumon: The Land of Stealth", "The Snow White Murder Case" and "Fish Story". The present film was one of his first and the one that netted him the Kaneto Shindo Prize, given to the most promising new director by the Japan Film Makers' Association.
Watch 

This

Title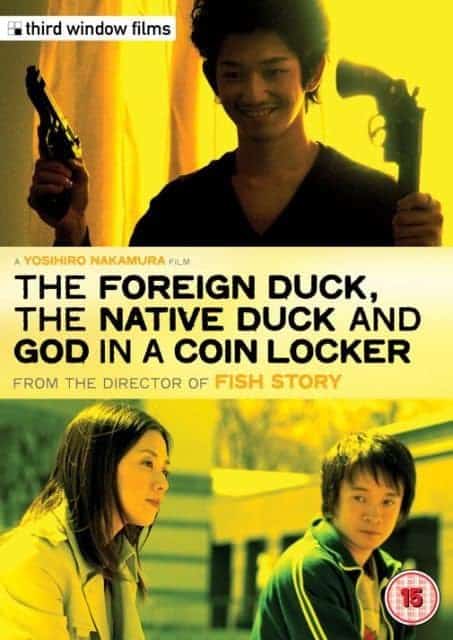 Based on Kotaro Isaka's novel, the story revolves around college student Shiina, who has just moved to his apartment in Sendai, in order to study law. Almost immediately, he meets a rather strange neighbor his age, Kawasaki, who approaches him due to their common interest for Bob Dylan. Shiina is perplexed by Kawasaki's behaviour, but takes a liking to him, despite his rather illogical talk of dangerous pet shop owners and other surrealistic topics, particularly after he tells him the story of their neighbor's neighbor, a Bhutanese man. Soon Shiina finds himself helping his new acquaintance steal a vocabulary for the Bhutanese man. Eventually though, the shocking truth about Kawasaki's actions comes to the fore, in a rather dangerous turn for everybody involved.
Yoshihiro Nakamura directs a very intriguing movie, which begins as one of those quirky comedy-dramas that seem to come from everywhere in the Japanese movie industry, only to change into an agonizing thriller, full of social comments, through a quite unexpected plot twist and a number of plays on Japanese words, including the ones in the title. The main social comment revolves around racism, and particularly the way the Japanese perceive and react towards foreigners, with Nakamura painting his compatriots in the darkest colors, regarding this particular aspect. Friendship, romance, family, and revenge are the other ones, with Nakamura managing to include all of them in a package that also includes quirky humor and subtle but very impactful violence.
The relationship between the two young men forms the base of the film, with the differences in appearance and character (Kawasaki is tall and confident and Shiina short and shy) highlighting their chemistry. Both actors, Eita and Gaku Hamada respectively, do an excellent job in portraying the differences that actually bring them together. Ryuhei Matsuda is as cool as ever in a role I cannot reveal much about, while Nene Otsuka, as the owner of the pet shop, presents her eerie character quite convincingly.
I wish I could write more about the movie, because there are many elements I would like to refer to, but, since the plot twist forms one of its main ingredients, I will just stop here. Overall, "The Foreign Duck, the Native Duck and God in a Coin Locker" is a very interesting and entertaining production, in the easily recognizable style of the Japanese indie film, that benefits the most from a twist, which, although seems misplaced in the beginning, actually works quite well