Khavn De La Cruz is a poet, pianist, visual artist, and Father of Philippine Digital Filmmaking—has made 52 features and 115 short films. His films have screened at the MoMA, Guggenheim, Tate, Venice Architecture Biennale. He has presented retrospectives of his films, curated programs on Lino Brocka and the Philippine New Wave for Viennale, CPH:DOX, Sharjah Biennale, and Edinburgh; and lectured in various international film festivals. He is the president of the film, music, & publishing label Kamias Overground and festival director of .MOV, the first digital film festival in the Philippines.
Here are his top ten Philippine films, in chronological order.
1. Prinsesa Naranja [Princess Naranja] (1960) — Nemesio E. Caravana
With your thousand kisses, my dark skin will become white." The Sister, wishing to avenge her swordsman Brother's death, leads her deadly army to punish the Prince culprit. She changes her mind when they find the Prince under an evil spell cast by the enchanted Princess Naranja in punishment for the prince's revelation of her dark secret.
2. Elias, Basilio, & Sisa (1972) — Jun Aristorenas
An action-packed socio-political film about a man's revenge for the death of his loved ones, set against a historical background. A reworking of Philippine national hero Jose Rizal's revolutionary classic "Noli Me Tangere" which featured the three title characters.
3. Si Popeye, Atbp. [Popeye, Etc.] (1973) — Ishmael Bernal, Joey Gosiengfiao, Elwood Perez
Si Popeye, atbp (Popeye etc.) is an unofficial Popeye film released in the Philippines in 1973. A live-action film, it consists of three stories: Episode 1: "Popeye", Episode 2: "Dracula" and Episode 3: "Dyango". Popular Filipino personality Ariel Ureta stars as a mustachioed Popeye (and as the protagonist in the other two segments) while former Miss International Aurora McKenny Pijuan portrays Olive Oyl. The Popeye segment was directed by renowned Filipino filmmaker Ishmael Bernal.
4. Isprakenhayt [Sprakenheit] (1973) — Poch Bautista
A martial-arts action-comedy wherein the hero looks like Hitler in full Nazi uniform, speaks bastardized German gibberish such as "Sprakenheit". Starring Ramon Zamora, dubbed as the "Bruce Lee of the Philippines" but with a comedic twist, similar to what Jackie Chan will do years late
5. Supergirl (1973) — Howard Petersen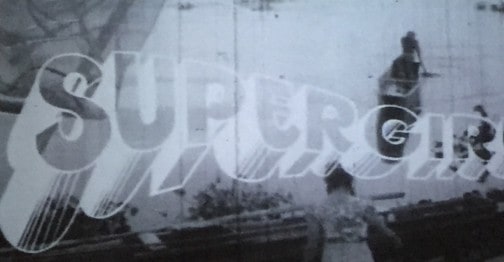 A black&white Christian Supergirl movie (released a decade before Helen Slater's Hollywood version). Featuring a 30-foot tall Virgin Mary, a fireball-whipping sorceress and her bulging-eyed hunchback servant, a gigantic Kaiju frog, and a whole cemetery of zombie families.
6. Mang Kepweng [Mister Kepweng] (1979) — FH Constantino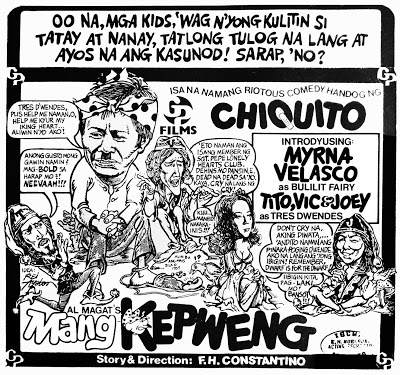 Mang Kepweng, based on the comic strip by Al Magat and serialized in Tagalog Klasiks, is a popular quack village doctor who prescribed laughter, herbs and potions to cure illnesses. It was adapted into a movie in 1979 with comedian Chiquito in the title role. The popular trio of Tito, Vic and Joey debuted as the Tres Dwendes.
7. Mag-toning Muna Tayo [Let's Do Toning First] (1981) — Mike Relon Makiling
Due to over booked reservations, Mando, who is going to have a second honeymoon with his nagging wife accidentally ended up in a haunted house in Baguio. He then crossed paths with Evita, a gay stage director and Rene Soriano, a famous TV personality who is investigating the disappearance of the former owners of the mentioned house. Together, they experienced series of haunting experiences that escalated to series of murders caused by an unknown assailant. It is now up to them to uncover the mysteries behind it and to discover the true identity of the killer.
8. A Man Called Tolongges (1981) — Angel Labra
Tolongges is well-known for his expertise in handling guns and his heroism as the people consider it brought him bags of money. Tolongges together with Zapatatem and Arizona Gid had their biggest project when they were hired by Don Miguel Ala Suerte to get his wife, Estella from the hands of her kidnapper con ex-fiance Ala Tigre.
9. Johnny Tango (1982) — Ricky Santiago
Tango here doesn't pertain to the Latin-American dance. Tan-Go is an amalgam of two Filipino cuss words: Tanga (Stupid) and Gago (Idiot) — connoting that Johnny is the fool of fools. Based on a hit Philippine radio comedy show.
10. Ang Alamat Ni Leon Guerrero [The Legend Of Leon Guerrero] (1982) — Eddie Nicart
Alamat ni Leon Guerrero is a movie starring Lito Lapid, Marissa Del Mar, and Paquito Diaz. Leon Guerrero, the Pinoy "Lone Ranger" symbolizes the fight of good over evil and the triumph of right over wrong. Lito Lapid plays the legendary crime-fighting gunslinger who champions the oppressed and punish the oppressor and tyrants.