Based on the successful internet novel, Passing From Your World by Zhang Jiajia, "I Belonged to You" is a quirky romantic comedy directed by Zhang Yibai.  The movie topped the Chinese box office the first week it was released and won Best Film at the 30th Tokyo International Film Festival Golden Crane Awards in 2017.
Watch This Film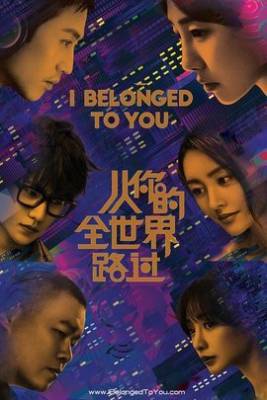 Chen Mo is the host of the Number 1 late night radio program with his long time love, Xiao Rong, until a lonely caller unknowingly sparks Xiao to end her relationship with Chen.  This sends the show and its host into a downward spiral culminating in a seemingly ridiculous bet between Chen and Xiao.  If Chen and his new and inept intern, Yao Ji, can rise to number 1 in the ratings, Xiao must marry him.  If the show fails to garner the top spot, Chen must parade around the town carrying a sign that reads "I am an idiot".
Chen's "little brothers" Mo Shi Ba and Zhu Tou are also not fairing well in the relationship department. Mo Shi Ba is an eccentric inventor living off his cousin Chen and is chased daily by local female police officer Li Zhi. Zhu Tou has been in an 8 year relationship with his college sweetheart, Yan Zi. Unfortunately, the couple has spent most of their relationship apart as Yan Zi has been traveling the world, funded by the money Zhu Tou sends her consistently.
Zhang Yibai directs and Zhang Jiajia writes a thought provoking yet fun and sometimes sad look into how couples fall in and out of love. They reveal to the audience through stories told by the characters of how their relationships developed and dissolve as each one journies on their very different paths of life.
Deng Chao's portrayal of Chen Mo is brilliant.  Deng is able to express the many emotions of Mo, who doesn't handle the dissolving of his relationship well, which leads him to lose the compassion and warmth that made him relate to his radio audience.  His bitterness blinds him about what is meaningful in life, being present in the moment. Chen is also blinded to the fact the love he once had for Xiao Rong can be perfected with the least likely person, Yao Ji.  Du Juan as Xiao Rong and Zhang Tianai as Yao Ji have excellent onscreen chemistry with Deng.
Innocent Mo Shi Ba, played by Yang Yang, is so preoccupied with developing new technology in order to become successful that he doesn't realize that independent Li Zhi chasing him every day is her quirky way of flirting with him. Bai Bai He is delightful as Li Zhi.
Yue Yun Peng's performance as Zhu Tou is endearing and emotional as he transforms from a gullible and kind hearted man who just wants to make his girlfriend happy by giving her everything, into a lost soul who begins to travel the world.  He saves money for an apartment by living with Chen as he prepares for an ill fated marriage proposal.
The cinematography of the movie is just as importatnt to the film as the actors and the script due to the emotional weight it delivers in each scene. The nighttime and rainy scenes wrap the aucience in sadness and lonliness, while the outside daytime scenes are light and airy.  The daytime scenes full of fun, joy and life.
"I Belonged to You" is a tear-jerking yet funny analysis of the love lives of a group of young people that could be set anywhere in the world. The audience can empathize with their losses and celebrate in their happiness. Everyone personally knows or could be any one of these vibrant characters, which makes the film heartwarming and enjoyable.