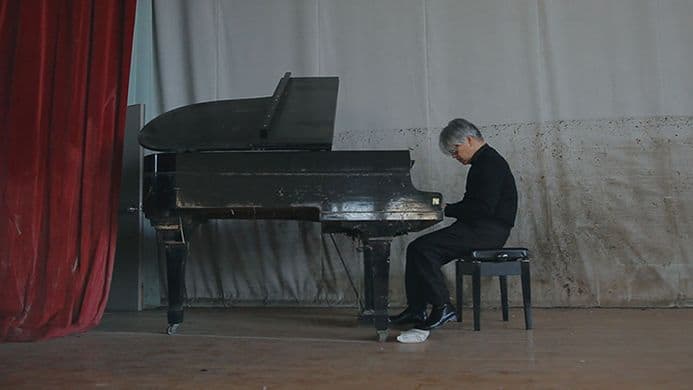 Ryuichi Sakamoto is a composer and conductor who has scored several well-known films, including "Merry Christmas, Mr. Lawrence" (1983), "The Last Emperor" (1987) and most recently "The Revenant" (2015). His career began with a pioneering electronic music group in the late 1970's and he has always maintained a unique aesthetic. Director Stephen Nomura Schible, who has also directed one of Sakamoto's concerts, gives us an inside look into the life of this maestro.
Ryuichi Sakamoto: CODA is screening at the Toronto Japanese Film Festival
The film begins with Sakamoto examining a piano that was recently recovered from the site of the Fukushima nuclear power plant disaster. The piano was hit by the tsunami and floated away, with evidence of tide marks showing its journey. Sakamoto looks over the salvaged instrument that he is still able to play. This leads us into the two major concerns of his life: music and his anti-nuclear activism. Following the meltdown at the Fukushima nuclear reactor and the deaths and displacement of many people, the concern about nuclear energy in Japan has grown. We see Sakamoto on demonstrations outside government offices and giving a performance for those sheltering those who have lost their homes. This tragic event will not soon be forgotten in Japan and the film shows the importance of it on the lives of everyone it affected.
"Ryuichi Sakamoto: CODA" also spends time discussing the composer's own struggles with cancer. He stoically accepts his condition and it would be hard to say that his has been a wasted life. As he explains, all he can do is attempt to stave off the inevitable for as long as he can. He is helped in this by his complete devotion to his art. We see, throughout the film, a man whose restless creativity drives him forward. Whether it is recording noises in the woods, or other natural sounds, to incorporate into his music; or experimenting with various instruments, sounds, or techniques, he seems to have a boundless sense of childlike wonder and limitless imagination. He is also a man with a great appreciation for what he does. His love of the work of Andrei Tarkovsky and recent collaborator Alejandro González Iñárritu, shows that he is a connoisseur of films and of great art as well as a producer of it.
The director Stephen Nomura Schible does little to distract from his subject, letting the scenes play out naturally. The intimate nature of the documentary, as it follows Sakamoto in his studio, during his performances, or strolling through the woods, really allows you a look inside his world. Schible effortlessly picks up on details that highlight the composers interests and ideals. For example, the stack of DVD cases, or the numerous instruments in his studio, let you see Sakamoto's world rather than hearing about it from others. In fact, there are no cutaways to talking heads, and the whole documentary is narrated by Sakamoto himself. He tells anecdotes about his career, looks back on his various successes, and shares his thoughts on life and music.
The finale of the film features an emotional sequence as he discusses his favourite quotation from the film "The Sheltering Sky" (1990), which he composed the music for. In this scene, Paul Bowles (author of the novel) delivers a monologue on the brevity of life and the seemingly limitless possibilities of the living. It is the perfect way to round off this celebration of a man whose talents ensure that he will live on through his music long after he is gone. A highly recommended watch both for fans of Sakamoto or anyone with an appreciation for music and creativity.