Frank de Boer strides. The ball lazily at his feet with direction. Suddenly vision. A long, fifty metre pass. The right foot of Dennis Bergkamp in the Argentina penalty area. Control. Dead. The second touch. The ball bounces behind behind Roberto Ayala. The right foot scoops. The ball curves passed Carlos Roa. The net bulges. The arms raised.
Twenty years on from that Bergkamp goal and France's destruction of Brazil in the 1998 World Cup final, all eyes are on Russia to see who will capture football's greatest prize. Quan Zhou's debut feature looks back at the summer of '98 and the developing friendship between a young boy and his elderly and lonely neighbour in a small Chinese town, with the odd football reference thrown in.
End of Summer is screening at the 17th New York Asian Film Festival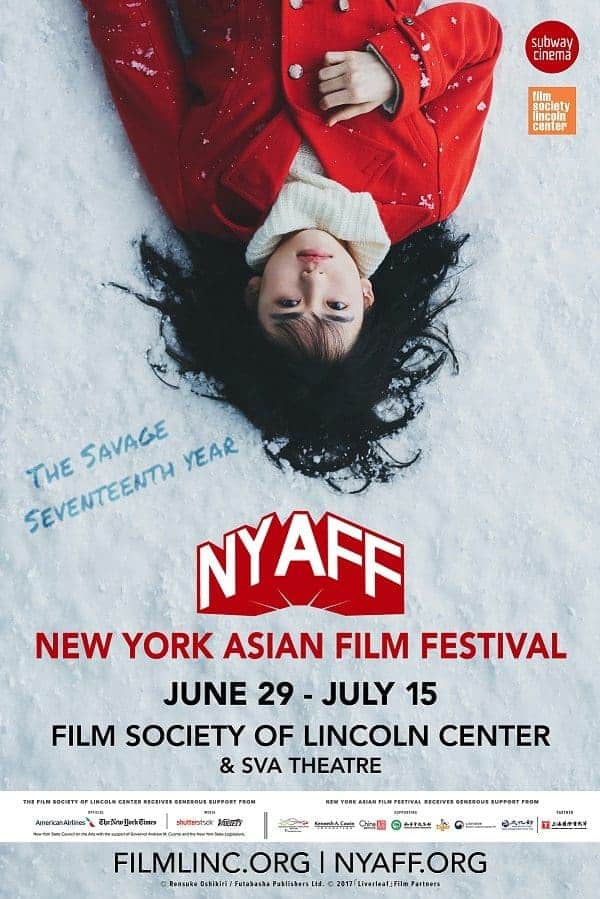 Xiaoyang (Zishan Rong) is a boy popular at school, naturally wanting to join his friends in trying-out for the school football team at the start of the next school year. There's just one problem: his strict father Jianhua (Songwen Zhang), also a teacher at his school, who forbids all football. Xiaoyang, rebelling, befriends his neighbour Grandpa Zheng (Pao-Ming Ku), an elderly and lonely man with a passion for wearing Brazil's 1998 World Cup shirt.
With his actress mother (Zhuo Tan) often busy with work, his father befriends new, young English teacher Ms Chen (Qing Dong), much to Xiaoyang's annoyance. Frustrated by his father's banning all football-related activity, with the help of his new friend, Xiaoyang looks to take revenge and reveal his father's extracurricular activities.
Despite the "period" setting, football and the 1998 World Cup in France are largely on the periphery in "End of Summer". While it starts off as a central theme, there are perhaps too many subplots at work here, resulting in a film that lacks real depth.
To start, there is Grandpa Zheng's hidden secret, that is eventually revealed, though by this point it is perhaps a little obvious. Xiaoyang acts as a surrogate for a harsh reality that he refuses to face, Zheng acts the child, running around in football shirts, kicking a ball like a child desperate to attract a friend.
Then there is the relationship between Xiaoyang and his father. A teacher to his school, Jianhua is typically harder on his own son, stating that he wants to focus on his education, removing any opportunities for fun. Causing frictions for his friendships, Xiaoyang is somewhat unloved and neglected by his parents' workplace ambitions: His father chasing a promotion to vice-principle; and his mother up for a prestigious award so she will be able to get out of the compound in which they live. While they look to improve their lives, Xiaoyang's appears to be getting worse before Zheng steps in.
The focus on work also leads Jianhua to believe he may be starting an affair with the young Ms Chen. With his wife often away from home with her acting career, she acts as a surrogate wife. Seeing all this unravel before him – his dad playing away while he is unable to play- Xiaoyang wants revenge. Though, as we soon learn, he had little to be worried about.
There is also a slight attempt at social comment, with an urban renewal project planning to destroy the compound where the characters reside, as well as the closing and sale of the factory where Grandpa Zheng worked all his life. A newly locally-built football stadium also shows an attraction for young Chinese to Western culture – football perhaps serving as a metaphor for change.
Or perhaps I'm reading too much into things. With many stories being told, none gets the depth it deserves. As such, the motivations of the characters are never fully explored, leaving a feeling of gaps and leaps in development. His father is obsessed with Xiaoyang not playing football, but no real reason is ever given for this, other than education before fun. Arguments feel forced rather than developed naturally; and the scene at the dance hall is somewhat bizarre.
One thing Quan Zhou does get right, however, is his choice of cinematographer. While not having the most illustrious CV, Michael Solidum makes the most of the Zhejiang setting, with picture postcard shots of the canals and the backstreets of the neighbourhood. If a picture says a thousand words, then the real story is in the photography. But sadly, there is not always much depth behind the pretty veneer.
"The End of Summer" brings with it a return to normality, with everything having worked out for the better. And while pretty on the eye, Bergkamp's goal in 1998 World Cup, ultimately it didn't result in the Netherlands winning in France. "End of Summer" likewise will probably not win too many prizes, but breezes along at a comfortable, summery pace. With a career built to this point on short films, perhaps this is why the depth is missing, but with some more incisive writing, Zhou may be able to make the long-term switch to feature films.