"Kamikaze Taxi" isn't the film you think it is. It starts out with documentary style footage and then it slides into feature narrative and stays there. This format shift is perhaps a clue as to what kind of movie you are really sitting down to, which isn't a yakuza film, a road movie or a documentary. It's a unique mashup of style and story that takes you on an odd yet unique journey for two hours and twenty minutes into the life of two Japanese men on the run.
Kamikaze Taxi is screening at the 17th New York Asian Film Festival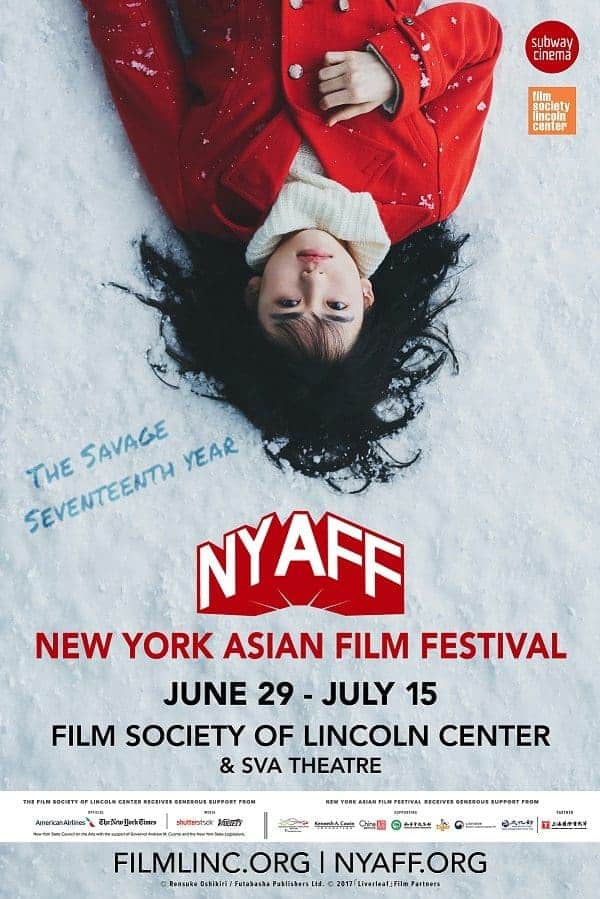 The story that "Kamikaze Taxi" tells is about a Japanese man recently returned to Japan, having lived most of his life in Peru. Working as a taxi driver, Kantake (Kôji Yakusho), is a man out of touch with his Japanese heritage. He meets a young punk, called so in the film since he is not a full yakuza yet (and I will use that term here), named Tatsuo (Kazuya Takahashi), who is on the run from a high ranking Yakuza who wants him dead for robbing him.
Sounds like a a break neck exciting crime movie right? Wrong, this film has an interesting structure where long scenes of dialogue and introspection occur between the main characters and are linked together with short scenes of heightened action and violence. One scene that stood out for me is a double-style Russian roulette sequence where two punks are forced to hold guns to each other's heads and start pulling the trigger, while the Yakuza look on, laughing and really enjoying themselves. The short violent action pieces give the production a more realistic feel instead of the longer fight scenes we often see in crime films.
Between the scenes of high energy violence is where the real story is told, which concerns two ostracized men. The conversations they have draw many parallels between the two men whose lives have crossed. Kantake is viewed as a foreigner to most of the Japanese in this film and Tatsuo is an outcast to the Yakuza he once served. The scenes the two men share have a meditative quality, as the two rely on each other to make sense of the strange land and situation they are in. Both men are lost in Japan but find purpose in helping each other.
Director Masato Harada, who acted in the Tom Cruise vehicle "The Last Samurai", offers us a disguised film in the sense that "Kamikaze Taxi" wasn't what I was expecting. Perhaps he modelled it after what the life of a real Yakuza might be like, with long periods of introspection sliced up with short bursts of life-threatening violence. The movie feels long at two hours and twenty minutes and I found it difficult to get through, save for the promise of the next violent clash, which seems to appear in timed succession.
Kôji Yakusho brings depth and a quiet contemplation to the role of the taxi driver that carries the entire film with all the other actors pivoting around his performance. The other actor that stood out was Mickey Curtis as the Yakuza boss Animaru. His long pony tail and murder-if-we-must business sense is nicely contrasted when we find out he is a sax player in a jazz band. This character has its own fish out of water aspect as he appears to be a nice guy who plays jazz on the weekends but is a cold-heart killer who delights in torment and doesn't shy away from executions and torture.
Cinematographer Yoshitaka Sakamoto is responsible for the film's dual nature, through his interesting camera work. The documentary-style footage at the beginning of the film, which quickly moves into more formal camera work, acts to keep us off guard but we never return to this style, similar to how Kantake has left his home of Peru and doesn't return. There are a number of interesting shots, with some slow pans and a few overhead shots which reminded me of a chessboard, when the punks and yakuza clash. There is an amazing shot in the climax of the film that is a match shot with the use of red light that I adored. Also noteworthy is the music in the film, with Kiyoshi Yoneyama using mostly flute music, which makes this a very Japanese sounding film, whereas our characters are struggling to be traditional Japanese men.
"Kamikaze Taxi" is a interesting movie but feels long in how it tells its story. Kôji Yakusho as the Taxi Driver carries the entire story, but I found his part, of being a Japanese born foreigner, a bit lacking. I was more interested in Tatsuo, whom he drives. His story of being on the run from the Yakuza works as a parallel to Kantake's homecoming but I wished he was the main character and not the other way around. IT feels like two films pushed together and I know that is director Masato Harada's intention here but I wanted more punks vs Yakuza than Taxi driver vs Japanese life.
"Kamikaze Taxi" is a unique film that challenges your concept of genre and a great character study of Kantake played by Kôji Yakusho.