"I'm glad I got to be your friend."
Bongkoj Khongmalai can look back on a successful acting career in her home country. With many collaborations and projects under her belt, the end of her acting career obviously meant a drastic change in her life. However, the actress, also known under her nickname 'Tak', is no one to back to easily and being dissatisfied with the option of another career in TV she decided to instead try sitting in a director's chair.
In an interview during the Udine Film Festival 2018, the actress describes the rocky path to "Sad Beauty", her second feature as a director. Female filmmakers have to fight stereotypes and lack of distribution of her films since directing is typically seen as a pure male profession. In fact, when she approached production companies for "Sad Beauty" and her first feature "Angels" (2013), the reception was rather lukewarm, forcing her to seek the help of her husband Boonchai, who is the executive producer of the film. "I told him that if it wasn't successful, I would make it my last film as director."
"Sad Beauty" is screening at the 17th New York Asian Film Festival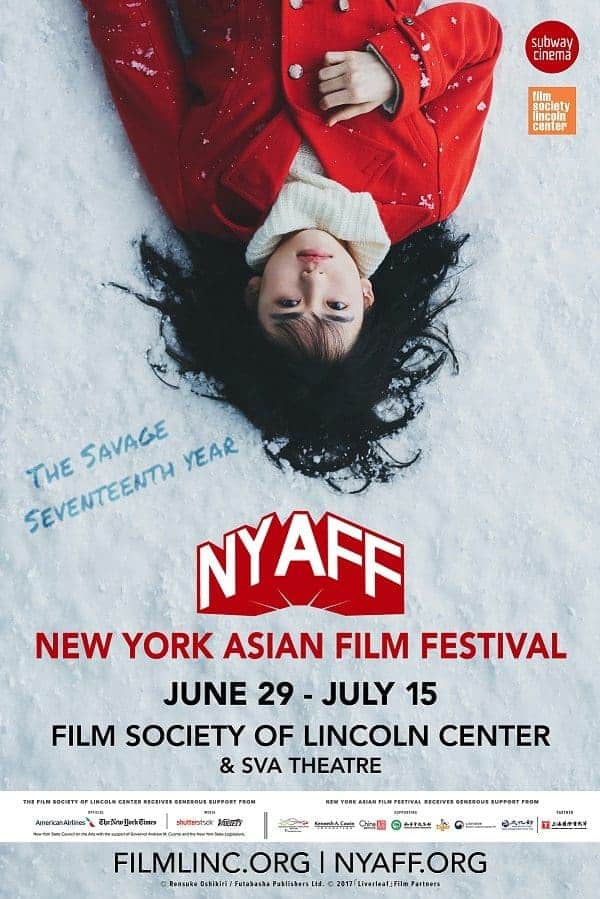 The idea for "Sad Beauty" came to Bhongkoj when a friend of her asked her for money in order to pay for an abortion. Besides the desperate circumstances of her friend, the experience revealed certain truths about her country, about the male dominance forcing women into making tough decisions such as this one.
Yo (Florence Faivre) and Pim (Pakkawedee Pengsuwan) have been friends since their childhood, whose friendship is put to the test. While Yo's modelling career has made her a star, but also caused her to clash with her staff of advisers and managers, Pim, who has been leading a normal life thus far, faces a terrible medical diagnosis. Devastated by the news of her friend suffering cancer, Yo comforts her,  swearing she will always be there for Pim.
After a night out dancing, the two return to Pim's family home to find the unconscious body of her mother. As Pim's father (Preecha Ketkum) starts going after the two girls,  a horrible accident occurs.
In some ways, "Sad Beauty" often feels biographical. With the enigmatic dedication at the end of the film, emphasizing this notion, it is particularly the highly subjective view on the media and stardom defining this idea. While the concept of the fashion world as a fake has been shown before, Khongmalai's film stresses the constant clash between reality and this almost hermetic universe in which everything can be just a pose.
It is precisely the blend between this concept and the film's visuals stressing this theme further. Whereas the fashion scene is designed as if taken from a glossy magazine with fast cuts and bright lighting, the scenes between Faivre and Pengsuwan are defined by close-ups and colors, underlining the deep connection between the two women. Cinematographer Pramett Chankrasae uses a mixture of music video-like images in contrast to, at times, handheld scenes within more dramatic sequences of the film. Consequently, as the drama intensifies, the latter design makes up more and more, highlighting Yo's growing sense of disillusionment with the falseness of the fashion world.
Furthermore, Khongmalai's script tackles the concept of womanhood and beauty, a notion already suggested in the title. Especially Pengsuwan's character has to confront the idea of mortality, but also fading beauty as she undergoes further treatment for her illness. The female body always seems fragile, the object of either exploitation or violence as the scenes of domestic abuse show. With possible reference to Henri-Georges Clouzot's "Les Diaboliques", acts of rebellion against these conditions are seemingly just as extreme. However, they also result in feelings of disorientation and guilt, both of which able to break the precarious foundations of the worlds these two women have built around themselves.
Resting firmly at the center of the film are the two leading performances by Faivre and Pengsuwan. Although the script seems to get lost in the thick of the themes it covers, both actresses carry the drama as well as the thriller portions of "Sad Beauty" admirably. The dialogues between their characters feel natural and spontaneous, a great asset given the amount of conflicts they have to go through in the film. Combining the performances with the film's visuals, almost gives a "noir"-feeling to "Sad Beauty", as reviewer Anchalee Chaiworaporn mentions.
In the end, "Sad Beauty" is a mixture of drama and noir-ish thriller dealing with themes such as friendship as well as the importance of beauty within a distinctly superficial environment. It is never a film obnoxiously appealing to its viewer, but rather implements these themes within the plot, in its interesting visuals and, of course, its two great central performances. Considering the poor box office results in her home country, one can hope "Sad Beauty" may find some favorable international voices. With this amount of promise contained in her second feature, hopefully Bongkoj Khongmalai is just as stubborn as her protagonists and continues making films.
Sources:
1) Kovitvanitcha, Donsaron (2018) 'Sad Beauty' takes a happy turn
http://www.nationmultimedia.com/detail/movie/30344499, last accessed on: 06/24/2018
2) Chaiworaporn, Anchalee (2018) Sad Beauty
http://www.fareastfilm.com/eng/film/sad-beauty/?IDLYT=7505, last accessed on: 06/24/2018