Sada Abe, the name that became infamously linked to sexual obsession and desire in 1936. After she killed her lover by erotically asphyxiating him, she cut off his genitals and walked around with them in her kimono until she was arrested a couple of days later. This true story has been fascinating people for many decades and inspired several filmmakers to tell her story. Most famous is "Ai no korida", internationally known as "In the Realm of the Senses", a 1976 French-Japanese co-production that shocked audiences with its explicit sex scenes. This film, "Sada: Gesaku ・Abe Sada no shougai", internationally simply known as "Sada", tells the same story, but through the vision of director Nobuhiko Obayashi.
Buy

This

Title
With the legacy of "In the Realm of the Senses" preceding it, it is immediately clear that Obayashi made his version of the infamous tale something completely different. He spends the first half of the film focusing on Abe Sada's youth and years before she meets the man that drives her to her crime of passion.
Hitomi Kuroki portrays Abe with a certain innocence and youthful joy, making her a most likable character. She does shine through a certain uncomfortableness and shows us a woman that lives in confusion. It works for the kind of film "Sada" is, and she delivers a good performance, but I did feel less of a crazy edge that for example "In the Realm of the Senses" brought to the character. It may be slightly unfair to expect something that is of the same nature, but I personally wasn't very convinced with why she decided to do what she famously did as I was with the other film. Still, Obayashi doesn't seem to want to focus too much on the incident itself, but  instead on the character of Abe and her relationship witho the people close to her, which gives a fresh swing to the story.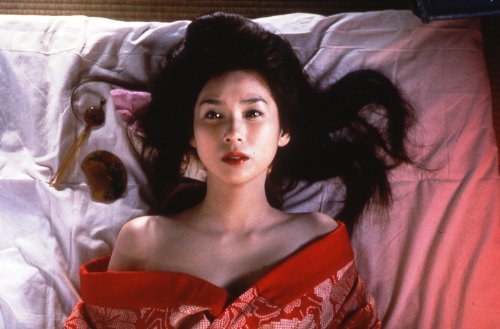 Obayashi's style is certainly what makes the film stand out. Obayashi is mostly known for the visually stunning "House", so it isn't surprising to see that this film also contains a great visual style. He injects quite a lot of humor and plays around with camera movements and color. The film jumps from black and white to colorful shots and back again, giving the film an artistic atmosphere that feels fresh and entertaining. It gives some beautiful cinematography and many shots feel as if looking at a canvas. One could argue that this artistic injection takes the focus away from the story, but I found it original and enriching. Obayashi clearly didn't want to redo the story and the character of Abe as other filmmakers had already done before him, and he has succeeded with that.
The story of Sada Abe is a fascinating one and "Sada" is a welcoming film about the matter. Some wacky humor and pretty visuals may take some of the focus away from the essential core of the story, but Obayashi's vision brings something new to this old and infamous tale of sex, love, and obsession. And most of all it shows us another side to a woman that will live in infamy for her crime of passion.