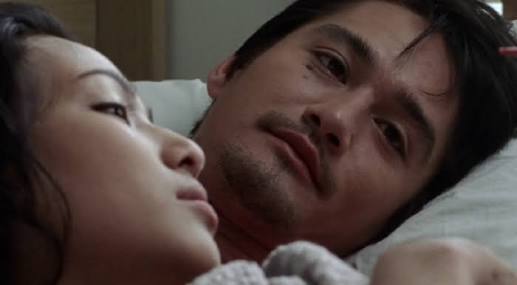 Part of the official selection for Toronto International Film Festival, Taiwan Golden Horse Film Festival and Shanghai International Film Festival, Rooth Tang's first feature length film 'Sway' is an intelligent look at how globalisation has made the world so small, yet it can still feel so vast.
"Sway" will be available to iTunes, Google Play, Amazon on 9/1/2018, courtesy of Cheng Cheng Films
The film begins in an airport, which is really the precursor to the inter continental journey we will embark on throughout the 108 minute runtime. We follow three different couples living very different lives on three different continents. Parisian immigrant Arthur's visa is due to expire so he is trying to convince his career-focused partner Vivian to come back to Asia with him. American Amanda is dealing with the difficulties of marrying into a Japanese family to a widower, who is still carrying his demons with him. Finally, June and Palm are contemplating their move from Bangkok to The United States and how life will change for them. We follow their relationships and the challenges they face over time as all of their realities present themselves.

You'd be forgiven if you mistook this for a Wong Kar-Wai film. For a debut feature, it is truly incredible what Tang has achieved. To write, direct, edit and produce is a feat in itself, but to do so with such finesse is truly an accomplishment. From the opening scene we are greeted with beautiful shots and framing. There's a lushness and vibrancy to the colours used, and this seems to come through even in the darker night scenes. Lyn Moncrief and Vasco Nunes do an excellent job as cinematographers, revealing the story in a subtle yet accomplished way. There's a truth to costume and use of make up in this film that brings a realness to it. It is the believable stories and characters that truly bring you into their worlds, It's just great storytelling in all aspects.
I really enjoyed Matt Chung-tien Wu ('Godspeed') as Arthur, there is a real authenticity to his acting. His partner Vivian. played by Lu Huang ('Blind Mountain'). and the rest of the supporting cast including Sajee Apiwong ('Ye-Zai') as June, Ananda Everingham ('Shutter') as Palm, Kris Wood-Bell ('12 Sided Die') as our American Amanda and Kazuhiko Nishimura ('Kamen Rider') as our widower all do an excellent job of portraying our lost souls.
The only real flaw is one of the story itself. I didn't find it really went anywhere that you didn't expect it to. It retold similar stories we've seen so many times in cinema, to the point it almost felt cliche in parts.
Despite the aforementioned, the achievement Tang has accomplished here as a first time filmmaker, is something to truly be inspired by. I look forward to seeing what the future brings for Rooth Tang.