With over 26 years of experience in the entertainment industry, Mumbai born filmmaker Kabir Bhatia is a multiple award winning Director/Producer who has spent the last 20 years in Malaysia stamping his strong visual style on the Film Industry.
1992-2004
He cut his teeth at UTV-Mumbai where he began as a 24 year old Director/Writer/Executive Producer, honing his skills in TV and eventually working across all platforms.
He moved to Malaysia when the UTV GROUP set up headquarters in the ASEAN region and Produced and Directed numerous TV formats .
2005-2016
He was a Partner and Managing Director of Filmscape (Malaysia), a respected Production House for a period of ten years. Besides their core business of TV and Film Production, he ventured successfully into Commercials, PSAs and Political Campaigns.
Having directed and Produced numerous Ad's, Travelogues, Fiction for Television and 10 Features across the Asean region including Indonesia and Singapore, Kabir ended his partnership with Filmscape to concentrate on fewer projects .
'You have to keep changing your set ways. You have to go back to the beginning so that you never lose that fire.'
The last three years:
2016 :
BISIK PADA LANGIT: A film that was a hit in 2017 based upon a father dealing with the loss of his daughter. (Astro Shaw)
Pulang : Inspired by true events, this Epic is based upon the lives of Malaysian Sailors pre and post indendence. The film is currently playing in the Cinemas to rave reviews (Primeworks Studios-Producers.
2017:
ANAK MERDEKA: 6 part mini series (Angsana Productions for ASTRO on 6 platforms)
BRA: 14 part series ( Comicbook Production for Mediacorp)
2018:
SANGKAR: Feature film on MMA fighters. In Post Production (INFINITUS)
SALON- 10 part dark comedy on a female serial killer. Currently shooting (MONSOON PICTURES for VIU CLIP and NTV7)
We speak with him about his life, Pulang, the actual story behind it, the cinematography, the locations the film was shot, the cast, love, and a number of other topics
You are of Indian descend, but you direct Malaysian and Indonesian films. How did that came about?
I was born in India and raised in Mumbai. I was a TV director at UTV doing daily soaps. I was going to quit as I had enough and they had just opened up a studio in Malaysia, so they asked me to check it out. I liked Malaysia and met Mira Mustaffa and found my muse and then stayed on starting on TV series. In 2006, when the industry was in a slump, the CEO of Media Prima, Ara Rahman offered me my first film, "Cinta". I was surprised as Malaysia traditionally didn't risk hiring foreigners, worrying about sensibilities. He told me it didn't matter as nothing was working. He had seen my work on TV and "Cinta" went on to win a national award for Best Film, Writing, Editing and a Best Actor nod. It was remade in Indonesia as "Love". I did that too. In both cases and till now, I believe that I am not a complete director as language is an issue. But I know enough about the rhythm of the language and I also surround myself with people whom I trust and they help me communicate what I want. It's the same with the actors. It's my visualisation and story sense I suppose that connects with the audience, although I have failed many times. Ha!
Can you give us some background details about how "Pulang" came to be? I understand it is one of the most expensive productions ever to come out from Malaysia.
I think three years ago, FINAS, the film governing body of Malaysia rolled some initiatives to co-fund projects that could go beyond Malaysia, showcasing the talent pool . Media Prima can fill in the rest I suppose. For me it was still a film which is a million and a half USD. Hardly a huge budget.I squeezed every little second of my 45 day shoot, bringing it in within 46 days. I believe the studio called in a few directors and their writers to pitch and it was Mira's compatibility with Ahmad Izham's vision that sealed the deal.
What drew you to this particular story? Thom waited for Othman for more than 60 years. How does this part makes you feel? And what are your thoughts in general, regarding the concept of love?
Concepts of love have been romanticised since forever; in history, literature,music and films. It's a universal language we all speak. I was reluctant to take this film on as my most successful projects have had love as the central theme. I myself am not particularly romantic nor a great fan of the genre, although I do enjoy any well-told story and I seem to have a knack of telling these stories..Ha!
But then when I read the script and saw the scale of production and the opportunity to tell the story of actual events, I was excited as it would be driven by research and I generally have always enjoyed the challenge of recreating the past, seeing it all unfold in front of you. It was much later that I started thinking about the characters and then it was only about them.
Did you get the chance to meet the protagonists?
Not Thom and Othman, but being close to Ahmad Izham Omar I got a lot of inputs. I met Omar only on the set. I'm not sure why I didn't meet him earlier. I guess I had painted my own image of all these characters. They were not historical so to speak, so it didn't carry the burden of that. But it was always Thom that interested me. I love strong female characters. I'm a champion of them and I see them not as equals but superior to men. So I was very glad when I saw Thom's pictures much later after the character had formed in my head. You see, I was mostly working from pictures and just by looking at that face, I knew her. To me she was a modern woman of that era inspire of being illiterate. She could look after herself and knew what she wanted. She was never subservient. She could endure and she did so with great dignity. There was a lot of pressure to make her shy. I refused to. I didn't want to stereotype anyone. I believe Omar, Ahmad Izham were very happy with the results and when they showed it to some of the people back in Serkam recently who knew Thom, they were moved to tears.
The narrative unfolds in different time axes. Why did you choose this approach, which entails many flashbacks?
If you see my track record, I have always been fascinated in telling stories from different perspectives. Because love cannot be just romanticised. We love at all levels. I told the story of everyone based upon the fact that they all are players in this story. The coming of age of the grandson Ahmad, who is forced to take on a responsibility. The son Omar who loved his parents and held on to the belief his father would come back and then is devastated after his mother blames him for keeping the fire burning. I can relate to it. And then the fact that Othman is like a lot of us who are driven by our passion to be something. And then the friendship, equally as important. That is why I had to tell it with it each and every one in perspective. By the way, the film's original length was over 2 and a half hours long. This was after tightening it from a lose three hour cut:)
The flashback was structured to follow the mystery side of things. And it is at first seen from the perspective of the granny whose story it essentially is. But she can only tell it to the point she knows. After that her grandson carries on the search and the only knowledge he has is of his father who is suffering from dementia; but luckily he was the last man to have seen his father, and kept a diary. So at this moment, the story shifts to a diary. Once the diary is done, it shifts to men who knew the father and a letter the father wrote, which eventually wraps the film. The beauty of this is we know all along he cannot write letters or rather he cannot articulate himself. But it's that letter which brings final peace to his wife.
Why did you choose to alter some points of the actual story, particularly the parts of Othman returning and Omar meeting with him?
I didn't have much inputs on the script except for a few times in the beginning and then after the first draft which went through, a few rewrites before it came back to me . I didn't change the story except the structure and the characteristics. The structure was a post decision. And in some cases, the conversations they might have had. But in general, I have never interfered with Mira's scripts as she thinks it through intensely.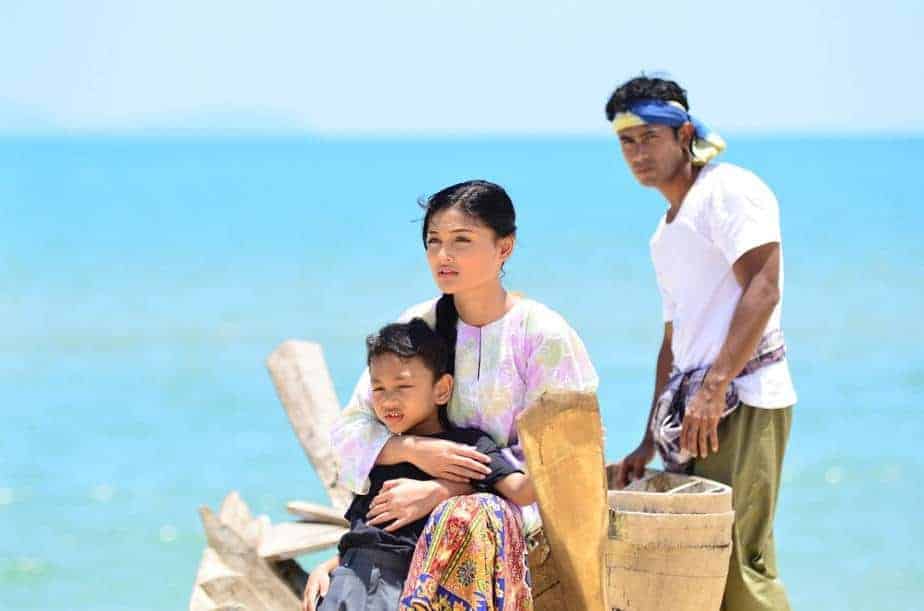 Zambir Haras's cinematography is impressive. Can you give us some details about how your cooperated with him? Same question for Aubrey Suwito's music.
Zambree and I have had similar journeys, collaborating on TV for nearly a decade. For almost ten years, I wasn't in touch and when I met him on a different project we hit it off as we had both matured and I could see that he had this very very clean framing and lighting style. I could immediately see him doing this film and me learning further from him. He also respects my vision and therefore there is a perfect chemistry. But it's also about the locations and the production design that made it all work. Zambree is also blunt in a funny way if my ideas are out there. I remember him telling me he is feeling pukey with my camera tracking back and forth in one scene. But when we saw it the same way then his eyes would light up and he wouldn't compromise. He was pretty darn fast too.
Aubrey is a very respected composer but it was his first film. Izham Omar brought him in and Izham himself is a musician. Both are from Berkeley. So I knew the music would be good but was it cinematic? And then Aubrey sent me a few tracks based upon my brief and story board and it was spot on. I used it on the set while directing. And when we went into the studio he was open to me on how the music should play a character in itself. He was always open. He respected the collaboration and then added more. Super for a first film.
Could you give us some details about the locations the film was shot? Any memorable episodes during the shooting? Good or bad.
The shooting location Penarik is on the East coast of Malaysia, but the story takes place on the west coast.lots of laugh. I just wanted the perfect beach and I went for the emotional quality of the location. The rest of the film was shot on the back lot of a warehouse where we built the skeletal of the ship exterior and within the warehouse we built sets of the interiors of the ship. Liverpool, some of Serkam and a Hong Kong street. We couldn't afford pinewoods, but it turned out we didn't need it. Both me and Tommy Mansur have experience in studio based shoots. At first I was skeptical and told Tommy that I didn't want it to look like sets I have shot on sets and it can be crappy, but Tommy took me through every aspect of the design and we had pictures we based it upon. We made sure it was accurate. The streets of Hong Kong are based upon beautiful black and whites from that era. When I lit the sets, I wasn't happy. It looked different, so I decided to reduce the chroma on my monitor and there it was: the black and whites from the pictures.
We had no time to recce Liverpool except a day before the shoot so I chose locations based upon pictures that were sent to me. We made some decent decisions I suppose. And then the grave site was the actual location. That was exciting and we captured it in the correct light too.
The time when Omar visited the set was the day I was shooting the burial of his father Othman, and Ahmad Izham Omar requested if his father Omar could do a cameo. I said why not and we had him sitting besides his own character in the film by the father's grave. I loved that moment. Apart from that it was a well planned shoot and we didn't face any real challenges we weren't prepped for, besides the storm dropping some sets at Penarik and a snake in Thom's house.
How was the casting process for the film like?
That has always been a bane. There is no separation between TV and film actors. No magic. Remy and me have worked together for a long time and I didn't want to recast him. But he came in for casting as almost every actor did. He was the best and I still wanted others to cast. But then I went with the best actor for the part. I hadn't worked with him for a few years and he had come into his own meanwhile. A huge TV star but he worked on it like it was his life. He is like me in a lot of respects. Insecure and always trying to do better. Never convinced. But then he started doing his thing and every once in a while he came to me and said, "how am I doing? You hardly tell me anything". I told Remy that he was the least of my problems and I had a lot more to think about. His performance is just his own maturing. It's his performance that makes this flawed character work.
Puteri Aisah was totally unknown. We gave a poem Mira wrote to the actresses for casting and even though she was raw I liked her quietness, the mysteriousness and the fact that she nailed the poem. She also had this old fashioned look. She is fair skinned and it also made sense because she wasn't a girl who grew up by the sea. Then I did some photo tests and compared them to the pictures from the past and it worked.
The supporting actors were easier to cast. A combination of new and old. I had worked with half of them. The rest were really good and thinking actors. I love that. As for the background actors, that was an uphill task. My team was very raw and casting in film here is very different from elsewhere. The idea of research hasn't yet caught up with some of the industry people, so I had to prepare pictures for all the characters and teach the younger lot on how casting should be approached. We haven't nailed it as yet.  We had acting coaches too and in collaboration with them we made choices on whom to cast. All western characters were backpackers. Lots of laughs but the casting agent for that is from Belgium so he knew what I needed when I shared the pictures. The captain lives here though. I liked his look.
Are you working on anything new at the moment?
I'm working on a ten part mini series. A dark comedy about a female serial killer . It is called "Salon". It will broadcast simultaneously on NTV7 and online on VIU Malaysia. I'm also editing my next film "Sangkar" on MMA fighters in Malaysia
What is your opinion of Malaysian cinema at the moment?
I think the mass audience is too divided and so unlike Indonesia that has integrated the different races. Malaysia hasn't managed to do that. So minorities can never play leads, a huge tragedy. Secondly, censorship has stifled and limited us. Themes like bad cops good cops, corrupt politicians, race, religion we cant go there, so we haven't even scratched the surface of what the world watches. They need to open up and stop protecting. I think the next generation will be pretty good as they have grown up exposed to a lot of visual choices, but they will not be able to open their minds to the possibilities till they don't get complete freedom of expression
"Pulang" has not been embraced by the masses. Only the urban Malay crowd. We are a long way away.