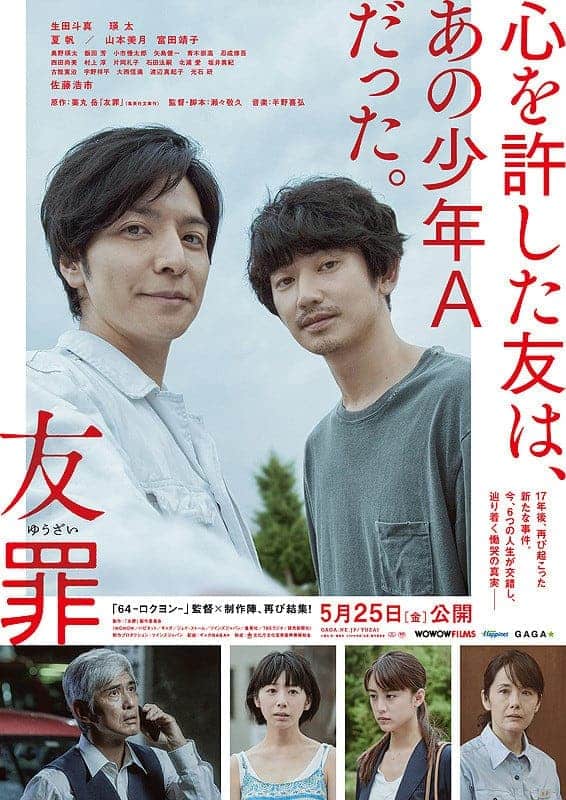 Veteran Japanese director Takahisa Zeze ("Raigyo" "A Gap In The Skin") has completed production on "My Friend A". The film is an adaptation of the novel by Gaku Yakumaru, this will be the first time the author's work has been adapted into a feature-length film. The film stars a well-seasoned cast including, Toma Ikuta ("The Mole Song" "Grasshopper") and Eita ("9 Souls" "The Foreign Duck…").
The film has been released previously and is awaiting a domestic release. A trailer for the film has been released.
Synopsis
Masuda (Toma Ikuta) hoped to become a journalist, but he did not achieve his dream. Instead, he begins to work at a small factory. There, Masuda meets co-worker Suzuki (Eita). Suzuki doesn't like to talk with anyone around him and he doesn't talk about his past with anyone. Masuda suspects Suzuki might be the convicted killer responsible for a series of child murders 17 years ago. He decides to write an article on Masuda while befriending him.
A child murder case takes place in a nearby town. People remark that this murder case is similar to what took place 17 years ago. The boy back then was 14-years-old when he committed a series of child murders. He is now out of prison and nobody knows where he went. Masuda sees a picture of that boy and he is sure that boy is Suzuki. (Asian Wiki)