Technology triumphs in a world of fantasy and fun!
Get ready to be transported to another world with a hit fantasy anime that's part action, part comedy, and all fun! Own the complete series of "In Another World With My Smartphone" on DVD and Blu-ray™ combo pack from October 29, courtesy of Sony Pictures Home Entertainment!
Buy

This

Title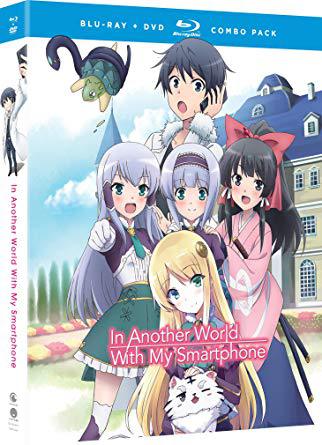 Based on the popular light novel series by Patora Fuyuhara and illustrator Eiji Usatsuka, when young Touya Mochizuki is mistakenly killed by a stray lightning bolt, God takes pity on the boy and reincarnates him in a fantasy world unlike the one he came from. As compensation, he is granted the wish of many teenagers: his smartphone! Enlisting as an adventurer in a world of swords and magic, Mochizuki's smartphone will prove more valuable than any spell in a journey where many challenges and cute girls await!
"In Another World With My Smartphone" is animated by Production Reed (Cutie Honey Universe) and helmed by Takeyuki Yanase (Himegoto), with scripts by Natsuko Takahashi (Bleach).
The original Japanese language cast stars Katsumi Fukuhara alongside Chinatsu Akasaki (Re:ZERO -Starting Life in Another World-) and Maaya Uchida (Love, Chunibyo & Other Delusions).
Included in this release is an English language dub, featuring the talents of Josh Grelle (Attack On Titan), Monica Rial (Dragon Ball Z) and Felicia Angelle (Danganronpa: The Animation).
Synopsis:
Touya Mochizuki is killed. To make it up to him, God grants Touya a second chance at life in a fantastic new world. Adventure, fame, fortune, and a harem of cute girls await him across this otherworldly realm. But despite being a magical and physical prodigy, balancing the affections of his companions with his day-to-day activities is one challenge he's definitely not prepared for!
Blu-ray™ Bonus Features:
Episode 2 Video Commentary
Episode 8 Commentary
Eyecatch Gallery
Clean Opening
Closing Songs
Trailers
"In Another World With My Smartphone Complete Series" contains all 12 episodes with an approximate run time of 25 minutes each and is not yet rated.