Joshua Smith graduated from King's College London with an MA in Film Studies and Philosophy, taking modules in post-war Japanese film genres and the avant-garde, and transnational Japanese cinema at SOAS. He has worked in independent cinemas, in distribution (Terracotta) and on festivals including the Japan Foundation Touring Film Programme and London Short Film Festival. He founded the Japanese Avant-garde and Experimental Film Festival in 2017.
George Crosthwait is currently finishing a PhD at King's College London. His film-philosophy focused research explores self-reflexivity in contemporary cinema. He teaches undergraduate film studies at KCL, has taught on Met Film School's filmmaking MA course, and currently teaches adult education film courses for Picturehouse Education. He co-founded the Japanese Avant-garde and Experimental Film Festival in 2017 with Joshua.
We speak with them about JAEFF and the reasons that led to its creation, Japanese cinema and particularly Avant-Garde and experimental productions
Why did you decide to start a festival about Japanese cinema, and not any other region? Why the particular focus on avant-garde? What is the purpose of the festival?
JS: It is safe to say that Japanese Cinema, over other regions in East Asia, is well represented here in the UK. But talk to the average movie-goer about Japanese film and they will likely recall a title from anime or J-horror genres. Transnational Japanese Cinema has, since the late 1960s, been a product of major Japanese film production companies seeking distribution markets outside of Japan due to the decline in domestic box office takings. Studio Ghibli's 'statelessness' facilitated its crossover and other production companies found a home with Tartan Video Asia Extreme, who nurtured a cult following in the UK. Whilst these genres have thrived, other currents of filmmaking in Japan have barely made it outside the country. JAEFF is an attempt to share films that respond in some way to a defining moment in Japan's recent history—the end of WWII. The post-war era in Japan brought to the surface issues around identity, individualism and the state. Filmmakers such as Nagisa Oshima, Shuji Terayama, Susumu Hani and Shinsuke Ogawa espoused subversive practices and techniques to challenge stereotypes, genre and gender codes to propose a new way of thinking for a disaffected post-war generation. But whilst we aim to make Japanese avant-garde cinema relevant and urgent, we try to historicise contemporary experimental filmmaking by presenting new works in tandem with New Wave classics. Perhaps we're looking to inspire a new generation of apathetic young people to take action.
GC: I agreed to start this festival because Joshua Smith asked me to. It's an attempt to erode my own sense of apathy.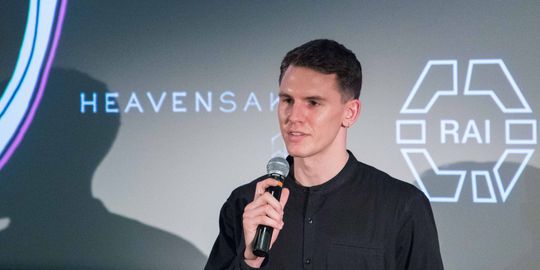 Why did you choose London, and particularly  King's College, Close-up and the Barbican as the "bases" of the festival?  What are the benefits and what the issues with the particular choices?
 JS: George and I are both based in London and have other work commitments here (we don't get paid for JAEFF!), so our screenings of A Page of Madness and Caniba were held close to home out of logistical necessity. However, we've deliberately avoided including 'London' in our name so as not to limit ourselves to screening only in the capital. We are grateful to our host venues, who have taken a chance on us through their shared passion of exhibiting films otherwise unseen here in the UK.
GC: KCL have wonderful screening facilities that most people probably have no idea exist. When we needed a venue with dual 35mm projectors for Page of Madness they turned out to be one of very few places in London with this setup. Close-Up is a wonderful cinema/library/cafe that anyone who hasn't been to should, and anyone who has been to should go more. The Barbican just feels right for JAEFF. All that boundary pushing art nestled amongst all that brutalist 1960s architecture. Perfect.
How was the procedure of raising funds for the festival? Did the fact that you started a bit earlier with single screenings helped you in organizing a full festival? 
 JS: Our screenings of Page of Madness and Caniba really helped with securing funding for the first expanded, weekend edition of JAEFF this year. It was through a crowdfunding campaign that we managed to host our first event in September 2017 and fortunately this screening of Page of Madness was very well attended. We had a lot of support. The realisation that UK audiences have an appetite for this kind of content translated to cultural organisations' willingness to support the festival. JAEFF 2018: Youthquake would not be happening if it weren't for the generosity of The Japan Foundation, Japan Society, Great Britain Sasakawa Foundation and Film London.
GC: The procedure of raising funds is that I write a stack of funding applications! I think the way that Film London operate is very healthy. The application leads to a face-to-face meeting where you can discuss your project in-depth. It feels very cooperative and encouraging.
Can you analyze the procedure of the film selection for the programme? Why did you decide to also include a number of new, short films? 
 JS: Each year we'll run with a theme for the festival. This year it's 'Youthquake', the OED's word of 2017, defined as 'a significant cultural, political, or social change arising from the actions or influence of young people.' The theme for next year is to be announced…
GC: Once we'd settled on a theme we spent months watching every Japanese New Wave film we could find that focused on youth culture or protest movements. Given a limited amount of screening slots, we wanted to showcase a variety of approaches. The downside to this is there are some films we love that we couldn't find space for. Theoretically, there are a limited number of New Wave films. However, there's a whole living and expanding world of contemporary experimental filmmaking to explore. We didn't want either strand to exist in a vacuum, so we programmed them in pairs to show how they're all participating in a vast conversation with each other.
 JS: We've received some excellent submissions to the festival from Japanese and Japanese diaspora filmmakers around the world, including Kioto Aoki's Studio Sunrise, which we're screening as part of our programme this year. But distribution of short form film from Japan is lacking, so it's important we reach out to filmmakers and research emerging trends in order to source films ourselves. Our team will be spending some time in Japan in the new year to do just this.
Could you give us some details about this year's guests and the various panels that are taking place?
GC: We've got a variety of expert introductions for the screenings and a free panel event on Sunday afternoon which will focus on the legacies of the culture and politics from the New Wave period, the stylistic influence of this era, and the issue of gender representation in Japanese cinema, amongst other things. Isolde Standish is one of the UK's foremost scholars of Japanese cinema and I think her books, A New History of Japanese Cinema and Politics, Porn and Protest, are essential reading. Jennifer Coates' work focuses on gender—a topic we're really keen to highlight at this year's JAEFF. Jelena Stojković is an expert in surrealist and avant-garde photography and art in Japan. She'll provide fascinating details on the aesthetics and politics of the New Wave cinema we're showing. Julian Ross has been our trusted guide from almost the start of the planning for JAEFF 2018. He introduced us to the work of Chikako Yamashiro (director of opening night film Your Voice Came Through My Throat), and I can't think of anyone more suited to discuss contemporary experimental Japanese filmmaking. We're also very lucky to have Marcos Centeno introduce Bad Boys and Ricardo Matos Cabo introduce Forest of Oppression. They are, respectively, the utmost authorities on Susumu Hani and Shinsuke Ogawa.
JS: I'm very proud of our line-up of guest speakers this year. We want to be inclusive of practical, theoretical, and popular audiences, so contextualising the programme for those new to avant-garde and experimental film is important to us—I encourage people to attend the panel discussion event if you are curious. We will be distributing extended programme notes at each screening and you can probably find George and I hanging around a nearby bar after screenings with a drink in hand if anyone wants a chat!
What is your opinion of Japanese (experimental) cinema at the moment, and its penetration in the UK? Are there any individual filmmakers that stand out?
 GC: Unfortunately, one thing we've learnt is that experimental work isn't managing to crossover particularly well. White Rainbow gallery in London have put on some great exhibitions this year. It's where we first discovered Chikako Yamashiro. One of our favourite experimental filmmakers, Meiro Koizumi, has a show there in Winter. There is undoubtedly amazing work being produced in Japan, but the distribution is pretty slapdash at the moment.
JS: Aside from Image Forum, VIDEOACT, the Post War Japan Moving Image Archive, LUX and CFDMC, there aren't many distributors that represent artists moving image from Japan/by Japanese filmmakers, let alone market them outside of Japan. I'm glad to be showing one of UMMMI.'s works, Desktop Treasure, this year at Close-Up. She is one to watch!
How do you imagine the future of the festival, and what are your plans for the next editions?
 GC: That's a secret! Broadly speaking, we want to expand the amount of screenings, include more panel events, bring over directors for filmmaker workshops, put on events outside of London and outside of the UK, and even commission films for JAEFF.
 JS: Yes, exciting things to come…