Sara Ogawa (born 1996) – a student at Waseda University whose new film 'She's Gone' has just been presented at PIA Film Festival. Among many diverse topics, Ms. Ogawa tells about her main inspirations: Her own experience of losing her classmate when she was a high school student. Apart from being a young and prolific film director ('The Rainy Days', 'BEATOPIA'), she is also making career as an actress ('INNOCENT 15', 'Sacrament') .
You're studying movies at Waseda University under Hirokazu Kore'eda. What is the most memorable thing you remember from Hirokazu Kore'eda's classes or perhaps an advice that engraved in your memory?
He often points out to pay attention to what is going on the film set and to how important is to read the atmosphere. I have actually been on his set and I must admit he knows how to control the situation and how to lead the actors depending on different circumstances. When shooting a movie I follow his example – I talk to the crew and also take into considerations what the actors have to say.
'She's Gone' shares a striking resemblance to Shiota Akihiko's 'Harmful Insect' as for the subject, however – what's interesting – you look on the relation of the two female protagonists from a completely different perspective than Shiota, giving it a broad new spectrum. Have you been inspired by any of his works in which he similarly puts stress on youth?
I would not say I got inspired directly by 'Harmful Insect', however I have naturally watched it. More than Shiota, I feel close to Hideaki Anno – the author of Neon Genesis Evangelion series – especially to his debut 'Love & Pop', which plot revolves around Japanese high school girls who engage in enjo kōsai (compensated dating). And last but not least – Nobuhiko Obayashi.
In your movie, reality and fantasy intertwine and blend with each other just like in Obayashi's phantasmagorical worlds. I had a strong impression that quite like him you try to build your own 'cosmos'. Have you also been inspired by any other works to make this film?
I admire the fact Obayashi neither never lost his brimming passion nor changed his stance one iota to shoot eccentric movies that might not be necessarily understandable for mainstream audience. I also like Kenji Miyazawa and his point of view on life and death, as well as the fairy-tale atmosphere, so I wanted to depict it that way. When we see Sacchan standing on the planet, it is a straight reference to 'The Little Prince', another piece of work I am really fond of.
Speaking of Kenji Miyazawa, in 'She's Gone' we actually hear some excerpts from his children's story 'Signal and Signal-less' about pair of star-crossed train signals who fall in love with each other. Is it feeling of platonic love that form bonds between two female protagonists: Kotoko and Sacchan?
It is difficult to make a clear distinction between whether it is friendship or love. Rather than that it is a strong feeling of akogare – yearning after something one does not possess, combined with jealousy that high school female students often cope with.
When I watched your film for the second time, I was having strong doubts whether Sacchan really existed. Maybe she was dead from the very beginning? Or perhaps she was mere Kotoko's mind projection?
The only 'real' Sacchan we see is the one lying in the coffin. The rest might be simply Kotoko's imaginary projection of how she wanted her to be. Even after Sacchan passes away, she still lives inside Kotoko's heart the way she portrayed her.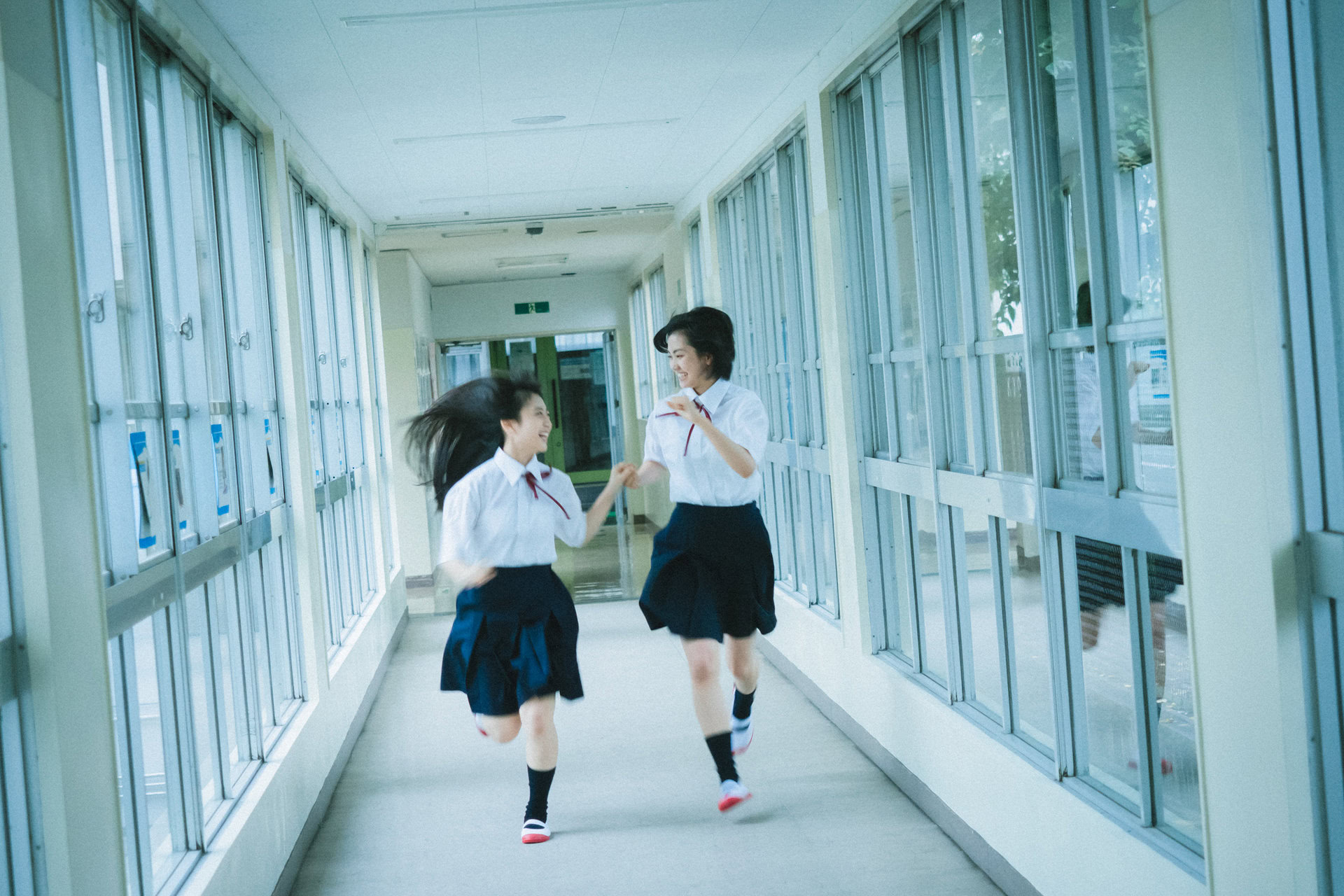 Kotoko sees herself lying in the coffin instead of Sacchan for a little moment. What might that actually mean?
Imaginary Sacchan was the one who fulfills Kotoko's dreams, so figuratively speaking, she realized what were her inner desires while seeing herself dead in the coffin.
In the film, there is a documentary factor when you interview passers-by. Was it all meticulously planned before or done on the spot?
Some of them were actually prepared in advance, however the high-school girls we asked impromptu when we were shooting scenes in Shibuya.
You are not only a promising film director, but also an actress. Which path will you choose for yourself as the leading one?
At the moment I am very concentrated on acting, since that are certain roles I can get only at this stage of my life. As for filmmaking, I want to take my time.