After learning that his lover Kei is being deported from Brazil, a young thug named Mario robs his partners and rescues Kei while she is being escorted out of the country. The young woman, Kei has an admirer in the head of the Chinese gang situated in Brazil. With the general public cheering on the rebel outlaw couple, Chinese gang after Kei, and the Yakuza after Mario, the two reach out to a friend and a Brazilian thug in order to pull off a theft to fund the couple's attempt to start a new life.
Buy This Title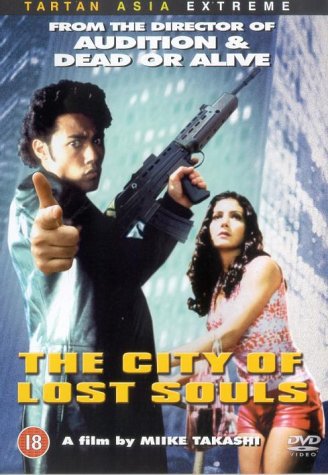 Takashi Miike's "The City of Lost Soul", while containing a few fun moments that embrace the director's often dark and over the top sense of the humour, does fall flat in many aspects and to a certain degree that shows a lack of depth or intelligence, that fans of Miike`s work will know is not a true representation of the directors talent. Perhaps the largest offense in the film comes in the way of the script, on top of being unnecessarily convoluted and creating dull, uninspiring characters, there are a few moments which stand out as rather insensitive, a concept which does not normally bug me unless it goes against the context of the film.
The lowest point of the movie probably comes when a man is shot "comically" after admiring his homosexuality and exposing himself to someone. The next scene cuts to the man, who shot the man for being flamboyant, possibly receiving oral sex from a pig. Within the genre of gangster film, this scene, along with a few others, feels misplaced and awkward.
The gang battles do carry some entertainment and there is some good action within the production, but given the nature of gang films, there is plenty of that available, that nails the violence and provides a more serviceable story. With some of the most notable productions being made by Miike. This production also contains, what is perhaps, my least favorite conclusion of one of his films.
"City of Lost Souls" stands out as a low point in the career of Miike, with any of the films redeeming qualities giving more reason to check out almost any other production by the director. Having not seen this film since its initial release, my memories of the film were vague and upon revisiting it became apparent as to why, as the production has aged poorly and is a horrible representation of the directors true talent. The film would be a bad place to start with the directors filmography; luckily his more prominent productions have gotten enough praise that it is unlikely this will be the first feature of the directors work people come across.
Overall, "City of Lost Souls" should only be viewed by fans who are adamant they want to go through Miike's full filmography, otherwise it should be entirely avoided