Sho Miyake – directed his first feature, 'Good for nothing' in 2010. His 'Playback' debuted in competition at the 2012 Locarno International Film Festival and won him several directing awards in Japan. The 'Cockpit' premiered at the Cinéma du Réel documentary festival. He also directed TV dramas and video artwork. His new film 'Wild Tour' will be released in 2019.
Tasuku Emoto – actor who is from a family of prolific and well-respected character actors. His father is actor Akira Emoto, his mother is actress Kazue Tsunogae, his younger brother is actor Tokio Emoto, and his wife is actress Sakura Ando. He began acting as a young teenager and has since played many supporting roles and starred in a wide range of TV dramas and feature films. He was born in Tokyo on 1986 and attended Wako High School. His career began in 2001 while he was still a student. That year he auditioned for and won the main role in the film 'Utsukushī Natsu Kirishima' by Kazuo Kuroki in 2003. The next year he was awarded the 77th Kinema Junpo Award for Best Newcomer and the 13th Japanese Movie Critics Rookie Award for this role. In recent years, he is known for his memorable supporting role in the award-winning 2016 TV series 'Asa ga Kita'.
'And Your Bird Can Sing' – the unnamed protagonist 'I' (Yasuku Emoto) works at a bookstore and shares a small apartment with his unempolyed best friend, Shizuo (Shota Sometani). 'I' begins a relationship with his coworker Sachiko (Shizuka Ishibashi) and soon, the three are larking about in a way reminiscent of Truffaut's 'Jules et Jim'.
The interview was conducted during the 31st Tokyo International Film Festival. The author wants to express sincere gratitude to the good offices of all the Festival crew.
I think it's not just a mere coincidence that Yasushi Sato's novels are being adapted so eagerly by various film directors (before we saw 'The Lights Shine Only There' by Mipo Oh, 'Over the Fence' by Nobuhiro Yamashita, 'Sketches of Kaitan City' by Kazuyoshi Kumakiri). What do you think is the very mesmerizing factor of his novels that inspires filmmakers to adapt them to the big screen?
Sho Miyake: That might come from the fact that Hakodate's cinema becomes the producer and the distributor of works based on Sato's novels. I presume that other film directors might have been as well inspired by the fact, that it's the cinema that produces and distributes the film, which is a rare and wonderful thing, I must say. The characters of his novels are also quite beguiling. The author grasped the ultimate skill to write about human nature. All of the characters in 'And Your Bird Can Sing' have their pluses and minuses; they sometimes become dishonest, but on the other hand they know when to be sincere. That diversity adds up to a very interesting introspection of what a human being actually is.
The thing that particularly drew my attention was the way the characters speak. They are ordinary people, however they use very sophisticated range of vocabulary, such as for instance 'okuriookami' ('gentleman' who escorts a woman home, only to make a pass at her; the word derives from XVII century haikai poetry), not to even mention the moment when they refer to Akutagawa Ryunosuke's 'Spider's thread'. Nowadays, nobody speaks like that, as least as for the younger generation. In Europe we would say that the language detaches itself from reality…
Sho Miyake: That's a very interesting viewpoint. I think it might also be due to the fact we live in different times now. Perhaps in the 80s, so when the novel was published, it would have sounded more natural or maybe it was used on purpose to bolster up their affectionate characters. The interesting part for me is that when they use such sophisticated words, we actually get the feeling that they don't really convey what they really mean, they hide their inner intentions. Instead of putting things straight, they wrap it up even more in paper.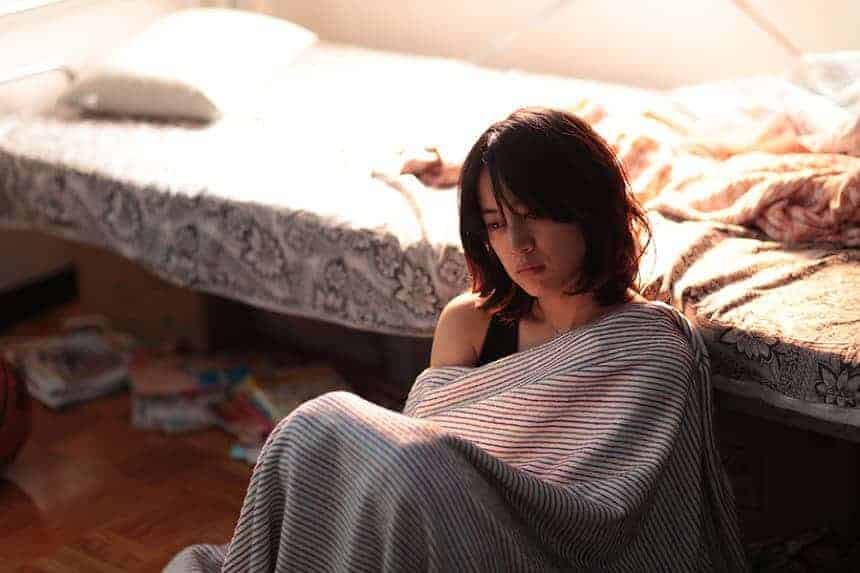 Don't you think that the nameless character ('I') you portray goes through quite a transition – from an indifferent and boorish type, he gradually becomes mild and defenseless and then in the end he loses over himself? Was that switch difficult for you during the shooting?
Tasuku Emoto: Definitely, he's quite indifferent, one of those 'oh, whatever' types. He doesn't know how to convey his feelings and he's eager for fun only when his whim dictates him so.  Since he doesn't care about the future, he's bored of Sachiko when the relationship with her becomes bothersome for him. It's even too tiresome for him to think he's being actually bothered by her presence! Anyway, during the shooting, I was brooding a lot about how to portray 'I' well, but in the end, the most efficient way was to act straightforward and reckless as him. I had a feeling, that 'I' is actually void inside, since he's one of the types that doesn't calculate nor think twice about his behavior. That leads him eventually to self-destruction and in the end he gets what he deserves.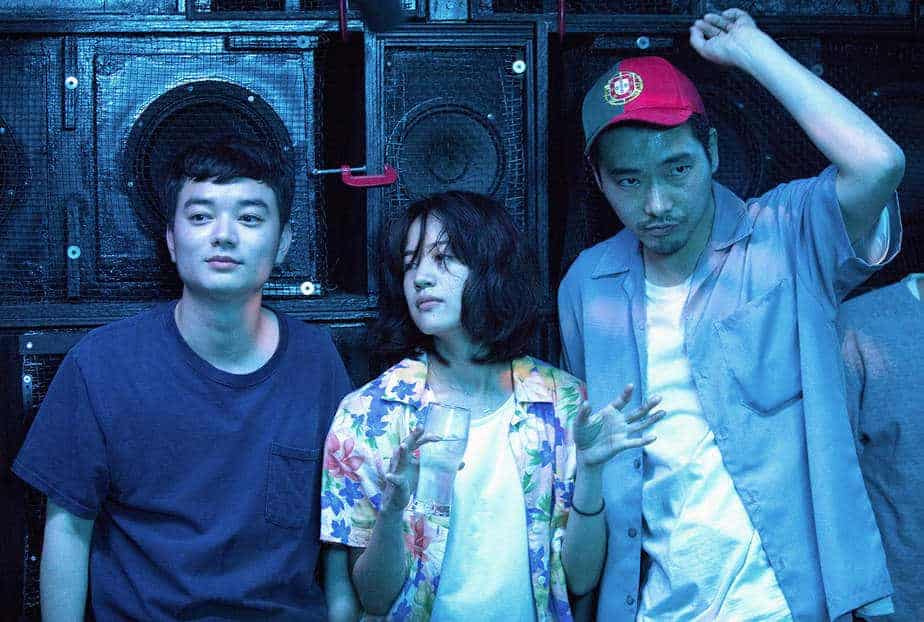 Another interesting aspect is the color palette. What made you soak your movie in blue?
Sho Miyake: It's the result of the cameraman's (Shinomiya Hideyoshi) and light operator's (Keijiro Akiyama) teamwork. I didn't actually instruct them to shoot using a blue-light filter. However, I explained them Hakodate has this particular trait of being filled with broad color palette, so when the sun is shining, the color can take different shades. Thus the light pierces through the characters once in a while taking a blue shade, then switching into amber again.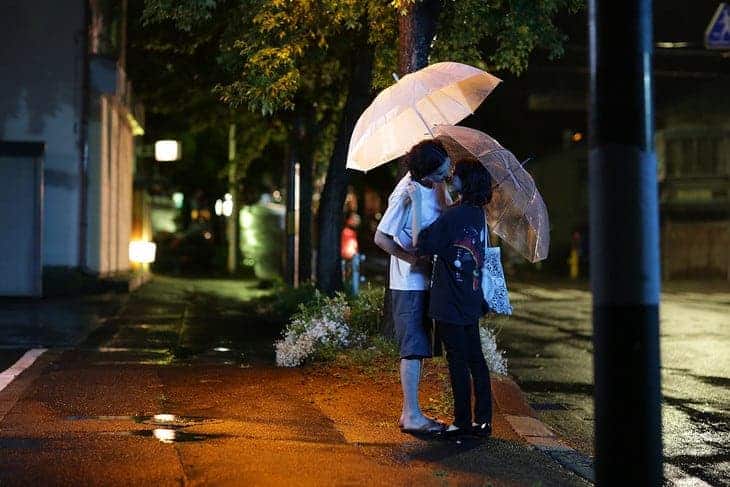 Constantly changing lapse of time in the movie is again its very peculiar trait – sometimes one minute of real time stretches itself through the whole scene, then usually time-consuming actions are diminished to a little while. And then the chirping of the birds in the finale prolongs itself until the closing credits.
Sho Miyake: That's right, but isn't it similar to how we perceive time in our real life? When it's fun, it's always a quick moment, when it gets boring it can take forever. I think the characters in the novel wanted to live outside of time. When they're watching a movie, listening to music or reading a novel they are somehow in their different dimensions. Thus, during the shooting, I wanted to adjust the time zone to them.
Shizuka Ishibashi, who is unfortunately not present with us today has lately become a topic of discussion in the Japanese film world, especially after the premiere of 'The Tokyo Night Sky Is Always the Densest Shade of Blue' a year ago. What actually drew you to choose particularly her for the role?
Sho Miyake: Indeed, she's quite a discovery. She was really into the relationship between the three characters and wanted to portray Sachiko sincerely, being honest to the original. What I remember from the discussion with her is her music taste. She actually asked me what do I think would might be the most suitable music for Sachiko. It was quite an inspiring conversation.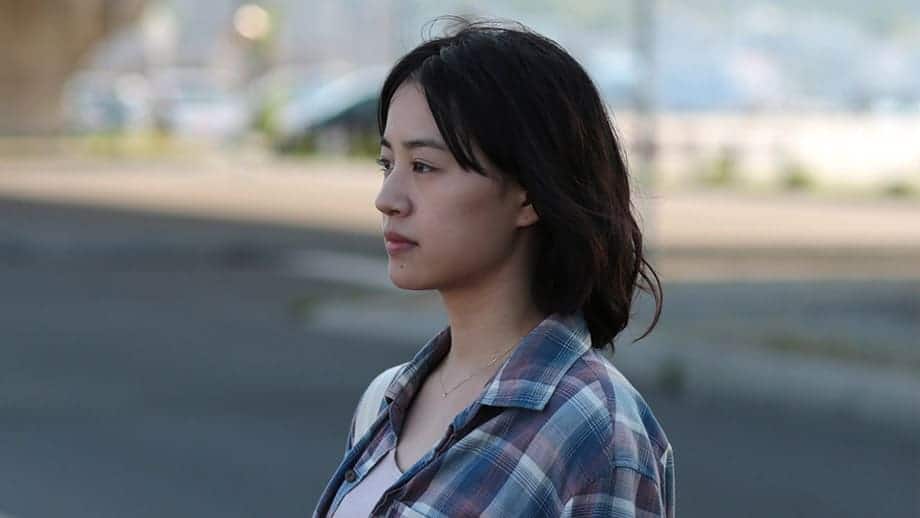 And what would a veteran actor like you advise to your younger colleagues?
Tasuku Emoto: …Uhm…Try your hardest!…(silence, all laugh)
Sho Miyake: Ok, it's not going well. So, maybe imagine I am film director who wants to become an actor. What would you tell me?
Tasuku Emoto: Go to the cinema! Go to the cinema and…watch the screen until you dig a hole in it (all laugh). Then you know you got the knack! On the other hand it's common for the actors they aspire to be film directors. Maybe I will shoot a movie one day, too.