Kensei Takahashi – found an old VHS-C camera at home when he was ten, and began capturing images. He taught himself video production and dreamt of becoming a film director. In 2014, he entered Josai International University's Media Studies Department and started full-scale production of shorts and medium-length works. 'Sea' is his graduation film, and his feature debut, and his first festival selection.
'Sea' – this gripping drama concerns the power of guilt to shape us, and the ongoing struggle which takes to release ourselves from its grasp. Depicting fragmented moment of a young man's life as he grows into adulthood but continues to be haunted by his failure to save a junior high-school girl from being raped, it marks the emergence of a new cinematic voice. A student at the time he shot it, as were all the cast and crew, Kensei Takahashi is a name to remember.
The interview was conducted during the 31st Tokyo International Film Festival. The author wants to express sincere gratitude to the good offices of all the Festival crew.
 I must admit that your vision is really dark – it might be the most morbid film of the 'Japanese Cinema Splash' section if not the whole Festival…
I know it's going to sound evasive, you may believe me or not, but I'd never shot such a dark movie before, during my student times. To be honest, I'd been thinking that I should rather shoot slapstick comedies or action movies, which I found myself good at. Eventually, I decided to pick up a genre that was a completely new territory for me. At the very beginning, I wanted it to be an action movie about a girl who, being raped by men during childhood,  takes a revenge on them years later. However, during the process of shooting I came across so many materials: books, testimonies that I came into conclusion that I simply cannot make it an entertainment movie for mass audience. Upon further consideration, I rendered a completely different shape for the movie and thus it became what it is years later, now – a morbid, but quite serious human drama.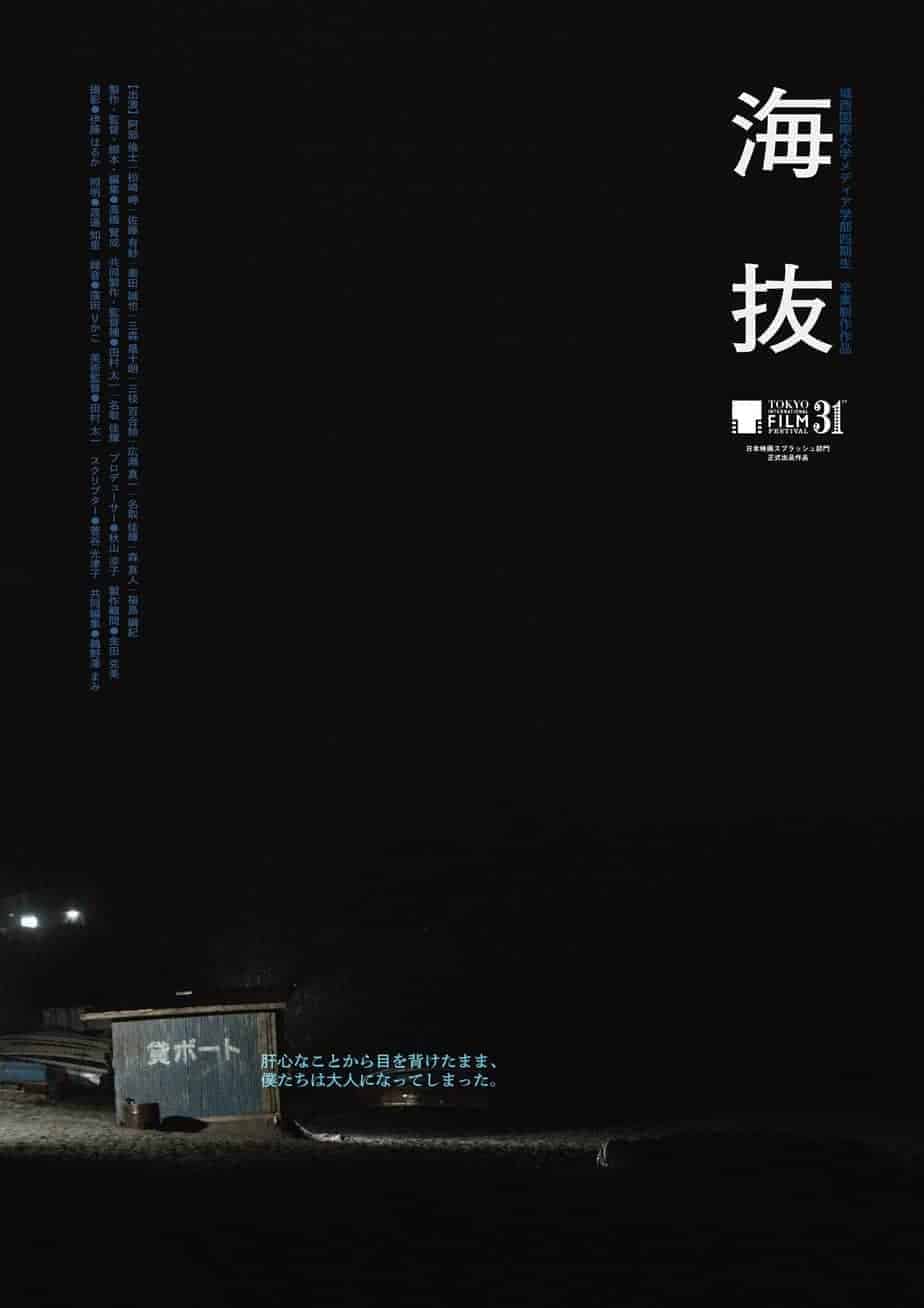 The problem of bullying in Japan was on everybody's lips especially in the 90s. How is it now? Do you think the situation's changed since then?
A lot of film directors spoke about bullying that time, but presently it might have even grown worse. Japanese people are prone to bury the society problems in the ground and then pretend they don't really exist. Maybe it's our national trait? People frown upon you when you raise your voice and try to dig up the dark side and criticize it on the forum. Nowadays we're dealing with both power and sexual harassment, as well as violence per se. And what? Former TBS journalist – Shiori Ito went public with allegations that she had been raped , but the whole case got nipped in the bud. #Me action is in complete stagnation here and it's precisely because people in Japan don't admit their negligence of dealing with those crimes. It's a huge shame to the whole country.
How about the mass media? In the neighbour South Korea, many men were immediately dismissed after sexual abuse allegations against them were brought to light, precisely because social media campaign…
I really don't think that during the next few years this problem is going to be cleaned up here. Naturally, depending on the generation, people do change, but the pace in Japan is that of a tortoise. And it doesn't concern only harassment or violence. Let's take the example of LGBT minority discrimination problem. If you think there's any constructive debate on it in Japan, I can tell you: there ain't . People don't look into the core of a problem. So there's a girl who committed suicide, because she was pestered and bullied by other schoolmates and then people tend to say 'oh, poor thing'. So that's their message to other people who are being bullied at the moment? There's a very twisted 'samurai spirit' in us – Japanese: when one tries to escape, then one's being immediately tagged as a loser. It's in our DNA. Anyway as I said, there's a long way ahead of us. Don't get me wrong – there are many positive sides of Japan but lately the balance between the good and the bad has been severely disturbed.
Since you just mentioned that lack of equilibrium in Japanese universe – it concerns your characters as well. They act as 'nocturnal animals', urged by their destructive sexual instinct, as if the dormant evil side was meant to prevail over the good…  
When it comes to the battle between good and evil, the latter prevails – that was the concept for the movie, naturally quite exaggerated. Same is the sexual urge of the two protagonists –  caricatural as it might be, it takes the control over them. One might think that sexual act should always be a pure act of our procreation, but in that case it's rather an act of animal copulation. The two guys are a mere imagination of creatures that in normal conditions should not exist, but sadly they do lurk somewhere in this frantic world.
We are observing the world through Hiroshi's eyes, but were we to and see it via female perspective – i.e. Rie's, how do you think the film would change?
To tell the truth, I wrote Rie's story before the shooting. The title in the original is 'Kaibatsu", so not really 'Sea' itself, but the height of the shore judging from the sea level. I wanted it to bee seen from Hiroshi's eye perspective, so I sketched its changes inch by inch.  Were I to include Rie's perspective though, then perhaps the movie would become more vital? After all, she overcame compared to the villains and Hiroshi who was forced to join the act. Who knows, maybe if I included her viewpoint, the movie wouldn't be so dark and thus more powerful?
You're saying she overcame the fact she got sexually assaulted and brutally raped? Judging from her look in the very ending scene, where she's on the verge of tears, I wouldn't be so sure…
I would like to leave it to the viewer's thought. As for me, each face expression, each gesture, all the scenes and cuts, i.e. everything conveys certain meaning. In other words, they're not there just by mere coincidence. Can I tell you what I really think then? When I saw the movie later from the viewer's perspective, I felt she didn't really forgive the villains. Neither Hiroshi was forbidden, though he was forced to join the rape act. Nobody is forgiven. Years later, they reappear because their ego dictates them to apologize and feel remorse. She didn't forgive them; on the other hand she pretended it just hadn't happened. Thus, partially she did overcome it, as for the form, but deep inside she bears the scar that will never be healed. Hiroshi reappears driven by ego, searching for absolution of the sin, however his reappearance is like a shock therapy to her and makes her feel even more wounded than before.
Here comes the tough question: imagine you are in Hiroshi and you're being put in such a wretched situation? What would you do? How would you act?
I would stop them… Well, normally everybody should stop them, but we're talking here about an idealistic vision…Were you to ask one hundred people, you'd get hundred same answers. However, saying one thing and actually doing it is another pair of shoes. I mentioned how Japanese society is being closed and restricted. When one is at school, for one it's the whole world, like a big fish tank. You know, Japanese are quite peculiar…I can state firmly now, I would have prevented the situation, but I'm talking here from an adult's position. Were I a 16-year old kid now, would I have the guts to say the same? There are many 'if' statements and precisely those will be haunting Hiroshi for the rest of his life…
You implemented a metaphor that the end of the world is approaching and the characters' world they lived in actually came to an end. Why did you decide to refer to 11.03.2013?
Naturally that reference doesn't appear just because, without a reason. I remember, though very vaguely, since I was barely four, how people locked themselves up and were frightened when XXI century approached, as if the end was drawing near. On the other hand, I remember clearly the calamity of March 2011 and for me – like for many others – it was the most earth-shattering and tragic thing I have ever witnessed in Japan. For Japanese it was like the terrorist attacks for Americans. People's lives took a 180-degree turn. I always thought of it as one of the most important turning points for Japan. I decided thus to juxtapose the end that was expected to happen eighteen years ago and the partial 'end of the world' for Japan in 2011 with Hiroshi's personal tragedy and his own universe collapse.
You're still very young, but the way you're speaking is that of a full-fledged adult, so is the movie – very mature. How do you feel here at Tokyo International Film Festival, considering the fact it is your first festival selection?
Thank you very much for you kind words. I was actually born in Hokkaido, where I was raised, but I was constantly dreaming of appearing on a bigger festival stage. Three years in a row I came here as a viewer, but I would never have expected that I would find myself here as a film director so quickly. It's truly a miracle and I am wholly indebted to Tokyo International Film Festival Committee, my university teachers who helped me to jack up my scores and finally the whole team crew without whom I definitely wouldn't be here now. I was mostly inspired by Alejandro González Iñárritu's debut 'Amores perros' and the fact he instantly made such a groundbreaking career as a filmmaker. If only I could become like him, it would be my most desirable repayment for the whole kindness I experience from the Tokyo International Film Festival.