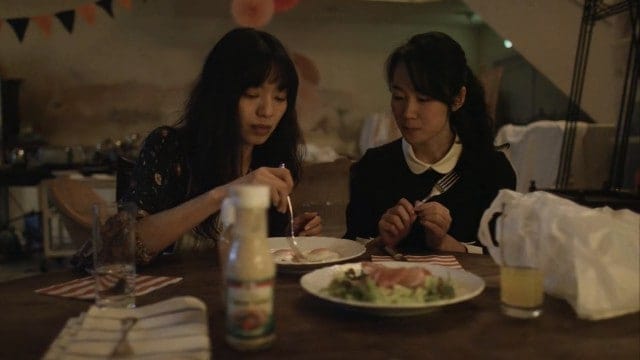 I have to admit here, I consider Shunji Iwai one of the most originals voices of Japanese cinema, an artist whose every work deserves more than a look, to say the least. "A Bride for Rip Van Winkle" is definitely among his best works, and this says a lot for the director of films like "Picnic", "All About Lily Chou Chou" and "Hana and Alice".
Buy

This

Title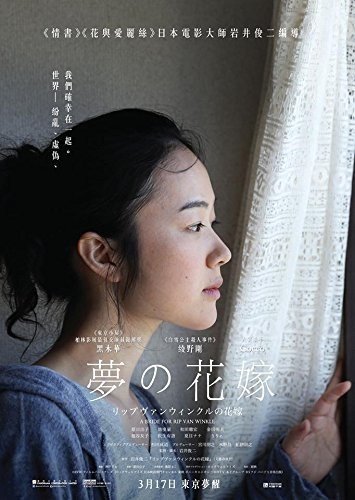 The three-hour script is split in three parts and revolves around Nanami, a timid, extremely low profile woman, who, at the beginning of the movie, works as a part-time teacher, despite having issues with her students who mock her for her very low voice, and in a convenience store, to make ends meet. She spends most of her free time on "Planet" a social network, and seems to have no actual friends or a boyfriend. However, eventually she takes part in a blind date with Tetsuya, after meeting him online, who is also a teacher. The two of them get along from the beginning, and soon decide to get married. However, Tetsuya proves to be a mama's boy, and additionally, asks from Nanami, who has no friends and her parents are divorced, to find additional people to invite to the wedding. Having no alternative, Nanami turns to Amuro, a mysterious jack-of-all-trades who provides guests for weddings among his other services.
Amuro seems to be much more, though, as (in the second and third act) he becomes an important factor in Nanami's life, as he also helps her when she thinks her husband cheats on her and when her marriage collapses. Additionally, he finds odd jobs for her to help her financially, first as a housekeeper at a cheap hotel, then in a supposedly vacant mansion, and somewhere between, as a paid wedding guest. During the last, she meets Mashiro, the Rip Van Winkle of the title, and the two of them connect intensely, as their mutual feelings of loneliness collide, during the third act. However, it is soon revealed that neither Mashiro nor Amuro nor the house is what Nanami thinks.
Iwai manages to present a number of messages regarding Japanese society, through a relatively abstract narrative that goes in and out of surrealism a number of times. The lack of actual communication among people and the "solution" provided the social media depict one of the most central, with the consequences of actually making life decisions based on people one meets online being disastrous. The fact that money seems to buy everything, from guests at a wedding to actual friends, is another, with Iwai including an ironically funny sequence where Amuro is taking care of a number of children in the park, actually having them on leashes, as if they were animals. The relationships of parents and children, which stretch from almost non-existant to oedipal is another one, while the futility of the concept of marriage, which derives from silly social rules and constant pretentiousness is another.
All of the above come together in the last act, with the relationship that is formed between the two girls including almost every aforementioned comment, in rather surrealistic fashion.
In this setting, the roles of the three protagonists seem almost archetypical. Nanami does not know who she is (even if she is actually something) nor what she wants, as she floats in life, always ready to be directed to wherever, by the people around her. Haru Kuroki does a great job of portraying the character, with a very fitting timidness that never changes.
Amuro seems to know what he is doing, but he is also incomplete, as his life gives him little time for actual, personal relations, while everyone in his life seems to be a client, in extreme, capitalistic fashion. He seems to be able to get his way no matter what the circumstances, but even this trait does not lead him anywhere. Go Ayano is impressive in this part, always appearing cool and in control, and ready to go to extremes to achieve his goals.
Mashiro is the one who is willing to go to extremes to achieve human connection, and a truly sad character, whose riches does not seem to able to change her fate. The short-lived time of happiness she has with Nanami is actually completely demolished as the film progresses and her true character is revealed, including her relationship with her mother, in one of the strongest scenes in the movie. Cocco does an excellent job of portraying her, managing to emit fake happiness and sadness, at the same time, while her chemistry with Kuroki, which derives from their character's differences, is one of the film's highlights.
At times, the three characters reminded me much of the ones in Sion Sono's "Guilty of Romance", which seems to have influenced Iwai, in a number of corresponding concepts, although without the violence and the sex that dominate Sono's movie.
Technically, the film is more than impressive, with Chigi Kambe's cinematography portraying the kaleidoscopic nature of the narrative in impressive fashion, and in a plethora of various locations. The scene with the hidden cam, and the sequence in the fish room where a blue tint dominates the image, are among the highlights of an outstanding effort. Shunji Iwai's own editing induces the film with the sense of surrealism, in a hypnotic; almost dreamy style that fits its aesthetics quite nicely, although, at times, I felt that some scenes could have been avoided or even cut short, at least in the 179 minute version. Kyoko Heya's art direction is also among the production's highlights, with the majority of settings looking impressive and meaningful at the same time.
"A Bride for Rip Van Winkle" is a truly great film, one of the best in Shunji Iwai's filmography and a great sample of meaningful, contemporary Japanese cinema.