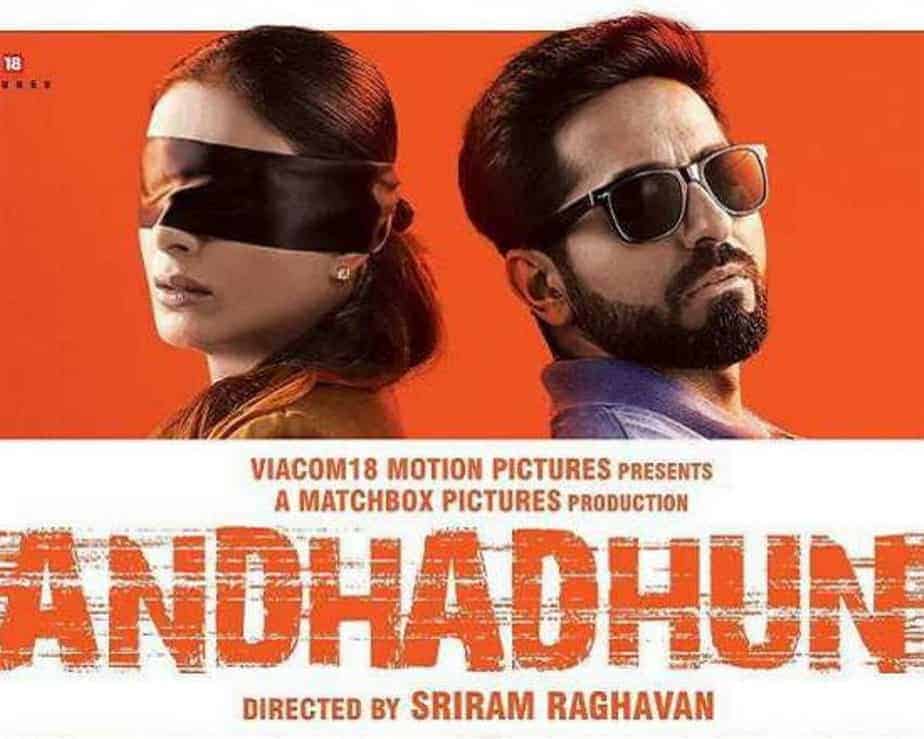 Throughout his career, Sriram Raghavan has made neo-noir style his trademark. First, the director successfully exploited it in his debut feature "Ek Hasina Thi", then in cunning "Johnny Gaddar", and finally in maybe not flawless, yet intriguing "Badlapur". With "Anandhun," he departs from seriousness. Although Raghavan still explores the darkest corners of human souls, this time he plays with structures and genres, skillfully mixing a deceitful thriller with a dark comedy. Time and again, he winks to his audience, playing with the typical pulp threads, and he seems to have a good laugh at it. From the director, he turns into a prestidigitator. Yes, we have already seen this kind of tricks, but the way he crafts his illusions leaves us in a childlike amusement. And he stuffed plenty of rabbits in his hat.
Buy

This

Title
A rabbit, actually, is the starting point. After the hilarious motto is displayed "What is life? It depends on a liver," a farmer with a gun appears on the screen and starts chasing the said rabbit on a cabbage field. The scene seems absurd due to strange camera angles and peculiar rabbit's glances, and it sets the tone for the whole story. It also suggests that the events shouldn't be taken too seriously and encourages us to challenge what we see, not giving it full faith. We all know what happened to Alice after she followed the white rabbit… Paying attention to details pays off as the important clue is hidden among the cabbage (protip: take a close look at the cane in the epilogue as well). The rabbit-hunting thing will come back later on, smartly woven into the narrative.
Nonetheless, the plot is not focused on idyllic rustic life or perils that farmers suffer from the local fauna. Instead, it is set in Pune and tells the story of Akash (Ayushmann Khurrana), a talented blind pianist, who is practicing a lot having a prestigious competition in mind. He also struggles to find the perfect finish to his composition of his own, although his everyday life doesn't seem to be much of a struggle. He deals with his disability quite well, despite the never-ending malicious pranks of a middle-grade brat from the neighbourhood.
One day, a scooter hits Akash while he is crossing the street, and it seems to be a blessing in disguise. First, a friendly and charming Sophie (Radhika Apte) is the driver. Second, partly out of guilt and partly because she liked him, she arranges a permanent gig for him at her father's restaurant. It turns out that Akash suits perfectly the the job. Guests love the concerts as well as the performer himself, and his acquaintance with Sophie starts to blossom… but this story was never meant to be about love. The first smokescreen vanishes before even the first 10 minutes of a running time passes. Akash is not blind, though he made everyone think so. As a result of his own deception, he gets into a huge mess .Without revealing too much of the story, it's enough to say that we get to deal with a noir-obligatory femme fatale, a nosy elder lady, a yesterday's movie star, unscrupulous filthy criminals, and unhelpful police officers. Whenever it seems that the director has shown all his cards, a brand new surprise surfaces. The characters tend to show their second face as well. Nothing can be considered done and dusted.
The script was inspired by the 2010 short movie "Piano Tuner" by Olivier Trenier. Yet "Andhadhun" borrows just one idea for a scene, using plenty of creative bricks to build around it. The echoes of Truffaut's "Shoot the Piano Player" may be heard, Coens' spirit is present and one can notice even a small tribute to "La la land".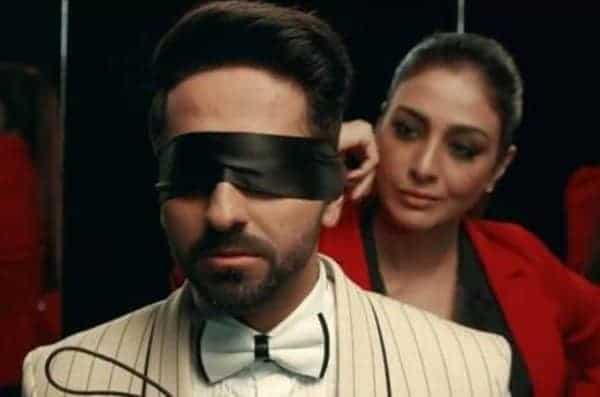 Pramod Sinha's character—who is a fictional film star from 70's—pays a nice homage to the Hindi cinema of the era, especially since Anil Dhavan as Pramod has indeed debuted on a screen in 70's. Instead of creating new retro-style videos in the sequences when Pramod is watching with awe the younger version of himself, Raghavan used the existing ones, from the Anil Dhavan's filmography. Thus we see the actor romancing with Leena Chandavarkar in "Mere Pyase Man Ki Bahar" song from "Honeymoon" (which they sing with Asha Bhonsle's and Kishore Kumar's vocals). There is also "Dil To Mane Na," the entertaining piece from "Shaitaan" with R.D. Burman's tune and his not-often heard signature hoarse voice. The notes of "Teri Galiyon Mein Na Rakhenge Kadam" from the movie "Hawas" will flow few times. And Ayushmann Khurrana performs himself, with an accompanying piano, "Guzar Jaye Din" from "Anandata".
Moreover, the affiches on Pramod's apartment walls are from Dhavan's movies:"Chetna", "Honeymoon," and famous B-class Ramsey brothers' horror "Darwaza". Although one of them, "The spy of Shaghai", is of a fictional film, its design imitates the vintage aesthetics perfectly, and the title itself bears a resemblance to the old wacky ganster&spy masalas by Shakti Samanta that were shot in exotic locations. There is also a mention of other Pramod's non-existent movies, but even those titles ring a bell, e.g. we can spot an iconic villain Pran on the poster of "Boy Next Door", and "Nurse Radha" is a reminder of the acclaimed role of Waheeda Rehman in 1970's "Khamoshi".
The cast is excellent, especially Tabu as a seductress: a dangerous one, yet with comical touches. Anil Dhavan kind of plays himself, and Manaj Vij as Manohar introduces a wide range of hilarious wicked stares. Apte, although the scriptwriters didn't give her character an in-depth treatment, manages to make Sophie expressive and likeable. Khurrana also does well, both convincing as a blind guy, and pretending to play a piano.
Amid Trivedi, Raftaar and Girish Nakod, the musical directors, did a good job. The songs (the new ones as well as the piano covers of old Hindi pieces) are catchy and well woven into the narrative, with most of them introduced as a part of Akash's performances.
The only thing that could be improved is pacing. In a picture filled with twist and turns, a faster tempo and a more dynamic editing would work better (as well us cutting out about 20 minutes of the material). A bit of chaos and sluggishness troubles especially the second part. But despite these flaws, "Andadhun" remains one of the most entertaining Hindi movies of 2018.
PS One of the scenes takes us to an unnamed location "somewhere in Europe." For those curious ones, that "exotic" location is a Polish city of Kraków with its impressive market square.