For his transition from documentaries to fiction, writer-director Daishi Matsunaga chooses a challenging topic; one of those subjects that sit on the narrow edge between tearjerker territory and the land of unrequested philosophy. But, guess what? He manages not to plunge into one nor the other side and, on the contrary, to stay afloat and gift us with a sombre yet tender movie.
Buy

This

Title
Loosely based on the prolific artist and godfather of manga Osamu Tetzuka's last journals and reflections before dying, aged 60, of an announced death, "Pieta in the Toilet" centres on the young introverted painter Hiroshi (Yojiro Noda), who – for a lack of confidence and "joie de vivre" in general – has given up his art in exchange of a relatively easy and unchallenging job as window cleaner.
Very early in the film, Hiroshi passes out while at work and is taken to hospital, where further medical tests reveal the young man is terminally ill and treatments can only slow down an inevitable end.
Hiroshi is understandably thrown into a thick cloud of numbness at first, but he decides, in the confusion, to undergo treatments. In the hospital, he will meet different characters that are reacting and adjusting while facing a critical moment in their life. Yokota (Lili Franky), his roommate, is a middle-aged cancer patient who has embraced the Eros and Thanatos concept a bit on the perverted side. He is unpleasant and gross at times but he will become a gently supportive and sincere companion towards the end.
A determined little boy, Takuto, and his brave mother (Rie Miyazawa) are two gentle souls that also interact with the initially reluctant Hiroshi and help him in his path of reconciliation with life and art.
But the most emotional and weird relationship he engages in is with Mai (Hana Sugisaki), a moody schoolgirl he meets by chance when asked to bring a family member to the hospital. Hitoshi has estranged his family and wants to keep it out of his life, therefore he offers Mai some money to pretend to be his little sister. She witnesses the dramatic diagnosis with a bored contempt and proposes very casually to Hiroshi: "Why don't we die together?", but later the film offers a glimpse into her difficult personal life, revealing her complex and damaged ego.
"Pieta in the Toilet" was marketed as a love story for obvious commercial reasons, but it is not. In reality it's a beautiful, understated snapshot of troubled souls and how an adverse destiny has given them an ephemeral taste of collateral joy.
The film brushes past some hot topics of Japanese society like the painfully cold family dynamics, the diaspora from the countryside to the "Big City" and (not only a Japanese topic) the life and straggles as a young artist, but chooses to leave them on the background. The real charm and best asset of "Pieta in the Toilet" is the character development and the metamorphosis they go through in front of our very eyes, while layers and layers are added with a light touch to the narration.
Popstar Yojiro Noda of the group RADWIMPS (of the very relevant OST in "Your Name") – at his first actor role – goes through the movie with his effortlessly cool aura and the distressed character is rather forgiving of his often-inexpressive gaze. But the real star here is the young and gifted Hana Sugisaki, also seen in "Blade of the Immortal"; her performance and the interaction with Noda give the character an extraordinary depth and pathos and you are left wanting more of her screen time. Needless to say, Lili Franky is always a joy to watch and Kanji Furutachi is also perfectly casted in the small but important role of the doctor who delivers the bad news.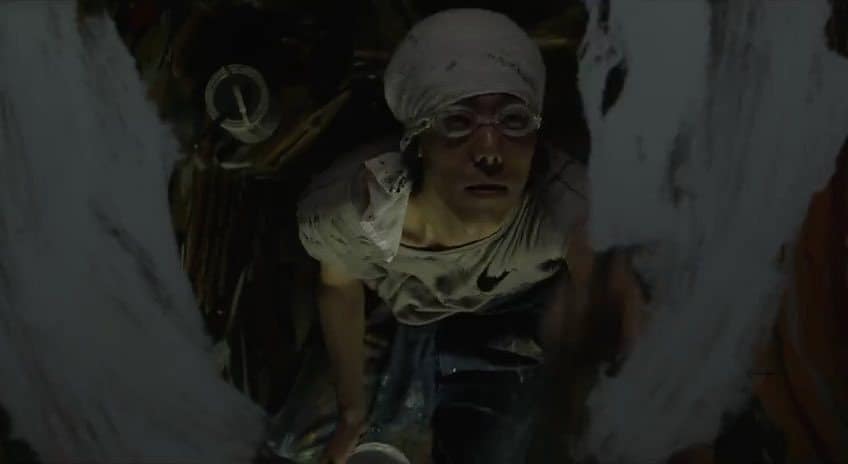 Camerawork and direction are creative within the boundaries of such a delicate subject matter and culminate with the moving final scenes, also revealing why the oddity of such a title. Sombre cello music underlines the emotions and Yojiro Noda's RADWIMPS are given the task to lighten up the end credits with a touch of J-pop.
If a moral need to be found, that would be that life should be lived until we die and this is also the inspiration and a homage to the great Tezuka who relentlessly insisted on drawing until the last moment that his consciousness permitted it.
A very impressive debut in fiction for director Daishi Matsunaga.