Can you, as a viewer believe everything that you see ?
What's more common–hiding in plain sight or seeing things and pretending not to see them?
Both these questions are central to the premise of Sriram Raghavam's 2018 hit Andhadhun
These are only questions I can pose in this article and not answer because of the possibility of spoiling the film and its many surprises for those who haven't seen it yet. Those who have, know what I'm talking about. While the first question is central to the film's final payoff, the second lingers on for much of its running time. It is worth mentioning that Raghavan and his writers, which includes the editor and long-term collaborator Pooja Ladha Surti, have created a thriller that sidesteps the conventional whodunit formula. It's made abundantly clear to us who the killers are and who and what is shielding them. There is another central question raised by the film's trailer which is answered without much delay.
Andhadhun is not a potent character study, which could be a possible complaint for most keen viewers, but it has plenty to work with. It is a film not about action but about consequences, how a deadly game when set afoot becomes a never-ending labyrinth which ultimately either consumes the characters themselves or their moral compass. There is nothing ingenious about this treatment. In fact, the director has employed similar tropes in other films, best seen in 2007's Johnny Gaddar and in the recent outing Badlapur. Both films keep the viewer in the loop, not pretending to be smarter than it is, and yet ponderous in the impact the action has by the time the film ends.
A summary of a film like this must be carefully given out because there is so much happening and because any inadvertent revelation of its plot may spoil the readers' first viewing experience. All that can be said is that a blind pianist, our protagonist Akash(Ayushman Khurana) finds himself trapped in a game whose consequences he is unable to gauge.
While "Johnny Gaddar", as the title suggests, was about betrayal and where it all leads, and "Badlapur" was about the consequences of a relentless pursuit of vengeance, "Andhadhun" is replete with visual metaphors and blind-man's-bluff, again quirkily suggested by its title. Also music adds texture to the story as the protagonist struggles to finish his trademark tune, which he only manages to do so as time passes by and he has gone through an unforeseen ordeal that takes up much of the film's running time.
Raghavan knows more than a thing or two about stylising and presenting his thrillers. Here he treads with an assured step as a director, hardly ever losing his grip on the storytelling. There is also the usual element of pastiche which we look out for in every Sriram Raghavan film, especially the references to yesteryear thrillers and capers. Be it the reference to Bollywood thrillers of the 60s and 70s in "Johnny Gaddar", various nods to spy films in "Agent Vinod" (2012) and in the case of this film, ingenious references to Kishore Kumar's music and especially the campy thrillers starring Anil Dhawan. Anil Dhawan here plays an old actor popular in the 70s, pining after lost glory until the stories of people surrounding him start resembling the plots of his old thrillers. There is always the wondrous sense of the cinephile in Raghavam's films, so much so that one can imagine the director winking at us from behind the camera as he relentlessly takes his story in new, unexpected directions.
There is almost always the delicate balance of tone, where as murder after murder plays out and the story keeps moving towards serious contours, the director has his trademark habit of smartly holding back, not taking the action too seriously and often leaving the viewer with ambivalent feelings rather than draining them out completely. One notable exception is "Badlapur", which was much more grim when compared to the rest of his filmography and understandably so.
The writing of the film gives the feeling of being careful and meticulous, a touch which a delicate thriller like this requires. After watching the movie, reading the script of the film, available on the Film Companion website, supports this view. There are moments of brilliant improvisation from the actors as well as good ol' methodical acting out the script. Nonetheless, the acting deserves special mention. Even the little details and props like a Bluetooth speaker, a cat, a rabbit and even the photo of Aishwarya Rai behind an auto rickshaw have a part to play in the story. It is a story as carefully designed as they come.
Another reason why the storytelling works to such an extent is the keen sense of aesthetics employed. A pivotal moment in the film which involves the disposal of a corpse takes place over a mesmerizing piano ballad, while the camera sees the action through a significant eye-line shot. Also the film cuts away from the climatic scene at a pivotal moment which could offer clues to the ending of the story and requires a bit of pondering to truly make sense of it.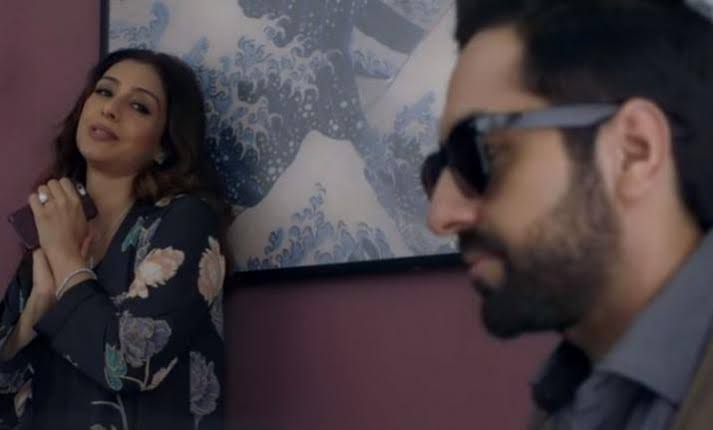 It also helps that each role is cast to perfection, be it the aforementioned Anil Dhawan, the hunky crooked cop played by Manav Vij, the character of Radhika Apte who is the only spark of innocence in a film with crooked characters, or Zakir Hussain, a favorite of the director, as the corrupt doctor. All the supporting players are key pieces of the larger puzzle. However, the leads, Tabu and Ayushmann Khurana hold our attention, displaying never seen before chemistry in their scenes together and communicating much more than what's obvious at the surface. Tabu has established herself beyond doubt as a master performer and the go-to actor when it comes to playing strong, complex female protagonists with a not-so-obvious and often reprehensible moral compass. Her performance here is another example of her being ahead of the curve. Ayushmann truly moulds himself for the sake of the character, a trait which is always good to witness among Bollywood heroes, where an engagement with excess is often what we see. He seemlessly fits into Raghavam's world in what has now gone on to become a career-shaping performance, setting him up as one of our most reliable leading men today.
The film saw phenomenal suceess in the last few months, becoming a topic of conversation among friends and cinephiles alike. As Indian cinema looks forward to interesting films in 2019, it seems like a good exercise to look back at this film from last year which managed to capture our fancy, and deservingly so. It is after all, a film where the director sticks to his guns to provide a fascinating cinematic experience, all of it done with considerable skill.