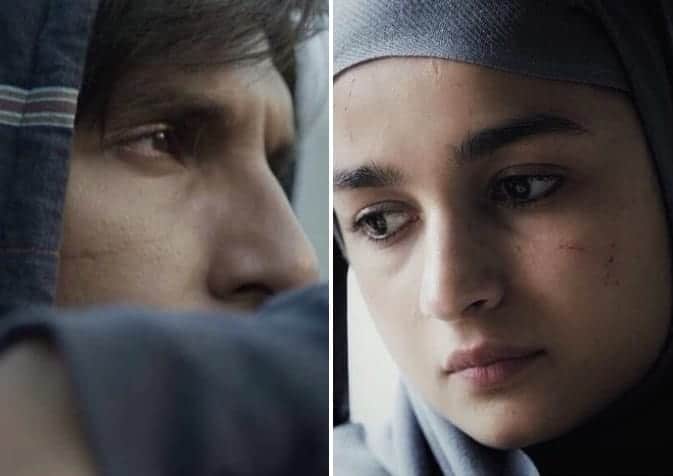 Sparkling lights reflect on the car. Murad is the driver – he drives that expensive car for his boss. It's parked in front of a star hotel and the privileged guests are talking and walking around. The camera pans on the intense eyes of Murad- he wants to break free. He hums – Apna Time Aayega (My or our time will come). And director Zoya Akhtar brings in the flavor of socialism in the epic story of victory of the underprivileged in "Gully Boy", where dream meets reality.
Murad (Ranveer Singh) is a 22-year-old son of a chauffeur, Aftab (Vijay Raaz). Murad resides in Mumbai's slum Dharavi. He is inclined to rap music and expresses his thoughts in writing as he writes his own songs. His abusive father gets married for a second time and brings in his new wife, causing more disturbances in Murad's life. Murad's long-time girl Safeena (Alia Bhatt), a medical student, belongs to a conservative and orthodox Muslim family and meets him secretly. In his strive to become a rapper, Murad meets MC Sher (Siddhant Chaturvedi), a local singer and starts performing in underground concerts. Murad and MC Sher meet Sky- a rich girl and a music lover who offers both a collaborative song. The song- shot in Dharavi, is uploaded on YouTube and gradually hits the audience and Murad jumps into the world of music with the name Gully Boy. The narrative continues with many twists and turns till Murad wins a Rap competition and becomes a star rapper.
Ranveer Singh is outstanding as Murad. The director exploits his amazing acting skills in frame after frame with perfectly portrayed expressions. His character is so wonderfully thought that it blooms with the pace of the movie and explodes in the climax with a perfect aura of stupendous success. Alia Bhat is a gifted actor and the character of Safeena is perfect for her natural expressions, bringing out one of her best performance to date. There is one romantic scene in the movie when Murad comes back to the life of Safeena again and it has been portrayed so beautifully that it stands out to be one of the best romantic sequences in the history of Indian cinema. But the surprise package of the movie is Siddhant Chaturvedi who is just outstanding as MC Sher, with his spontaneous dialogue delivery and super acting skills, which allow him to blend with the character in ease.
"Gully Boy" is a dialogue based movie and Vijay Maurya does a brilliant job by creating dialogues which blend perfectly with the Mumbai culture and upholds the aura of arrogance many times, which is perfect for the narrative. The lyrics of the songs express the motto of the movie and those are penned brilliantly by different lyricists. The movie is inspired by the real life story of street rappers Divine and Naezy who became house hold name in Indian music industry and both compose some chart-busting music for the movie.
Zoya Akhtar does a splendid job in creating the world of Murad, Safeena, MC Sher and all other underprivileged in a way that the audience feel the confinement of the characters and their will to break the shackles. Murad is a son of a driver, when his father is injured, he works as a chauffeur but dreams big. But its not easy for him to be a creative person staying inside the nuisance of the world surrounding him. And director Zoya Akhtar creates the depression at such a label that stretches the limits of elasticity of Murad's mind and thrusts his inner soul to break free and create his own creative world. The mind -war between the "have" and "have-nots" has made "Gully Boy" a real socialist Bollywood movie after a long time. A brilliant effort and a must watch.