Faith, family and societal pressures are put to test in first-time director Kim Yu-ri's debut film "Sub-Zero Wind". The film premiered in the "Korean Cinema Today's Vision" section at the Busan International Film Festival last year, before having its international premiere at the Festival International des Cinemas d'Asie de Vesoul earlier this month, where it won the Jury Prize.

The film is told in three distinct parts. The first part finds Young-ha, a 12-year old girl who is having to move out of the house of her Catholic mother, who aims to be an ordained minister with her own church, and to her father's place because her mother has brought her new boyfriend to live with her. Young-ha's father, however, has bolted before Young-ha gets there. Dejected, she is returned back to her mother who has to take her back unwillingly. Cut to three years later, and Young-ha is a middle-schooler who now calls her mother's boyfriend "Dad", gets along well with the two and lives peacefully with them. The major part of this storyline focuses on Min-ji, Young-ha's cousin, who finds herself somewhat family-less after the death of her grandmother who she lived with. Young-ha's mother claims to be taking responsibility of Min-ji but has secretly been using money that is rightfully Min-ji's, to further her ambitions with the church.
In the final part of the story, which gets the most screentime, Young-ha is a 19-year old who, due to an incident which severely disturbs the familial balance in the household, decides to move out of home and with Min-ji, who is herself desperately looking for a job and a steady house to call home. The two end up sharing a room together that Young-ha manages to rent out for herself on the back of a new job as a bar hostess, a job which she clearly does not enjoy. In a sense, the film is as much the story of Min-ji as it is about Young-ha, as the two go through various trials and grow up together.
There is no doubting director Kim Yu-ri's ambition. For her debut film, she has bravely decided to take on a lot of themes and make a lot of statements, which are realised to various levels of success. The deterioration of the family structure is expertly portrayed. How an ambition, which could border on obsession, can ruin a family from within is interesting to watch. The problems of the youth in modern Korean society, from finding a job to finding steady and affordable accomodation, and the lack of a system in place to help those that fail to find either, are explored and criticised. The film also succeeds in showing the loss of innocence and how children with inadequate parenting are forced to grow up mentally all of a sudden. Friends are, in that sense, much more important as a support system than parents.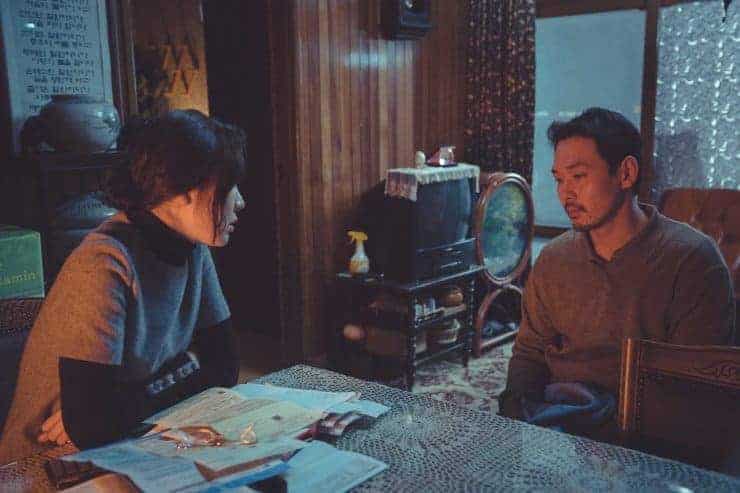 That is not to say that all points she wants to make hit home though. Christianity and faith play a big part of the narrative, but it is unclear what her stand on religion itself is. The relationship between the mother and stepfather (the father's still married to his old partner) is also not explained properly. Young-ha clearly hates her job as a bar hostess, but it is not explained why, leaving the film feel like a missed opportunity to explore the world of bar hostesses. Kim Yu-mi's past experience with short films is also evident, the three parts feeling very much like three separate stories rather than a single, straight-forward narrative, regardless of how seamlessly they transition. A big part in that effective transition is played by cinematographer Choi Won-uk, whose lens captures bright outdoors and happy indoors when Young-ha is living happily with her family but portrays the real outside world as a bleak place once reality sets in and Young-ha and Min-ji are trying to carve a place for themselves in the cold, wintery world.
The acting in the film is top drawer. Young-ha is portrayed by three different actresses in all three segments, each bringing their distinct flavour to the character. Kwon Han-sol, who plays Young-ha in the final arc gets the most to do and she leaves an impression. The character goes through a variety of emotions and experiences that would rattle most people mentally in that arc and the actress manages to capture each very competently. Shin Dong-mi is equally impressive as the obsessive devout mother who would go to any lengths to fulfil her ambitions that eventually lead to the withering of her family. Park Jong-hwan's portrayal of the stepfather is an interesting one, very warm and likeable until the event which shakes the family, after which the audience can't help but despise him. Ok Su-boon is also excellent as Mi-jin in the final part of the film. Her character is the most pitiable of the lot, having to go through hardship most her life and Ok manages to make the audience sympathetic to her plight yet be awe-inspiring in her resolution to survive.
"Sub-Zero Wind" is a mixture of a lot of interesting ideas and themes, but it isn't equally successful in the execution and exploration of all of them. In any case, it is a good showcase of director Kim Yu-ri's command on her directorial abilities, if not so much on her script-writing. She remains a newcomer director that should be on your "Talents To Watch Out For" lists for her future projects.