Carlo Enciso Catu was born in Angeles City, Pampanga, on September 26th 1993. He worked as a professional theater actor. After a series of short movies, he directed his debut feature, Ari: My Life with A King in 2015 which went on to win several awards. In 2016, he was the youngest director to be nominated for best director award at 39th Gawad Urian (The Philippines' Oscars). His latest film, "Waiting for Sunset" won Best Film Award at Cinemalaya Independent Film Festival
On the occasion of Waiting for Sunset screening at the 25th Vesoul International Film Festival of Asian Cinemas, we speak with him about shooting a film about and with older people, humor, cockfighting, the Philippine film industry and other topics.

Your film was a big success at Cinemalaya Awards, how proud are you of its success and how do you think it will help you in the future?
I was very surprised when I won big time in Cinemalaya, we did not just win the Best Film Award, we also won three awards – best cinematography, production design and screenplay – and I was very emotional because I want to make films not because of any awards, I'm making films because I believe that particular story should be told and it's important for that film to be seen. As I can remember at Cinemalaya…we were one of the favourites but there is this film which is more politically charged, and people are like "that should be the best film" and things like that. Anyway, I'm very happy, I'm very proud because we really worked hard on 'Waiting for Sunset' and it helped me a lot in my career afterwards, because after winning the best film, big companies from the Philippines came to me and they talk to me and now I'm actually working with ABS-CBN, that's like one of the leading television companies in the Philippines, and they will produce one of my passion projects.
Oh that's great. So, you're also a theatre actor, can you tell me a bit about that?
I am not a film student, I am a hotel and restaurant manager, I started in hotel and restaurant management.
Oh really?
Yes, many people say I wasted what I studied in university but I told them no, because I believe filmmaking is also about managing people, especially if you are the director, managing all these people who work for you, for the story and for the film. But yes, when I was in college I worked as a professional actor, a theatre actor, and I think that became my edge among other film students, this experience, because I know the language of my actors, because I am an actor myself. I think one of the most important aspects of film is how you connect with your actors- even if you have the best actors you need to have a connection with them, about how we will tell the story as one, and I think I'm proud I know the language of actors as well.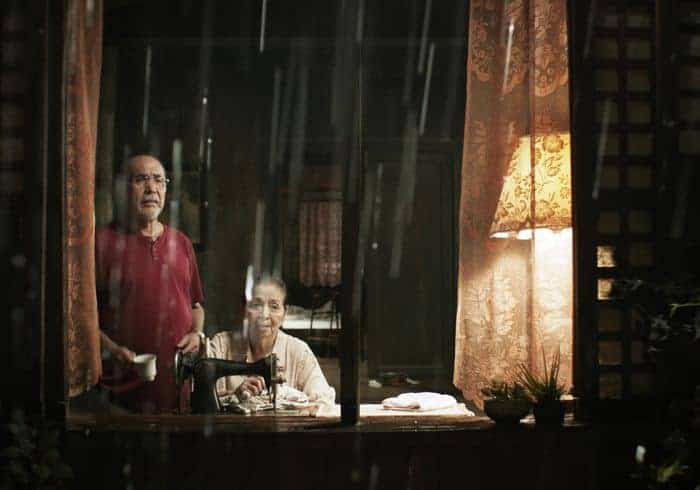 Why did you decide to shoot a film about the elderly?
Well, first of all, I'm very inspired by the script, it's not written by me it's my friend's, John Carlo Pacala's script, which is inspired by his family. But when I read the script, I could also relate, because, although many people would say I am very young to make a story about old people, I am very interested in the story and the life of older people than me, because in the Philippines we have this saying that the young people like us are just going or just about to go to that place but the old people are going back if you get that saying,
Yes, I understand.
And I think that's what I'm inspired of, because we can learn a lot of things, a lot of beautiful things from the old people. Also I'm from Pampanga, which is less busy from Manila, and I want to share that feeling, like when I go back to my home town, it's just like sitting outside your house, watching the trees, hearing the winds, and all this calm mood you have. I think these kinds of film are also important, especially as the Philippines now is very noisy so these kind of films balance everything, and I think its's very important to have a representation of old people in the cinema.
Did you do some kind of research to see how old people conduct themselves?
Yes, yes, when I was reading the script and working on it, of course the first thing I thought was "how do I relate to it and what I want to say?" And then I was able to research older people as well, and what's also very interesting, is that my research did not stop on the shooting. Because even while the shooting continued, I was talking to my actors as well, because they are old people, I mean they're real old people, and, every now and then we'd talk after a scene. For example, there is a scene in the script where the protagonists are having sex. Because I wanted to naturalise that old people do these things also. But Menggie Cobarrubias, the one who played Celso, said to me, "you know what Derek? For us old people, sex is not about sex anymore, it's more about touching" and that is why the scene is like that. I was also learning during the process, and there's also one scene where Dante Rivero, Bene, had a nightmare about the cat. And he was like "you know what, it's very rare for us to dream, like old people it's very rare for us to dream because….I don't know, what is this scene about?" and he needs to jump out the window right? I explained that it is actually a representation of Bene's fear of dying, even as we see him being very strong and very independent, he can live alone but he doesn't want to die alone. And thus the research continued, and after making the film, I believe I learnt so much, I've become more mature and this understanding is very fulfilling for me.
Okay great. So, in general there is also another film about older people I don't know if you saw it, Brillante Menzdoza's 'Lola'?
Yeah.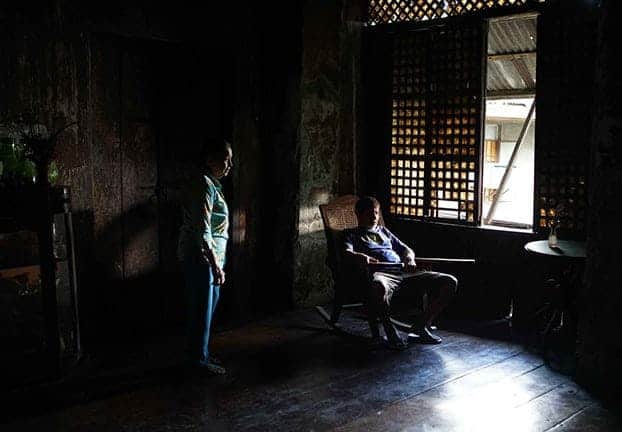 So, are there in general many Filipino films that deal with the elderly?
It's quite interesting that in my batch in Cinemalaya last year, there were a lot of old characters in the films. It's refreshing, I think it's also because Filipino audiences are getting more intelligent and want more diverse stories, aside from the romantic comedies that are very usual. So, I can say it is not very common, before before, but now Filipino audiences are more open regarding these kind of films. I was actually shocked that my screenings were always jam-packed when we were screening in Cinemalaya. We didn't have money to advertise anything but it's because of the word of mouth and a lot of reviews, good reviews, happened, and we're really hoping for a nationwide release.
It still hasn't been released?
It hasn't been released but we are excited about it.
Was the casting process difficult, finding the particular actors?
Yes, it was very difficult because it required not only the age, the acting expertise, but also characters who are speaking my native language not just the national language. Dante Rivero and Menggie Cobarrubias, the two guys, are actually of Kapampangan blood, so, particularly Dante Rivero was very excited, because for the longest time in his career he was speaking the national language since he's a famous actor in the Philippines. When I learnt he comes from my hometown, I asked him "do you still speak our native tongue?" and he was like "of course!"
So the national language is Tagalog and…
Yes the national is Tagalog and my language is Kapampangan. So I'm very excited about that and aside from that it was really hard, it took us many months to actually perfect our cast but those three actors were my dream cast aside from…I also planned to have Eddie Garcia, that's also the lead actor from 'Bwakaw', but these three are my perfect cast, I always envisioned Teresa with Bautista Perla and they are very supportive and very cooperative and I just wanted to share – I don't know if I'm talking too much!
No no, please do.
I just wanted to share it's not my first film, it's my second picture, but it's my first film with professional actors, and I was very scared because I'm so young – how do you direct people whose experience in cinema is older than my age? They're experts you know! But on our first day, when I was directing, there is this scene where Dante Rivero is holding this plate and drops it; and he's acting weird, maybe because he is tired working on TV, he would go on to our shoot and he is acting differently, and then I thought… fuck, I need to do my job, so I stand up, talk to him very, very politely but very scared, "can we do things this way?" I thought he would take it negatively because he is very professional, very experienced, but at that moment he said "this young boy knows what he is doing." They appreciate that, because for the longest time, since they were working on television, most of their directors would be just like "you can do what you want because you're already good" and then finally for a young director to do his job as director it opened our hearts- I could see in his eyes he got more excited because "this young boy knows what he is doing". So, that suddenly opened our hearts and we just wanted to tell a good story because we already had a good story, and after that, they were more committed to the story because it was handled by a person who knows it very well.
Okay, and can you tell me a bit about Perla Bautista, how you cast her and how you cooperated with her?
I was just a writer at that time and I saw her dedication. Even if she is very famous, she is known in the Philippines, she is very committed, so she was really my first choice, and when I talked to her it was easy, she read the script and was like "yeah I'll do this", and I find her perfect for the role because even though she's old I can see beauty, I can still…she's an old woman who's not really…her soul is beautiful. Even her name, her name is Perla, which means Pearl, and I can see that "she's a pearl". When I talked to her she was really cooperative, I remember…because she's the main character, we would shoot until 12am, but she would not complain or anything and she would always talk to me about how we should attack this and how should we attack that. I'm just so proud of her, I'm so proud of these old people, and you know what, when we won, they were thanking me so much because for the longest time, because they're old now, all the roles that were given to them are the mother of the superstar, or the grandmother, and they thanked me so much for this film, and the beautiful characters they played.
From the beginning there is permeating a sense of humour in the film, like when you see a shower running and instead of witnessing a nude young lady (as is usual the case) you come across an old lady or when she sees the pubic hair in the soap. How important is this sense of humour to have in the film?

Yes it's very important, because especially for these kind of films, which can be dragging at times, because not everybody is ready to listen to these kind of stories, especially in our treatment of the story, since we tried to imitate how old people will tell a story, not very quickly, but letting them take their time. But the comedy, I mean the humour, adds up to the interest; at the end of the day, one of the beauties of cinema is to entertain, and it's quite interesting because when we were doing that, we knew it was a kind of comedy but we never expected it would be as comedic as it did. The Filipino audience would really engage with this comedic humour, and they totally loved Celso. On Twitter feedback, Celso is the most unconditional lover of the three of them, because he just accepts things as they are, and they were actually "are you Team Bene or Team Celso?" and there were a lot of Team Celso because they all want to have Celso in their life. I mean that is funny because the people who tweeted are young people and they usually deal with romantic comedies, but seeing them being split in Team Bene and Team Celso was quite interesting.
Okay, so, can you tell me a bit about the song that Bene listens to, this short sad song which is also very funny?
Yes, because the script was actually not meant to happen in Kampanga, because the writer is from Bulacan, but when he gave me the script he said "own it", and then I actually asked him "can I change the location, I mean can I put it in my region?" and when we changed some of the dialogue, we localised it in my hometown, and one part of this localisation is that song. Because that song Istorya Ng Rappy is in Kampangan, sung by a Kampangan singer, Totoy Bato, he's like a novelty singer, and he has this very funny but very…it's kind of satirical music, he always does that, I even used those songs during my early short films because it is very accessible for us, and growing up I coul always hear this kind of music. They're really funny, really catchy, but I think it delves into a deeper meaning, I mean it has sadness in the song, even if it is very funny it has a sadness and that perfectly describes the life of Bene, like listening to this folk song, it's kind of not a folk song but it's a popular song, and you're living alone, and it gives you a layer of what could have happened during their young days. Is Dante an OFW, an overseas Filipino worker? Did Teresa have an affair? It gives layers, it makes you rich, and I'm actually happy to see many of you, many of the people here in Vesoul actually get it, it's kind of funny for them.
Can you tell us a bit more about the location the film was shot and particularly the house where Bene lives?
Yes, because I am proud I am a regional filmmaker, and for the longest time, regional filmmakers didn't get the focus, the limelight, that they deserve. So when I was actually doing this script, I really wanted to be as authentic as possible, so I gave myself three months to look for the perfect house in my hometown. But it's just like I'm always looking for more, it's always not enough, and then the producer was like "you know what , can we consider looking for a house in Manila?" And I was like "okay sure", and my production designer Marielle Hizon said that "you know what, there is this house that you might like, but it's usually used in horror films, do you want to check it out?" and I'm actually desperate to find the house because I really need to shoot very soon and so I said "sure, let's visit it". So when I saw the house I just knew. This is Bene, this is totally Bene. It speaks so much about the character, how I envisioned the character, and I actually had this argument with my producers because they wanted a house that was not yet used, not yet seen, and this is a very famous shooting house for horror movies, and I was like "but the main point is this house serves our story, that's one of our priorities, that the house serves our story". And because of the help of Neil Daza, my cinematographer, that house never looked the same. I mean it's been seen many times and it never looked the same, and people are telling me "how did you do that? How did you do that?" and people from my region who watched the film actually believe that that house is just in in my hometown. It's also very exciting because cinema is make believe, and they're actually believing the locality of that film is happening in their hometown, that's very important for me.
Okay, so can you tell me a bit about you cooperated with Neil Daza, your cinematographer, and in particular that scene where Bene and the woman are going back after so many years?
Since I did not come from a film school, I am always honest I don't have much expertise with technical things: what camera views, what light, and all this stuff, but when I talk to Neil I always say that I am coming from emotion. Because I have been able to experience a lot at my age, because I came from a poor family, and I mean how you see life, how you experience life, and I always say to Neil "I know the emotion I need, and can you help me achieve this kind of emotion?" And so, about when Teresa finally, after 27 years, goes back to the house, and enters through the gate, there's a lot of stuff that happens there, like even the sound of opening the gate, because it's like you are reopening something. And then, even the long shot…she's actually walking back to the 27 years that have been gone. So, that's the reason why we stayed long, because it's a lot of years to go back. And when she goes inside it's dark, it's pitch dark, it's not how it used to be. And you can see that we also tried to tell our story through the lights, like it's dark, and Teresa is like the light of the house, she's opening the door, she's opening the windows, she's making use of the sewing machine, I mean she's putting life in the house.
Because in the Philippines, we are very connected to our mothers, and the mothers are the light of the house. And Teresa is the light of the house, so you can see the progress of the house from being dark, and suddenly it has life, it has gates, it has curtains – from white curtain to red curtain – everything from blue to warm and everything between. That's my treatment; I always tried to explain and explain and explain to Neil and I'm so happy that Neil is very open, he loves working with young people, with young directors, and he just makes you feel that "you know what, let's do that". I'm always shy about "this is my treatment, I want to do this and do this" and he'll be like "yes let's do that".
Can you tell me a bit about your cooperation with Richard Gonzalez?
It was my first time working with Richard and I asked him to watch Hirokazu Koreeda's "Still Walking" for inspiration.
We worked together and I think it's like a third revision, we revised three times, because I always wanted calm music, like a very calming music, because you can see the story is a bit dramatic, if you don't balance it well it will be too much drama. What I asked my musical composer is "I don't want it to be…a drama drama", it's just like listening to nature, it's very calming. It's when you go back to your hometown and just sit and you're not thinking of anything, and he gets it, and I'm very happy with the music.

Also, it should be noted that even my sound designer, Immanuel Verona helped a lot, like the silence in the house of Bene, and the life. We really controlled the sound of the house, of the two houses and we also told our story through the weather – when the drama is heightened, like when Chito came in it's raining hard, it's even flooding, then eventually it's stopping slowly, slowly, slowly, and it totally stopped when Teresa was able to say "I am here not because I love you, I am here because I don't love you anymore" and the rain stopped. And Bene can die peacefully, and there will be a sunset the next day.
Alright. So, can you explain a bit about the ending, is Bene dead in the end?
Yes, actually I didn't expect that people would think that Bene is alive after seeing that scene, but for me, I just know Bene died in the car. He really died in the car, it's just that the two of them decided, instead of going back to the funeral let's just have a final…
I thought it was like they said "fuck it, let's just go and watch the sunset like that".
Exactly. For me it encapsulates, it summarises what I want to say: that at the end of the day love is about companionship, and these two beautiful human beings, Celso and Teresa, joined Bene until he died, literally and metaphorically.
Okay, and can you tell me a bit about the cock fights in the movie, is it very common in the Philippines?
Yes it's very common in the Philippines,
It's not illegal?
Actually it is illegal. It is illegal but you can do something…there's a way you can make it look kind of legal – there are legal cockfights and illegal cockfights. So yeah, but actually we shoot it in a guerrilla manner that way, we went to this small town and they had a cockfight, so we went there because we didn't have money to build everything; we were just happy that the dying cock looked like the cock of Bene!
So why does he pay to get the dead cock back?
I think it shows you the compassion…I painted so much coldness in Bene and him paying for the dead cock gives you a "oh he's kind of warm, there is a warmness inside of him, he thinks of his cock as friend, as family" sentiment. And you get that side of him, he's not really the dark dark guy, it's just that he made mistakes in his life, but he still has this warmth and the kindness in him, and it shows, that scene somehow gives you "he's a human being, he's not just one layered character, there is more inside of him".
Okay, and about the antique buying part, are antiques a big market in the Philippines?
Yes, actually, especially for these old houses, the woods in there are very expensive, things like that. Also, aside from that industry it also shows how Bene is slowly peacing out, how he, just like his house, is about to be gone.
Okay, so can you tell me a bit about how is the movie industry in the Philippines at the moment, how is the situation? I mean there was a Facebook post by Eric Matti a couple of days ago, painting a really dark picture.
Yeah, it's tough. I mean as a filmmaker it's really nice, because companies are open to working with you, even if you're just young or a newcomer, and the filmmakers from the Philippines are keeping up the quality, the stories are important, but at the end of the day films are supposed to be watched by audiences, and it's quite alarming that many people from the Philippines are not actually watching films anymore. Because they have the internet, they have television, and it's not really a priority for a Filipino family to watch a movie, and it's really declining. That's also the reason of the big companies that they are opening – I'm actually working with big companies as I said – they're actually opening because they believe that Filipino audiences are somehow saturated now? So we need to work harder to get their interest back to the cinema, we need to work harder to open more markets, and it's a challenge but I'm positive that in the future, people will learn to appreciate this kind of industry. It's very fascinating here in Vesoul, I'm actually very overwhelmed seeing the young and the old peoplegoing to the cinema and I was like you know what, I dream, I hope, and will work hard that one day in the Philippines can have this kind of cinema culture.
And the Film Development Council is really helping so much, especially Liza Diño she's really working hard to support all kind of films – actually when I get back to the Philippines I will go to this workshop, how you can build up a regional film festival. Because it always starts with education. You can't always just blame each other and it's an endless argument, we need to start educating people that art is very important in who we are and how we are as a nation. These stories are our stories, we need to support them.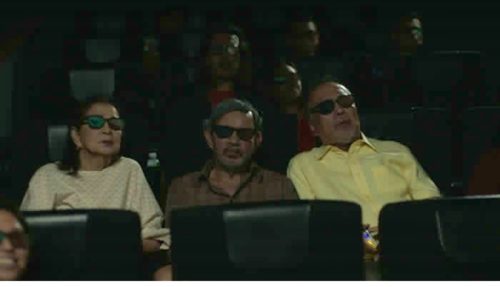 And what is the situation with the censorship?
Yes actually I was talking with the director of 'A Family Tour' [Liang Ying] and I thought it was actually worse in the Philippines but it's not, just to find out it's not, I mean the censorship in the Philippines is really not as hard as what I heard from them.
In China, yeah.
So, I appreciate the fact that now we have so much freedom to tell what we want. Our problem is mainly about distribution of this kind cinema, because in the Philippines we have malls, and as a business they would not want a film that is not gaining money, so most of our films, like independent local films, they would have a first-day screening and it will also be the last-day screening. I mean, they control what they want you to see, and they would love to have a Hollywood movie because that's where the audiences are actually coming…
Are you working on anything new?
Yes, I'm actually working on my passion project. It is, again, a Scriptlab material, I started scriptwriting with Ricky Lee, he's one of our greatest writers in the Philippines, he wrote 'Himala' and all these other classic films, and it's my passion project; it will be shot in Japan, it's a story of two Filipinos and a Japanese girl, it's like a ménage à trois, and it has this racial, cultural aspect like…I always pictured like they say love is a universal thing but, when I visited Japan, I was very fascinated with how similar their culture is with us but also very different. I mean, yes love is a universal thing but there is a difference from place to place. I'm very excited about it, Bianca Balbuena will be my producer, and then it will be supported by Film Development Council of the Philippines, Liza Diño is helping me out, ABS-CBN will help me out.
And it will be shot in Japan also?
It will be shot in Japan.
Exclusively in Japan?
Like 90% of it will be shot in Japan. I have talked to big actors already, and I'm very excited because it will be my first 'written and directed by'. Because for the longest time I have kept it for myself because I'm really waiting for the right time and I think after making this movie, after making 'Waiting for Sunset' I am more than ready to do this passion project. And the title is 'Purple Sun'.