Remains after a 90-minute feast of fetus-filled dumplings concocted by director Fruit Chan is not the horror that typically follows a movie classified as such. Instead, it's a farrago of trepidation (indeed), unrelenting sadness, and nostalgic longing. Embellished by Christopher Doyle's mesmerizing visuals, Chan's "Dumplings" elevates a gruesome tale of cannibalism to a classy metaphor of Hong Kong after 1997, caught amid hysterical attempts by its dwellers to hold onto bygones.
Buy

This

Title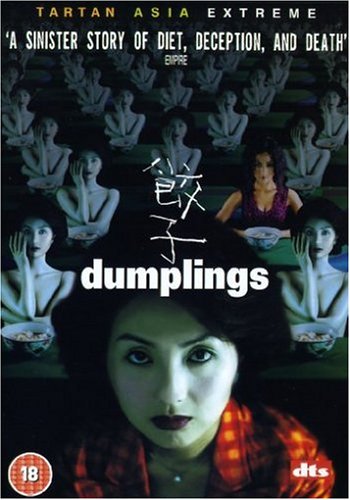 There in Hong Kong it's said, Aunt Mei makes the most delicious dumplings. Her recipe a mystery, its efficacy an established fact, and its results a cause widely sought after. Eternal youth and beauty so long as money is put into Aunt Mei's hands. A handsome deal for well-to-do Hongkongers.
And so, having lost her wealthy, 50-something husband's affections to a much younger masseuse, a retired actress – Miss Lee – reluctantly ventures into Aunt Mei's residence to have a taste of her dumplings. As ingredients readily in supply yield insignificant changes to her look, Miss Lee presses Aunt Mei for a more efficacious antidote to her aging, losing her grip on reality and moral codes in so doing. Stripped bare of its glorious facade in this tale of loosening morals and carnal desires, Hong Kong unfolds with sordid social ills of the worst kind. Clearly not something the unassuming title of "Dumplings" would prepare viewers for.
Known for his predilection for depicting the dark sides of social reality, in "Dumplings", Chan departs from his conventional, documentary-like approach to thorny issues in reconciling his dark, gruesome realism with Christopher Doyle's visually exuberant cinematography. Doyle, as always, is unsparing in his use of lustrous colors and sweeping camerawork, and in the end what he and Chan collaboratively render is a beautiful blend of pathos, dark humor, and internal horror.
The fetus in one of the film's last scenes is immensely beautiful, shining with a pellucid crimson that almost romanticizes the inhuman acts that follow. In another memorable scene, Hong Kong's spiralling staircases are deliberately shot from above, giving the scene a hypnotic effect that sits well with the movie's uncanny plot. Several sex scenes between main characters also simmer with the sensual energies and prescience often found in Doyle's cinematography. Somehow the camera well predict viewers' gaze and is swimmingly shifting to keep the moment tense and arousing, giving viewers' a visceral experience of what is happening on screen.
As much as it is well-shot, "Dumplings" is also well-acted with the impressive performance of Bai Ling as Aunt Mei. Revelling in her art of remaining forever young and beautiful, Bai Ling's Aunt Mei is sultry and conniving, exuding an irresistible charm that viewers find hard to ignore. Tony Leung Kar-fai's performance as a lascivious, wealthy middle-aged husband is convincing though Leung is not given as much screen time as his female counterparts. Miriam Yeung's portrayal of Miss Lee, however, is a little bit of a let-down. Sure, she's beautiful and does look the part, but at critical moments in the movie her performance falls short of the emotional depth and complexity it needs. Fortunately, her acting does not hamper the film's quality too much, and overall the cast deserve praise for their hard work.
And of course, any praise for the movie would be lacking without the mention of writer Lilian Lee – who wrote the screenplay of "Dumplings". A novelist-turned-screenplay-writer, Lee has made a name for herself with romantic, uncanny novels that well depict Hong Kongers' nostalgia and melancholy. Her two most renowned novels – "Rouge" and "Farewell My Concubine" – have been adapted into full-length features to great success and propelled two Hong Kong's cultural icons: Leslie Cheung and Anita Mui to stardom. Written and released just a year after the tragic deaths of these two Hong Kong superstars, Lee's Dumplings is full of apprehensions for the future and a wistful longing for the past. In a sense, the movie is Lee's tribute to Hong Kong's golden age and heralds an uncertain future as Hong Kong, having lost its identity and beauty to time, is doomed for decay.
Though not exactly a Hong Kong classic, "Dumplings" is a good watch for anyone interested in Hong Kong cinema, especially its horror niche. Sure, you won't have those jump scares and ghosts to haunt you, but the dumplings cooked by some of the best talents in Hong Kong film industry will definitely give you a series of goosebumps long after the film ends.