Shuichi Okita graduated from Nihon University College of Art's Cinema Course in 2011. He produced his first feature-length film, 'Kono subarashiki Sekai' in 2006. In 2009, the highly-praised 'Chef of the South Polar' became a national hit. In 2012, 'The Woodsman and the Rain' won the Special Jury Prize at TIFF and three awards at Dubai IFF. The following year, 'A story of Yonosuke' won Best Picture at the Blue Ribbon Awards. (bio courtesy of Nikodem Karolak)
On the occasion of his "Mori, The Artist's Habitat" screening at Cine Aasia Film Festival, we speak with him about the Kumagai and the film's approach, his movies, working with veterans, the Japanese movie industry and other topics.
Why did you choose to shoot a film about Kumagai and what kind of research did you do about him?
When I was shooting "The Woodsman and the Rain", in which Tsutomu Yamazaki had a small role, we did so in Gifu prefecture, the region where Kumagai was living and that is why I thought maybe we should do a movie about him. In the area, there is also a Kumagai Museum and Yamazaki went there, and suggested I should also attend. However, I was very busy and could not attend at the time, but I managed to do so some years later, and then I started writing the film, having Yamazaki in mind as Kumagai.
Naturally, I studied Kumagai's art, the work he had done over the years but there was also an exhibition of photos about him, covering his life of when he was 90 to 93 (not sure about the age but definitely three years of his latest). I was looking at these photos and I thought that they are very interesting and I started wondering why this person stayed inside his house for 30 years.
A large part of the film functions as a documentary about nature. Why did you choose this approach?
Many Kumagai's paintings are very small, since he painted many insects. Therefore, I started thinking about how things look like from his perspective, when he looks closely at something and I wanted to capture this point of view in my film. That is why I chose this approach, which comes close to a nature documentary.
As a child, I would also look at ants for example, from a very short distance, but after that, I did not anymore. This time though, I had to look at all those small animals in the same way and I thought that if you look at things like that, the garden, in this case, becomes a big space, much bigger that in actually is. That is why the only shot of the garden from afar is the closing one of the film, when you can see the whole of it, through a panoramic view, in a wide shot. All the other shots were close ups actually, so I never revealed the whole space prior to the ending, which is the only moment you realize the garden's actual size
Do you also like to spend time in nature?
I do not consider myself an outdoor person; I do not have hobbies having to do with nature, but I was born in the mountains, and I like this kind of environment.
In "Mori" you cooperated with Kirin Kiki and Tsutomu Yamazaki. How is the experience of working with such veterans, and are there differences with working with younger actors?
When I was young, I considered Kirin Kiki and Tsutomu Yamazaki big stars, so I was really happy I was able to shoot a film with them. But when the actual shooting started, I had to forget that they were my former idols. They were very easy to work with, since they realize that despite the fact I am younger, I am the director. Actually, I was surprised to realize that, during the shooting, I tended to forget that they are big stars (laughter).
How did you cooperate with cinematographer Yuta Tsukinaga, particularly regarding these extreme close ups of fauna and flora in the film?
I lived with him in the location for one month during the shooting. Every morning, before we started shooting, he and I would study the garden for a couple of hours, where do animals appear for example and where we should shoot.
Did you have him lying on the ground in order to take these shots?
Yes, for some shots he had to lie on the ground. We used steady shots actually, since we could not build a rail, because it was important for the garden to stay untouched during the shooting.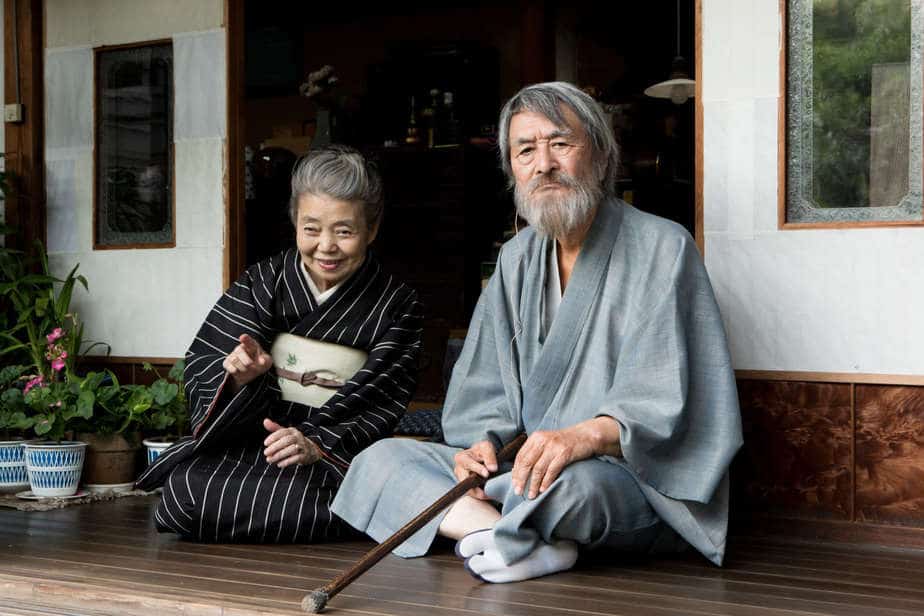 There is a scene, where one of the contractors of the building across gives him a painting of his son and asks Kumagai if his kid is a genius. He tells him that the painting is bad but that bad drawings are ok. Can you elaborate on this?
I kind of thought about myself in this occasion, since I do not know if my films are good or bad, but I am going to keep doing them.
In general, do you think that hard work is more important than talent?
The most important thing is to try to do your best at all times.
In the film, Mori is perceived as an idol, like anything he does is important, as for example in the scene where a hotel owner thinks that a sign written by Mori will bring more guests to his hotel. Can you tell us a bit more about this scene?
In my life also, there were occasions where I was asked to do this and that for different parties and I thought maybe it would make a comedic scene to have something like that in the film.
This is your seventh movie. How do you think you have improved during all your films?
I really don't know (laughter)
Your films include much drama, but you prefer to present them in a comedic light. Why is that?
I do not see my films as comedies or dramas, there are equal amounts of laughter and crying, I think I just use a human approach. I do not shoot scenes having in mind, for example, that someone should laugh here.
What is your opinion about the Japanese film industry today?
There are too many movies. The problem is that the small budget films do not have enough funds for the directors to do what they want to do but the big budget ones are not so interesting. My films are somewhere between, and these kinds of films are getting less and less, since the overwhelming majority of productions are either very big or very small, which is an issue for the Japanese film industry.
Are you working on anything new?
I am shooting a film this year, a story about a ten-year-old girl who goes to meet her real father, who is not a good person, but again this will be shown in a comedic light. It is based on a manga, it will be my second adaptation after "A Story of Yonosuke".