It was another successful night for Hirokazu Koreeda's "Shoplifters", which won Best Picture at the 13th Asian Film Awards, beating the likes of Lee Chang-dong's critically acclaimed "Burning" and the hugely successful Chinese film "Dying to Survive" to the prize. The film also won Best Original Music for Haroumi Hosono's wonderful music.
Director Lee Chang-dong, who returned with "Burning" after an eight years' absence, was awarded the Lifetime Achievement Award. He was also awarded Best Director on the night for "Burning".
The Best Actor/Actress Awards were evenly shared between productions of different countries, with Koji Yakusho replicating his win at the Japan Academy Awards with a Best Actor win for "The Blood of Wolves", Zhang Yu winning Best Supporting Actor for the Chinese film "Dying to Survive", Samal Yeslyamova winning Best Actress for the Russian-German-Polish-Kazakh-Chinese joint production "Ayka" and Kara Hui winning Best Supporting Actress for the Hong Kong film "Tracey".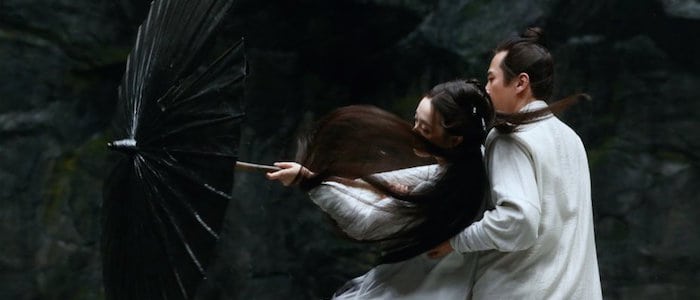 It was also a successful night for Zhang Yimou's "Shadow", which managed to pick up most of the technical awards with Best Cinematography, Best Costume Design, Best Production Design and Best Sound.
Check out the full list of winners below:
Best Film- "Shoplifters" (Hirokazu Koreeda, Japan)
Best Director- Lee Chang-dong ("Burning", South Korea)
Best New Director- Oliver Chan Siu Kuen ("Still Human", Hong Kong)
Best Actress- Samal Yeslyamova ("Ayka", Russia, Germany, Poland, Kazakhstan, China)
Best Actor- Koji Yakusho ("The Blood of Wolves", Japan)
Best Supporting Actress- Kara Hui ("Tracey", Hong Kong)
Best Supporting Actor- Zhang Yu ("Dying to Survive", China)
Best Newcomer- Huang Jingyu ("Operation Red Sea", China, Hong Kong)
Best Screenplay- "Ash Is Purest White" (Jia Zhangke, China)
Best Editing- Shinya Tsukamoto ("Killing", Japan)
Best Cinematography- Zhao Xiading ("Shadow", China)
Best Original Music- Haroumi Hosono ("Shoplifters", Japan)
Best Costume Design- Chen Minzheng ("Shadow", China)
Best Production Design- Horace Ma ("Shadow", China)
Best Visual Effects- Alex Lim Hung Fung ("Project Gutenberg", China, Hong Kong)
Best Sound- Jiang Yan, Nan Zhao ("Shadow", China)
2018 Highest Grossing Film- "Operation Red Sea" (Dante Lam, China, Hong Kong)
Lifetime Achievement Award- Lee Chang-dong
Excellence in Asian Cinema Award- Koji Yakusho
AFA Next Generation Award- Kim Jae-joong
AFA Rising Star- Park Seo-joon